Australia's new Davis Cup captain Lleyton Hewitt followed in his father Glynn's footsteps at Tigerland on Friday.
Hewitt, who retired from professional tennis following his second-round exit at the Australian Open last month, was a special guest at Richmond's training session at the invitation of his good friend, Tigers development coach Mark 'Choco' Williams.
Four decades ago, Glynn Hewitt made the journey from SANFL club West Adelaide, where he had starred as a talented half-forward, to Richmond.
Win the 2016 Tigers Golden Ticket by becoming a Richmond member
It was a powerful Tigers' combination back then, and Glynn found it hard to establish himself as a permanent member of the senior side.
But, when he did get the opportunity to line up alongside the likes of Hart, Bartlett, Bourke, Sheedy, Stewart, Wood, Clay, Green, Sproule, Balme, Morris and co., he certainly didn't look out of place.
Glynn Hewitt kicked 15 goals in 15 senior games with Richmond over the course of the 1973-74 seasons, and he had an excellent winning strike-rate of 86.6 percent, with 13 wins and just two losses.
He was a member of a strong Tigers' reserve-grade premiership side in 1973, which also included notable players such as a young David Cloke, current Richmond recruiting manager Francis Jackson, Graham Teasdale, who went on to win a Brownlow Medal at South Melbourne (1977) and Club great Roger Dean, who was making his farewell appearance after 17 seasons.
"Every time we drive past Punt Road, he always talks about this oval and what happened here, and the stories probably get bigger over the years," Lleyton Hewitt told 'Roar Vision'.
"He's always had a soft spot, obviously, for the Tigers.
"It's a fantastic club. They had so much success back here when my old man was over here in Melbourne . . ."
Hewitt senior was a teammate of Choco Williams at West Adelaide, before arriving at Punt Road to try his luck at the game's highest level, and Hewitt junior also has built a strong friendship with the man who guided Port Adelaide to its first AFL premiership in 2004.
will make his debut as Davis Cup captain in next month's World Group tie against the USA at Kooyong in Melbourne,
"I've known Choco for a number of years now. I caught up with him before I actually got the (Davis Cup) captaincy job as well," he said.
"He's been such a good mentor to me and someone that I can not only call a friend, but someone I can go to and ask questions as well . . .
"For me, with my new role now as Davis Cup captain, I'm trying to learn a bit more about coaching and how to mentor guys, and I'm really opening my eyes to that."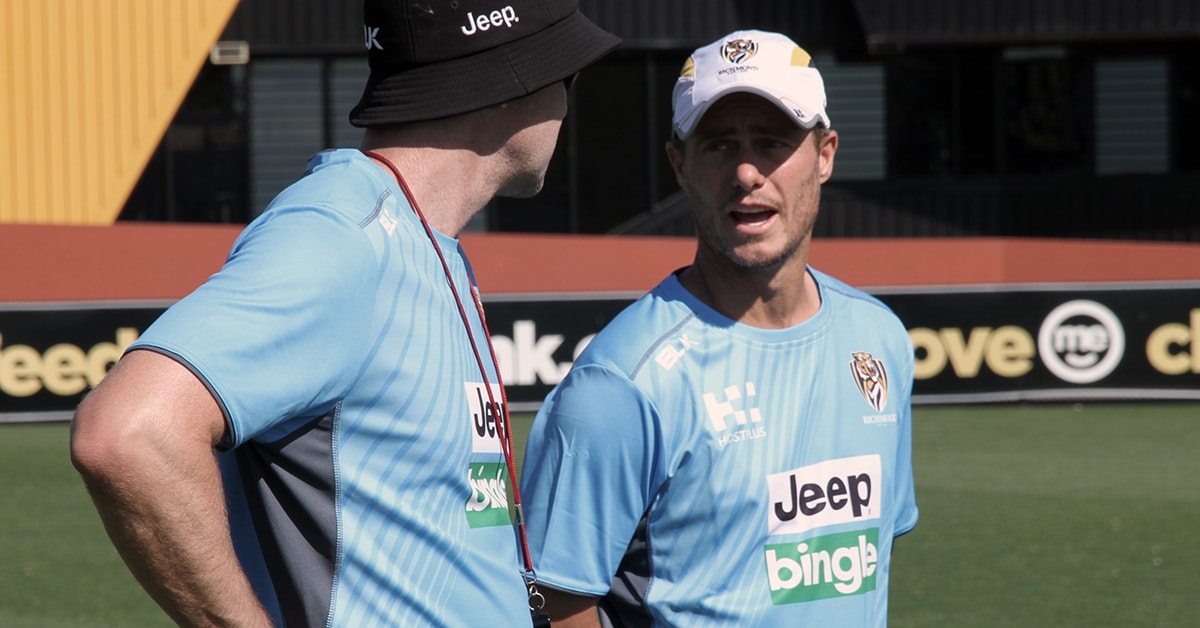 Hewitt, who will make his debut as Davis Cup captain in next month's World Group tie against the USA at Kooyong in Melbourne, was given insider access at Tigerland to view up close how the coaches interacted with the players. He was suitably impressed with what he witnessed . . .
"Obviously, there's so much that goes into technology and reviewing practices and matches, and trying to get the most out of this playing group . . . That's something I can really take to my next job," he said.
"And, when you go out there, you don't want to waste time. You want to get on the track and go through everything that you want to get out of that.
"We spoke about the obvious purpose of always having a purpose out there at every training session that you go out to.
"The young guys, the way they respect the older guys, and the leaders . . . you can hear their voice out there a lot, really encouraging that young group. I think that's important with a team."
Hewitt also had some words of advice for the Richmond playing group . . .
"I was at the top of a different sport at a very young age, and a lot of the kids that get thrown into AFL at clubs, have to leave home to come and play here . . . There's a lot of pressure and demands that come with that," he said.
"But as long as they know and understand that everyone's going through that as well, and there's certain ways to deal with it, then I think it's a huge positive."