Oh we're from Tigerland
Stories of being Richmond
Francis Bourke, 70, Camberwell (via Punt Road Oval, via Nathalia)
Favourite all-time Richmond player
Roger Dean – "Pound for pound he was the toughest player I ever saw. Gutsy, and so self-effacing. Neville Crowe and Mike Patterson and Billy Barrott and Freddy Swift and Roger, all those people made me feel so welcome. You never forget things like that."
Favourite current Richmond player
Reece Conca – "I've always followed players who've had number 30 on their back, so I'm pleased to see Reece finally having a run at it, unbroken by injuries. I sympathise with him because he's spent long periods on the side lines which must have been frustrating. I've never heard him complain or grizzle."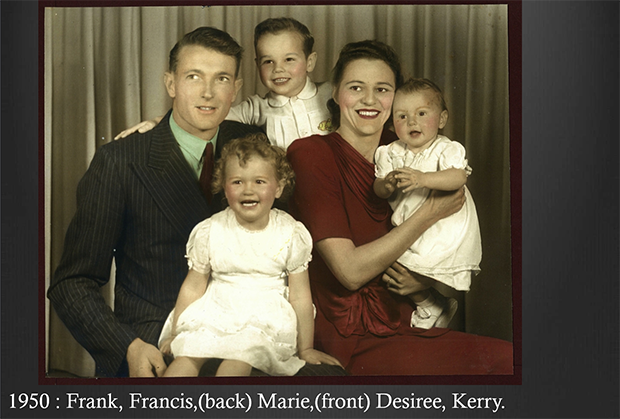 Francis William Bourke was born in the lee of war, into a house on Richmond Hill, to parents who crossed paths during the upheaval. His father was off to join Bomber Command on its raids over Germany. His mother was on the home front, volunteering at an American Red Cross canteen, serving meals to US troops who filled the pubs, dance halls and cinemas of Sydney as the Pacific burned.
They married in Melbourne at war's end, on winter solstice. Their first child arrived in early 1947, a boy, born into the first flush of Australia's post-war baby boom.
He grew up on a dairy farm in Nathalia, 320 acres, 160 cows, in the pit with his dad, a herringbone milking shed, six cows a side. On weekends, he was a schoolboy footballer. Then he moved to Melbourne in the mid-1960s to play in the big league, and became a household name. He won premierships, accolades, made lifelong acquaintances, was feted for his courage.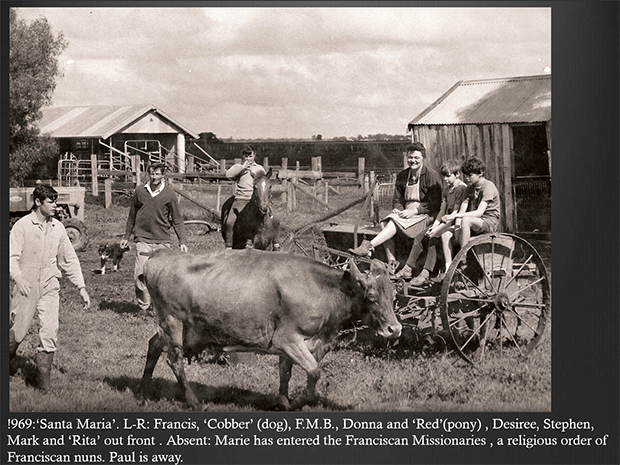 But always there was a wondering. About the war and an earlier generation, the sacrifices they made, all they had endured.
It was the story of his father, but it was also so much more.
**
Easter Monday, the morning after Richmond defeated the Lions in Brisbane, I rode my bicycle to the home of one of Richmond's greatest-ever players, a club 'immortal', to ask questions he once sat down and asked his father. Francis met me at his front door on crutches, with a wry smile. A double hip operation, he explains. Two weeks ago. In the wars, as it were. But he assures me you can't keep an old Tiger down.
Certainly, the man is a stoic.
Spread open on the dining table is a hanging file with the Bourke family history, with his father's war ribbons and medals, and a nine-page document, stapled, carefully type-written, which is what I've come to discuss. Fifteen years ago, every Tuesday morning for about three months Francis visited his father to interview him. He wanted to get his story down before he died. He was curious about his father as a young man, how he met his mother, about the war.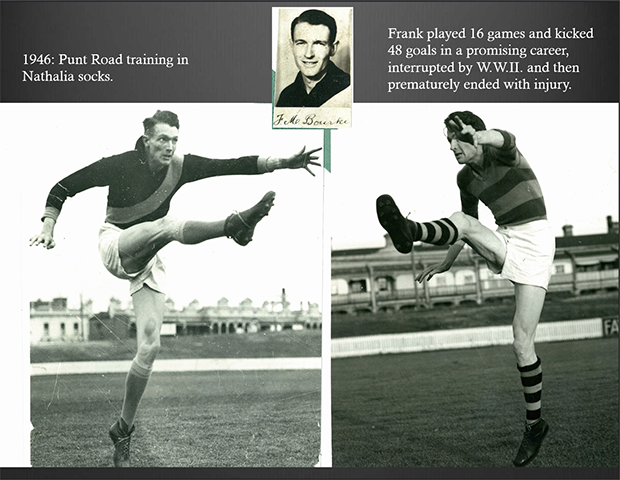 Frank Bourke, born in 1922 at Numurkah hospital, two rail stops east of the family farm at Nathalia in northern Victoria, had a public life that mostly began and ended with football. Notably, he kicked 48 goals in 16 games for Richmond over three seasons. And notably, he debuted during the war, playing a solitary game in 1943, a four-goal win over Melbourne at Punt Road Oval, while on leave from the RAAF.
His war years began a season earlier after the wheat harvest, catching a train south to Seymour with 21 others from Nathalia, off to join the Army. Their contingent included two of Frank's cousins, Dennis Bourke and Jack Bourke, who made up the three Bourke's who won a premiership for Nathalia in 1939, on the cusp of war. Incidentally, the club's next premiership was a decade later, defeating the southern NSW town of Berrigan in Tocumwal, when the three Bourke's were joined by a fourth, Ted Bourke in the ruck.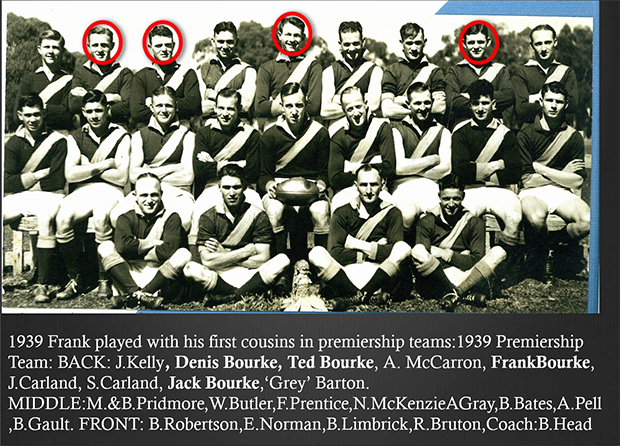 Frank Bourke enlisted in the Australian 3rd Division in time to be marched on foot over Easter in 1942 from central Victoria to their new camp at Bonegilla, near Wodonga. From here they were relocated north by train to Sydney, and on to a training base outside Brisbane.
From Francis Bourke's typewritten notes:
"None of the Nathalia men had been to Sydney before. Most of them had never been further than a few miles from their home. Perhaps as far as other Murray League towns like Cobram, Berrigan, Finley and Deniliquin. Frank Bourke remembers Bill Swan commenting to him as the train slowly lurched and clattered its way through the suburbs of Sydney, 'she's a big'un, Bourkey'."
In Queensland, Frank responded to a public appeal for RAAF pilots, was accepted, and subsequently moved variously to Sydney, Benalla and Point Cook to train in Tiger Moths and twin-engine Oxfords, the primary aircraft for teaching British Commonwealth aircrews about navigation, radio-operating, bombing and gunnery during the Second World War. Frank's height, six-foot-five, was no impediment to becoming a pilot. But it did attract the attention of Richmond recruiters when the club took a team to Benalla during a bye to play a game against a RAAF team.
Once commissioned with his wings he camped in the grandstands at the MCG, awaiting an overseas posting.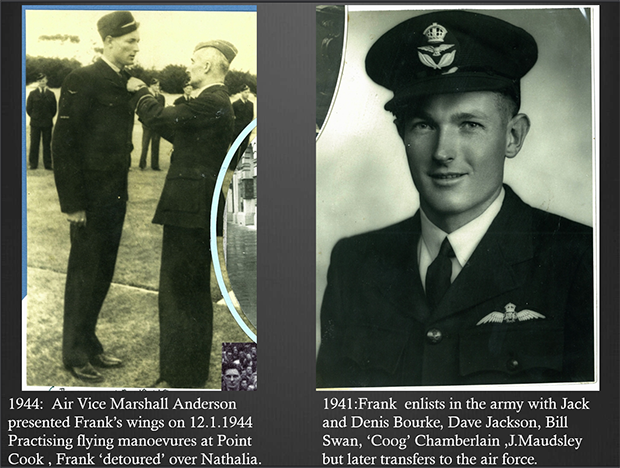 Summoned to England as part of the Empire Airforce Scheme, Frank went to Sydney for embarkation, where one night he clapped eyes on 21-year-old Desiree Eugene Morrell. She was from Port Wakefield in South Australia, was living in the harbourfront suburb of Rose Bay, working for the American Red Cross. Frank went looking for a square meal. He instead got himself a wife-to-be.
Their first date? He took her to the wrestling, to see Pat Meehan in a bout with Brother Jonathon. True romance.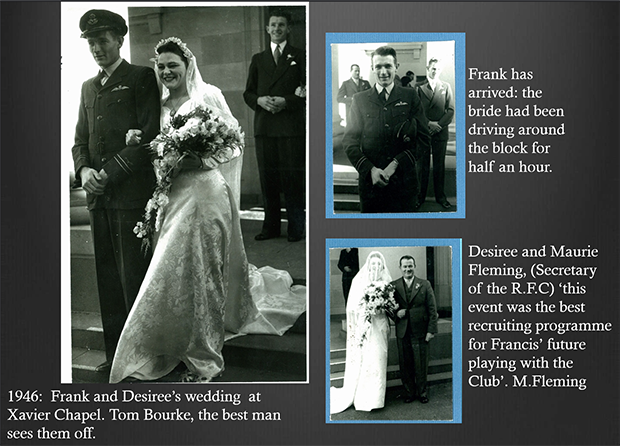 And then there was Bourke's war. Depending on how you look at it, his timing was impeccable. In early 1944, he left for San Francisco aboard the SS Lurline, also transporting the Australian PM John Curtin to confer with President Roosevelt. From the west coast, they travelled overland to New York City wherefrom they joined a convoy of 40 ships bound for Liverpool.
In between, there was much waiting, which all gave rise to the Bourke family joke about his war effort. "Frank always said Hitler heard he was coming so he locked himself in a bunker and committed suicide, and that was the end of the war."
Two years in England, based on the Mersey at Warrington (the largest US Army Air Force airfield outside of the United States during the war), at RAF Little Rissington in Gloucestershire, and at an airfield outside Hull, he waited for a call-up from the 'the pool' for a flight mission, but it never came.
"He got there too late," explains Francis. "The Battle of Britain was over and Bomber Command was belting Germany without mercy when he got there."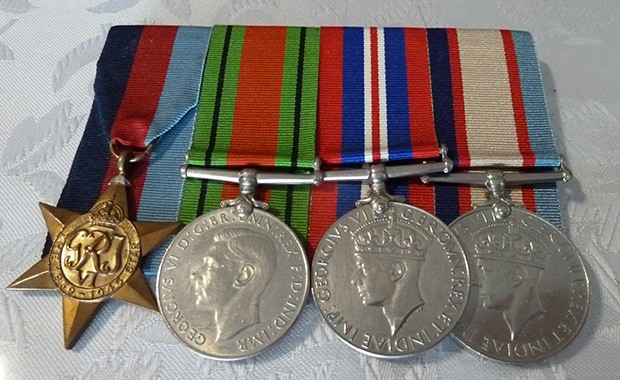 Military decorations: Frank Bourke's WW2 ribbons and medals.
Frank Bourke was spared from harm's way. Bomber Command's casualty rate during the war was exceeded only by German U-boat crews. Of the 55,573 personnel killed, 72 per cent were British, 18 per cent Canadian, 7 per cent Australian, and 3 per cent were New Zealanders. In a representative sample of 100 airmen, 55 were killed on operations, three were injured, 12 taken prisoner, two were shot down but evaded capture, and 27 survived their tour of operations.
From Southampton, catching a boat back to Woolloomooloo via Cape Town, the Americans dropped atom bombs on Hiroshima and Nagasaki and the war was over.
Frank caught a train back home to learn two of his teammates at Nathalia FC had died in the war. One in Singapore, the other in a training mishap in Darwin. He learned also his mother, Alice, had bundled up all his personal belongings and disposed of them, as a way of coping with the fear she may never see her son again. This included letters of invitation to train from all VFL clubs in Melbourne, except Collingwood.
**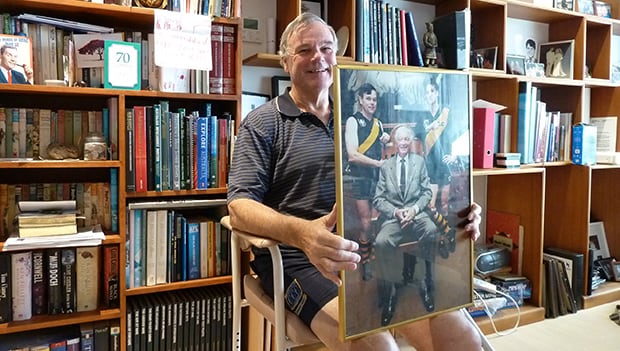 Man in the middle: Francis holding a family portrait of the only 3-generation family to play for Richmond (Frank Bourke 16 games, Francis Bourke 300 games, David Bourke 85 games).
"I don't suppose you can ever truly imagine what it must have been like for all those who fronted up to do the fighting," says Francis.
"The terrible test it must have been of courage and fortitude and sense of obligation to your mates."
Frank Bourke was never in combat during WW2, but it's never lessened his son's appreciation and admiration for all who served, who participated, at home and abroad.
"It was a dreadful business," he says. "All those men going into battle knowing so many of them may never come back, and of those that did so many would be effected for the rest of their lives."
With wife Kerry, a few years back Francis travelled to northern France for a battlefield tour of the Western Front to look deeper into his family's wartime history. It's where his maternal grandfather, Horace Morrell, a man he never met, fought under General John Monash in the 37th infantry battalion in the Australian 3rd Division.
They visited where he was gassed and suffered a wounded knee in October 1917, in the Battle of Broodseinde Ridge in Flanders, where heavy rain turned the battlefield into a quagmire and Australian divisions suffered 6,500 casualties. Having researched his grandfathers' involvement, he could now map the lay of the land, see Messines Ridge in the distance, admire its beautiful pastures, and imagined what it must have been like. It was, says Francis, a profoundly moving experience.
"Of all the places we saw, Fromelles to me was the most depressing because the Australians and New Zealanders just had no hope. The Germans were dug into the high ground. The ANZACS were sacrificed to encourage the Germans to keep their forces there rather than send them further south to the Somme offensive."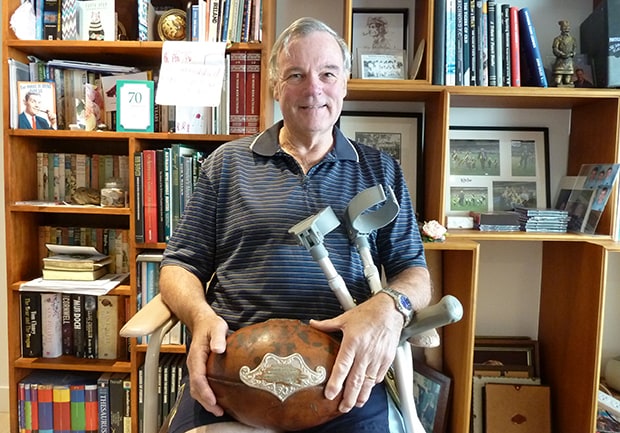 St Francis: At home with a family heirloom, the football awarded to his father after kicking 9 goals for the Nathalia FC in their 1949 premiership over Berrigan (Cobram went through the season undefeated but lost both finals).
At his home high on a hill in Camberwell, sitting with his crutches, Francis can still see the gradual slope up which the Diggers were forced to attack, can still imagine the horrors of the war.
"They lost more than 5000 men in one night. It was a bloodbath. Such a terrible waste of young lives. Never again."
If you would like to nominate a Richmond fan who has a story to tell about their barracking please email Dugald Jellie with details: dugaldjellie@gmail.com