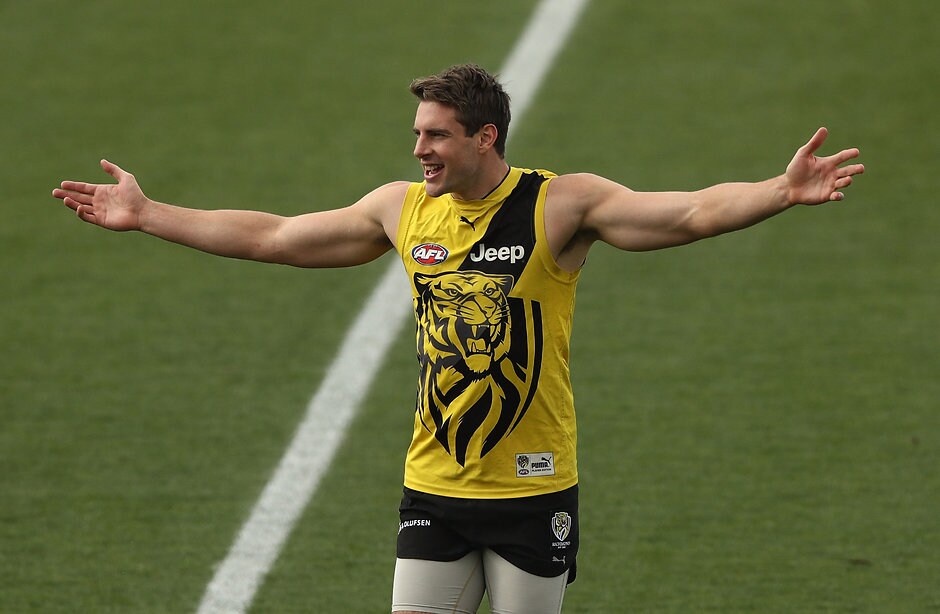 Richmond will enter the 2018 season ranked 13th ranked competition-wide in terms of the playing group's average age and 10th for games' average.
The Tigers' age average is 23 years, 22 days, with their 2017 Grand Final opponent Adelaide ranked No. 1 in this area at 24 years, 192 days.
Ruckman Shaun Hampson will be the only player at Tigerland aged 30 at the start of season 2018.
On the average games' ladder, Richmond comes in 10th at 62 per player, with Hawthorn No. 1 at 74.
The Tigers have 12 players with 100-plus games' experience on their list – Josh Caddy, Trent Cotchin, Shane Edwards, Brandon Ellis, Shaun Grigg, Dylan Grimes, Bachar Houli, Dustin Martin, Dion Prestia, Alex Rance, Jack Riewoldt and Nick Vlastuin. Hawthorn and Port Adelaide have the most 100-plus game players in the competition with 17 apiece.
On the list of players recruited from rival AFL clubs, Richmond is equal 14th with eight. Only Western Bulldogs (six) and Sydney (four) have fewer players from other league clubs, while Carlton is No. 1 in this department with 19.
Clubs ranked from oldest average age to youngest*
Figures based on entire club's list, including category B rookies
RANKING
CLUB
AVERAGE AGE (YEARS, DAYS)
1.

ADEL

Adelaide
24
192
2.

HAW

Hawthorn
24
179
3.

COLL

Collingwood
24
98
4.

GEEL

Geelong
24
95
5.

PORT

Port Adelaide
24
50
6.

GWS

Greater Western Sydney
24
16
7.

ESS

Essendon
23
355
8.

SYD

Sydney
23
343
9.

MELB

Melbourne
23
335
10.

FRE

Fremantle
23
292
11.

WCE

West Coast
23
282
12.

WB

Western Bulldogs
23
259
13.

RICH

Richmond
23
255
14.

CARL

Carlton
23
244
15.

STK

St Kilda
23
201
16.

BL

Brisbane Lions
23
128
17.

NMFC

North Melbourne
23
117
18.

GCFC

Gold Coast
23
22
*Stats supplied by AFL statistician Cameron Sinclair
Summary of 2018 AFL club lists
CLUB
AVERAGE AGE (YEARS, DAYS)
AVERAGE GAMES
FINALS
100+ GAMES
YET TO DEBUT
FROM OTHER AFL CLUBS

ADEL

Adelaide
24
192
68
165
14
13
10

BL

Brisbane Lions
23
128
54
65
9
11
12

CARL

Carlton
23
244
56
56
7
8
19

COLL

Collingwood
24
98
68
116
13
10
12

ESS

Essendon
23
355
58
63
9
9
11

FRE

Fremantle
23
292
63
144
13
12
8

GEEL

Geelong
24
95
65
209
13
12
10

GCFC

Gold Coast
23
22
60
31
7
9
10

GWS

Greater Western Sydney
24
16
64
143
10
11
11

HAW

Hawthorn
24
179
74
265
17
9
11

MELB

Melbourne
23
335
57
44
8
9
12

NMFC

North Melbourne
23
117
52
107
10
11
9

PORT

Port Adelaide
24
50
73
109
17
10
13

RICH

Richmond
23
255
62
114
11
8
8

STK

St Kilda
23
201
53
32
10
10
13

SYD

Sydney
23
343
66
303
11
12
4

WCE

West Coast
23
282
64
169
15
16
8

WB

Western Bulldogs
23
259
56
129
9
7
6
AVERAGE
23
338
62
126
11
10
10