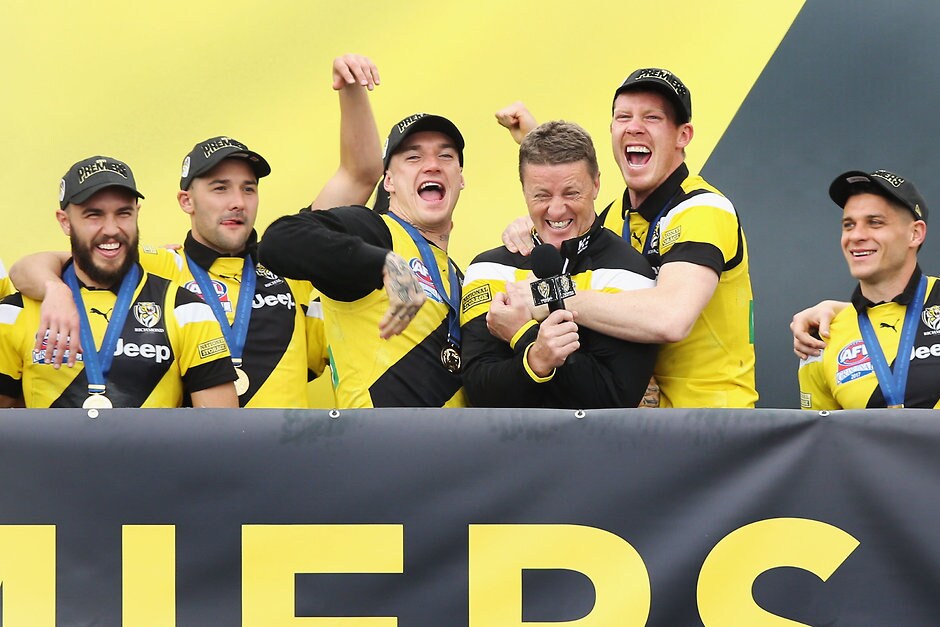 A is for All-Australian, 'Rancey' four years in-a-row,
B is for Brownlow, the great Dusty show.
C is for captain Cotchin, he led the way,
D is for 'Dimma', deserves a rise in his pay.
E is for Excellence, successful quest to be best,
F is for Finals, attacked with such zest.
G is for Grand Final, crushing the Crows,
H is for Harmony, far ahead of our foes.
I is for Intensity, keeping the pressure right up,
J is for Jack Graham, a key to capturing the cup.
K is for Kamdyn McIntosh, he's different for sure,
L is for Loud, the mighty Tiger Army's roar.
M is for Medals, we scooped the pool,
N is for 'Nank', in the ruck he did rule.
O is for 'Opes', top team manager, no doubt,
P is for Premiership, smashing that 37-year drought.
Q is for Quantum, our massive leap,
R is for Riewoldt, he'd roam or play deep.
S is for Small forwards, speedy and slick,
T is for 'Towner', a deadly accurate kick.
U is for United, ultra-tight Tiger group,
V is for Vlastuin, key part of the backs' troop.
W is for Winning, the sweet taste of success never fades.
X is for X-factor, we've got it in spades.
Y is for Youth, ensuring our future is bright,
Z is for Zenith, reaching the peak pure delight.