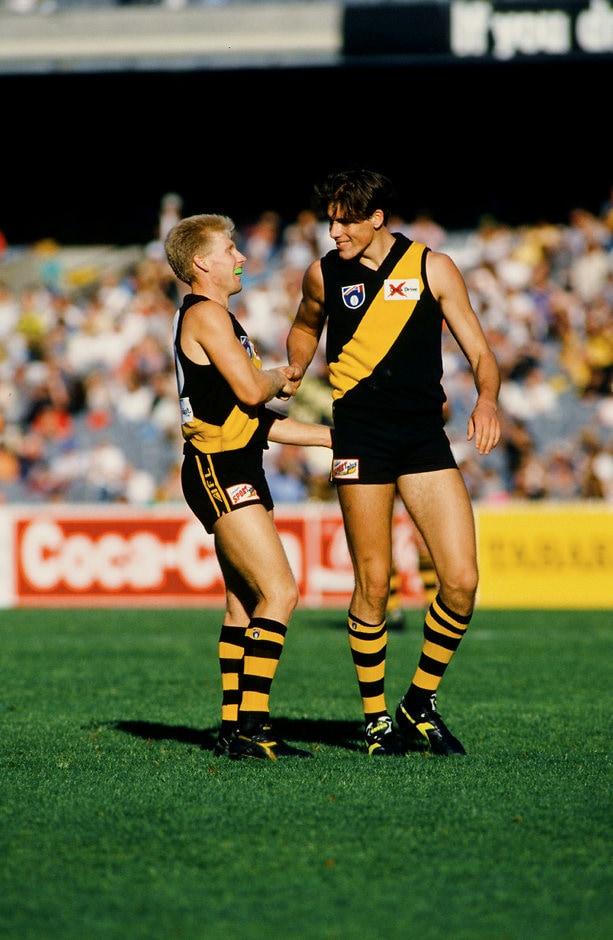 With Richmond preparing for its AFLX debut in Sydney on Saturday, Tony Greenberg has compiled a top-10 list of former Tigers (in surname alphabetical order) that he believes would star in the modified form of the game.
1. Bill BARROT
Possessed more X-factor than any Richmond player I've seen. Was strong, aggressive, exuberant, a thumping kick and supremely fit, enabling him to cover plenty of ground in his hunt for the ball.
2. Kevin BARTLETT
Blistering pace, superb anticipation, enormous stamina, an insatiable ball-winning appetite and uncanny goal sense were features of KB's game that would be ideally suited to AFLX.
3. Leon CAMERON
Played a sweeping role across half-back to perfection, utilising his poise, creativity, running ability and superb delivery of the ball off either foot.
4. Matthew KNIGHTS
Left-foot midfielder, who was beautifully balanced, had excellent evasive skills, racked up possessions seemingly at will and delivered the ball to teammates with pinpoint precision.
5. Michael MITCHELL
One of the quickest players in Richmond's history and a real excitement machine with his ability to kick brilliant goals on the run.
6. Geoff RAINES
Oozed class in his centreman role. Was a superbly smooth mover with his low centre of gravity, quick, a magnificent kick and a spectacular mark.
7. Matthew RICHARDSON
Had amazing agility, elite endurance, tremendous marking ability and goalkicking nous. His non-stop running ensured he always gave himself the best possible chance of winning the ball.
8. Barry ROWLINGS
Was lightning fast, had a big 'tank', won plenty of ball, and his spearing left-foot kicks provided numerous opportunities for Tiger teammates further afield.
9. Dale WEIGHTMAN
One of the most gifted players in Tigerland's history. Combined superb skills with plenty of aggression. Set up numerous goals for the Tigers through his elite handball ability.
10. Robert WILEY
Silky-skilled rover. Was a superb reader of the play, had plenty of pace, perfect poise, an innate goal sense and was equally proficient on either foot.