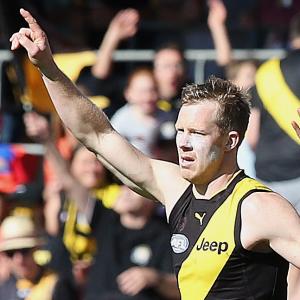 Star Richmond key forward Jack Riewoldt was always going to be rewarded with the maximum 10 votes in the AFL Coaches' Association's Player of the Year Round 21 voting for his outstanding 10-goal performance against Gold Coast at Metricon Stadium last Saturday.
7:01am Aug 14, 2018

The Richmond forward combination of Jack Riewoldt and Josh Caddy is the most potent in the AFL competition after 21 rounds of the 2018 season.
1:06pm Aug 13, 2018

You have to go back 73 years for the last time a Richmond player had more scoring shots than star key forward Jack Riewoldt did with his total of 10.6 in yesterday's 74-point win against Gold Coast at Metricon Stadium.
7:53pm Aug 12, 2018