MCC Reserve – 1:00pm
AFL Reserve and Public – 1:30pm

Kids Come Free!
Sunday is Funday as kids get in to the footy for free! Free general admission tickets are available to children under the age of 15.
Tickets are also available for Adults (from $25) and Concession (from $17). Click here to buy now.

Join the hunt today with a Final 5 membership and receive access for our last 5 Home blockbusters of the season + priority access for weeks 1-3 of Finals*.
Be there at the 'G for every minute, every goal and every "don't argue". General admission and reserved seating options available with prices starting at just $50!
To join visit strongandbold.com.au or call our team on 1300 742 466.
*Pending Richmond participation

We recommend fans plan ahead and avoid driving to the MCG, catching public transport instead. Click here for travel information.
Click the map below for an enlarged version of Punt Road and Yarra Park.
Arrive Early
Security measures such as bag checks and patron scanning will again be in place as fans make their way into the stadium.
This process will take time, so please be patient - and limit the number of bags you bring. Each bag will be inspected, so the more bags you bring the longer it will take.
Car Park
Gate 3: 11:00am
Gate 5: 1.30pm
Gate 6: 12.30pm
Gate 7: 10.30am
After the final siren, vehicles parked in Yarra Park will be held back for a period until pedestrians have safely cleared the precinct. We thank you for your patience and understanding.
Public transport changes
There will be no trains through Jolimont this weekend.
This Sunday bus replacements run from Parliament to Bell & Heidelberg stations.
A temporary bus stop will be on the corner of Wellington Parade and Clarendon Street as shown on the map below to service those lines. Services will be running as normal through Richmond Station (with extra trains) however the VLine Geelong and Gippsland services won't be running via Richmond so VLine passengers will need to take the train from Richmond to Southern Cross.
To find out how your journey may be affected, click here.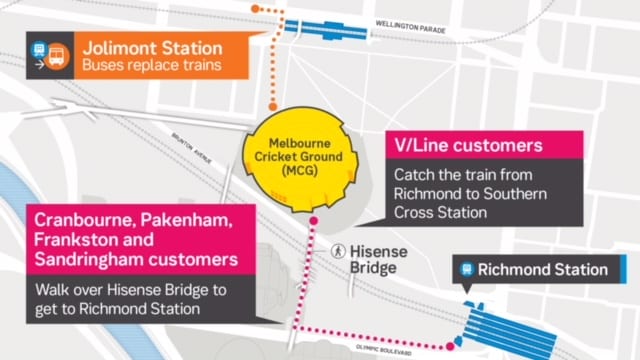 Fox Footy, 3:00pm LIVE (AEST)
Follow the official social media channels of the Richmond Football Club for all the latest news and behind-the-scenes action on game day.
#AFLCatsTigers
#gotiges


The Tigerland Superstore is back on home ground this weekend at Punt Road Oval. We will be open from 11:00am this Sunday and will also be open post-game. We have a number of new hoodies and jackets to keep you warm during the game!

Buy from the Tigerland Superstore, the only place to support the Club. Present your 2017 membership card to receive a 10% discount and remember that 5% of all profits go to the Alannah & Madeline Foundation.



There is no open training this week.
Our next open training is Wednesday, June 27
Swinburne Centre at Punt Road Oval
10:00am for a 10:30am start

VFL
Round 11
Richmond VFL v Northern Blues
Sunday, July 17
Swinburne Centre at Punt Road Oval
12:00pm
VFLW
Round 6
Richmond VFLW v Melbourne Uni
Sunday, June 17
Queen Elizabeth Oval, Bendigo
2:30pm