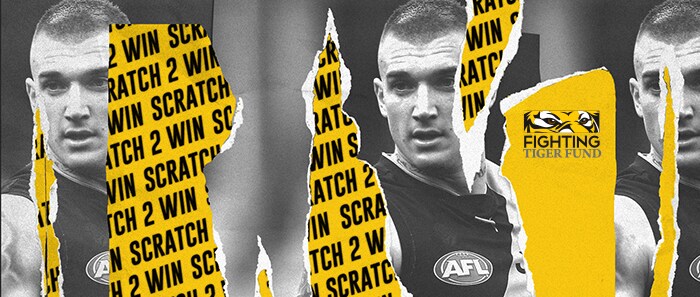 The Richmond Football Club has again launched the Fighting Tiger Fund Scratch 2 Win Donation Lottery in 2018, which supports the Club's fundraising efforts and gives you the opportunity to win some great prizes.

Members who purchase a $200 Scratch 2 Win ticket to contribute to the Fighting Tiger Fund will be afforded a ticket that gives you four chances to win. A scratch panel gives you the chance to instantly win an online Tigerland Superstore voucher valued at $5, $10, $20 or $50.
The Scratch 2 Win program will commence sales on February 1, 2018 and conclude on August 31, 2018. The major prize draw will be conducted on September 14, 2018* where one lucky member will win $30,000.
1st Prize $30,000
Andrew Van Der Linden (1131919)
2nd Prize $5,000
Adrian Bramante (1116381)
3rd Prize $2,000
Ryan Balzer (1362259)
Early Bird Prize #1 Winner:
David Williams (1016194)
Early Bird Prize #2 Winner:
Tony Ciaglia (1017363)
Early Bird Prize #3 Winner:
Fiona McKenna (1009879)
Early Bird Prize #4 Winner:
Josh Brady (1619668)
*See full terms and conditions for bonus prize draw details and extended sales period.

The Fighting Tiger Fund will continue to support the Club's VFL team and build the AFL development program, but also financially support projects that enable the Club to provide the best facilities and resources for the players, coaches and staff.
The development and improvement of our players, coaches and staff is crucial to long-term sustainable success and the Fighting Tiger Fund continues to provide financial support as we build towards becoming a "Strong & Bold Premiership Club" again.
If you would like to request a call to purchase a Scratch 2 Win ticket, please complete the form below with your details.
For full terms and conditions, click here.