Oh we're from Tigerland
Stories of being Richmond


WILMA MORLEY, 58, ENDEAVOUR HILLS



Favourite all-time player:
Matthew Richardson - "It was his passion for the game. There was something so special when you saw him on a long lead, going for the ball."
Favourite current player:
Alex Rance - "It's the way he can take a mark in the last line of defence, and his endeavour. It also helps that he's very good looking."




This is a love story, a Richmond love story.
It begins maybe half-a-century ago, with childhood, and games of football in Richmond. "I remember going to Punt Road, being on my uncle's shoulders watching the footy. I must have been four or five," says Wilma. But it starts also before that; with a mother who once lived in Richmond, who barracked for Richmond, who loved Richmond.
It begins also when two people meet.
This love story, for all others, begins also with an email. It is sent by Ben Strachan, 30, in London, and it's about his mother.
"Mum and dad split up when I was at school," it reads. "Mum took to Internet dating to find love and found her soulmate in Darryl, my step dad. When they met I'm sure it was almost the first thing she brought up, that she was Richmond. Darryl had been a lifelong Richmond member too, and like mum buys his reserve seats every year. It wasn't until they went to the footy together they realised they had been sitting only a couple of rows away from each other for the past 30 years."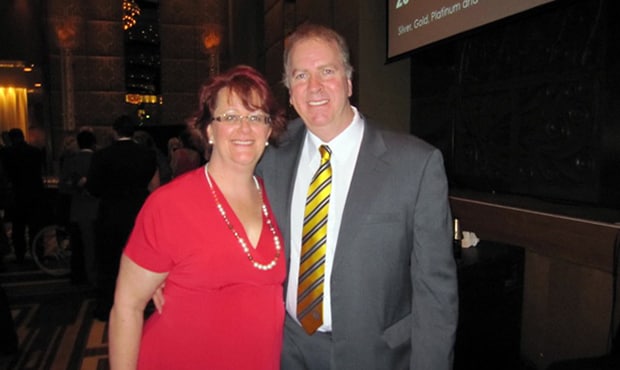 Bright lights: Wilma and Darryl at a Richmond members' cocktail night.


"They found each other by chance and will now live happily ever after, thanks to the Tigers."
We are all strangers in the crowd, and yet we share togetherness – a love of our team, of our players, of the colours we hold dear, of a longing to return to football's promised land – that makes us as one. We are Richmond, and so much is understood.
In the scrim of inky weather last Saturday, in the low skies and misty drizzle, in an afternoon of solemn remembrance – with no banners, no club songs, when 36,000 seats clapped for a moment of silence – I went to the football looking for a love story. I found it on the second tier of the Olympic Stand, before the game, with the easy smile of Wilma and the gentle manner of Darryl.
"Both of our sisters said to us, when we mentioned who we'd met, 'Oh, if they're Richmond, they're a keeper'," says Wilma, recounting the story of their union. In football and in life, it was a coming together that promises seasons ahead of deep contentment and happiness.
Their story began in 2002 with anguish and heartbreak. Richmond finished 14th on the ladder and both Wilma and Darryl, unbeknown to each other, separated from their partners. Both were Richmond people. Both had married non-believers.
"My first wife didn't really like the football," says Darryl, 59, who grew up in Foster, in South Gippsland, playing for the Foster Tigers, with yellow-and-black vertical stripes. "So when I tried to find another partner I thought, 'Wouldn't it be great to find a Richmond supporter'."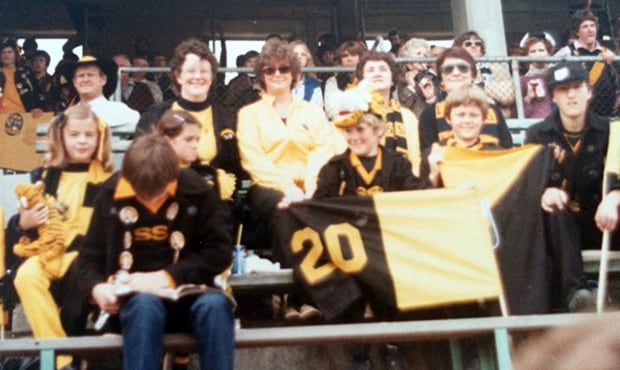 Showing their colours: Wilma with her sister and niece and cousins, and their children, at the 1982 VFL Grand Final.


"What I found was someone who's an even more passionate than me about the Tigers."
Three years later came their first date, and an endless conversation. A year later was a second wedding, for both of them. Suitably, the reception was at the Wantirna Club, a Richmond Football Club venue, with an unplanned yellow and black theme.
"I wanted to carry yellow roses, which was a bit of a tribute to my mum," says Wilma. "And I ended up wearing a black outfit. It wasn't the intention; it's just how it worked out. Then when we were leaving the reception my daughter had them play the Richmond theme song."
For Wilma, football and Richmond has always been family. Her mother was a Tiger. Her father, a railwayman who served in North Africa in WWII, was a Carlton supporter, although he swayed to the local team (they lived in The Crofts, which runs off Punt Road, in Richmond).
"It's in the blood," says Wilma, whose two older sisters are also Tiger women. "I can remember telling my children when they were little, 'If you don't barrack for Richmond you'd better start finding somewhere else to live."
Beginning in childhood, hers is a lifetime of Richmond memories; the 1967 break-through Grand Final win ("I was 10-years-old and collected cans before the game to stand on behind the goals at the Ponsford end"), then three others in seven years; the Jack Dyer presentations, club cocktail nights, and all those games through good times and bad.
She's been a RFC member for 53 years.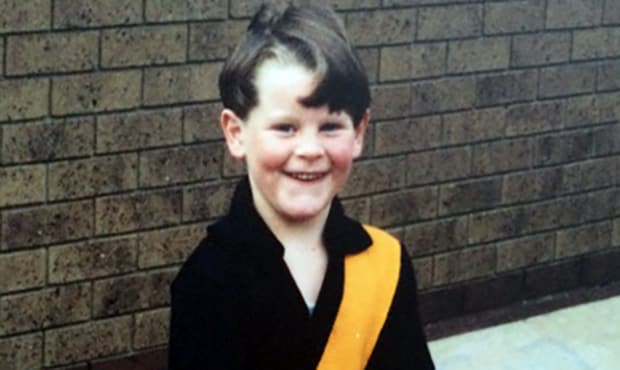 Young Tiger: One of Wilma's two boys, Ben (as a six-year-old before Saturday morning football), who sent in his mother's story.


And now, for the past 10 years, Wilma has had Darryl and the football, and Richmond. Theirs is a mutual interest that can last a lifetime, suspending and sustaining a kind of love that only fans and followers truly appreciate.
"Our whole calendar revolves around football," says Darryl. "We go to all the games in Melbourne, and watch the replay after the game, and there's always a fight for the back pages of the newspaper the following morning."
It might be fate, it could be written in the stars, but two people have found each other in the outer, in the Richmond crowd. "It's amazing to think we sat half-a-dozen seats away from each other for goodness knows how many years," says Wilma. "We had no idea that down the track we'd be at the games, two of us together."
Go Tiges!
And go Wilma and Darryl at the G together this Friday night!
If you would like to nominate a Richmond fan who has a story to tell about their barracking please email Dugald Jellie with details: dugaldjellie@gmail.com