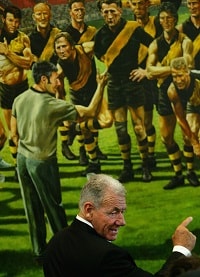 Tommy Hafey's VFL playing career gave no hint of the incredible impact he would later have on the league coaching scene.

In six seasons and 67 senior appearances with Richmond, Hafey, by his own admission, was a battling-type player – solid rather than spectacular.

He played mainly in the back pocket during his stint at Tigerland, but also spent a bit of time on the bench.

After leaving Richmond at the end of the 1958 season, Hafey had a year playing football in the amateurs, before accepting the position as captain-coach of Victorian country club Shepparton.  It was to be the start of a remarkable career in the coaching arena.

Hafey led Shepparton to a premiership hat-trick from 1963-65 and then, at the end of the 1965 season, he was appointed senior coach of his old VFL club Richmond, replacing Len Smith, who had been forced to resign due to ill health.

The Tigers narrowly missed the then final four in Hafey's first year in charge (1966), but he had laid the strong foundations for what was to be the Club's glistening golden era.

In 1967, Hafey guided Richmond to its first premiership in 24 years, with a nine-point win against Geelong in a classic Grand Final encounter.

Further premiership triumphs were to follow for the Tigers under Hafey's astute coaching in 1969 (against Carlton), 1973 (also against Carlton) and 1974 (against North Melbourne).  They also won the Australian Championship in those years (a carnival series between the premiers of the key football states), and were acclaimed as one of the best teams in league football history.

Hafey, a fitness fanatic, went to great lengths to ensure his players were the fittest in the competition.  He was way ahead of his time in this regard, with the Tigers consistently overpowering their opponents at the business end of games due to the significant advantage they had fitness-wise.

The Hafey formula of fast, aggressive, play-on football, with long kicking to position, and an emphasis on scoring heavily, paid huge dividends for Richmond.

Also renowned as an excellent communicator with his players, Hafey had a tremendous ability to extract maximum effort out of them.

Hafey had enormous faith in his players to get the job done on match day.  He provided them with every opportunity to beat their particular opponent and, more often than not, they responded superbly to the utmost confidence he had in them.

It's doubtful if there has ever been a stronger bond between a coach and his players than during Tommy Hafey's 11-year coaching career at Richmond.

The players' respect, admiration, and deep affection for the man never waned.  And, his dedication to the task at hand truly was infectious.

Hafey instilled a mighty spirit and camaraderie within the Tiger teams he coached, largely due to the fact he genuinely cared about his players as individuals.

In so many ways, he was a beloved father figure to them.

Hafey's coaching record with the Tigers, in his 11 seasons, from 1966-76, is 173 wins, 73 losses and two draws from 248 games.  That's an amazing winning strike-rate of 70%!

After leaving Richmond at the end of the 1976 season, Hafey crossed to the Tigers' arch-rival Collingwood, where he also enjoyed considerable success.

He coached the Magpies into Grand Finals in four of the five and a half years he was there (1977, 1979, 1980 and 1981), with premiership success narrowly eluding him.

Hafey then was Geelong's coach from 1983-85, and Sydney's coach from 1986-88, lifting the Swans to two rare finals campaigns back then (1986-87).

Only once in 22 years of league football coaching did a Tommy Hafey-led team finish lower than seventh place on the ladder.

He also was unbeaten as coach of the Victorian State team.

And, to further underline the major influence Hafey exerted throughout his coaching career, is the fact he coached 20 players, who later became senior league coaches.

Tommy Hafey strongly believed the role of a senior coach was to create an environment where all the people within the group could work harmoniously together towards achieving success.  He was a master at creating that exact environment.