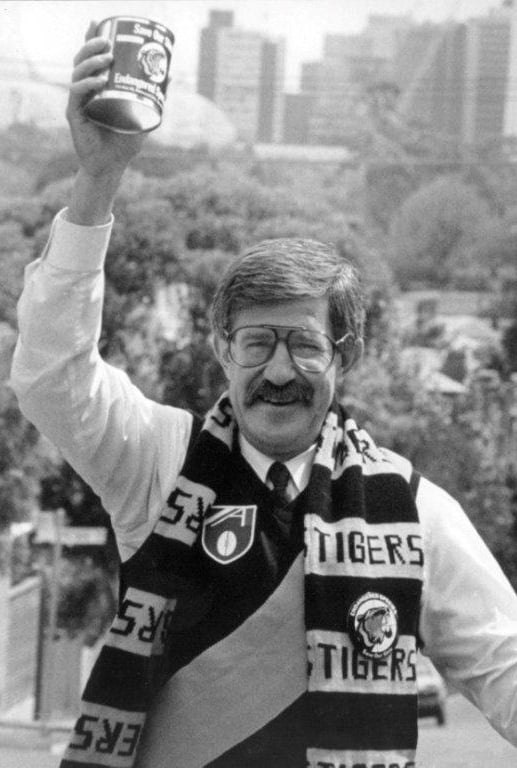 Neville Crowe is Richmond's final Coming Home Hero for 2014.
The esteemed former Richmond captain and president will be honored during the pre-game build-up to Sunday's Round 22 clash with St Kilda at the MCG.
Crowe, who is battling ill health, will do a lap of honor in a Jeep, so that all Tiger fans throughout the ground can pay due tribute to him.
Neville Crowe's Tigerland pilgrimage started nearly 60 years ago – in 1957 – when he was invited down to the Club, from the State Savings Bank amateur team, to join in pre-season training.
The young ruckman made an instant impression, and debuted with the Tigers in the opening round of the '57 season, against North Melbourne at Punt Road.
Crowe would go on to become one of the finest players in Richmond's proud history.
In a career spanning 11 seasons, from 1957-67, Crowe played 150 games and kicked 84 goals.
He won Richmond's Best and Fairest award three times (in 1963, 1964 and 1966) and was runner-up twice.
During the Tigers' lean years of the early-mid 1960s, Crowe stood out like a beacon, with his top-class ruckwork, courage, and inspirational leadership qualities.
Crowe captained Richmond from 1963-66 and represented Victoria on nine occasions in State football.
In 1966, Crowe's excellent form for Victoria in the interstate carnival, which was held in Hobart, earned him selection in the All-Australian line-up.
Sadly, Crowe's final game of league football was to be the 1967 second semi-final against Carlton. He was reported, and subsequently received a four-match suspension, for striking the Blues' key ruckman John Nicholls.
Crowe, consequently, missed Richmond's drought-breaking premiership triumph over Geelong a couple of weeks later, but was one of the first out on the field to congratulate coach Tommy Hafey and his Tiger teammates, when the final siren sounded.
Video footage (which wasn't permissible at tribunal hearings back in those days) showed that Crowe's open-handed swipe at Nicholls had missed by a fair way.  Years later, Nicholls admitted that he had merely been staging for a free kick and that Crowe was, in fact, innocent.
It was a bitter pill for Crowe to swallow and, even though he departed Richmond at the end of the '67 season, he remained passionate about the club he'd barracked for since he was a youngster.
In 1980, Crowe returned to Punt Road as ruck coach, at the request of his former teammate Tony Jewell, who was coaching the Tigers then. 
Crowe spent the season imparting his considerable knowledge of ruck play to Richmond's following division of Mark Lee, Dale Weightman, Barry Rowlings, Robert Wiley, etc.
By season's end, 'Crowey' was to be justifiably proud of his teaching role, as his pupils had responded in superb style, playing a crucial role in helping lift the Tigers to a then record-breaking 81-point Grand Final victory over Collingwood.
Unfortunately, those Yellow and Black glory days all too quickly turned sour. 
By the late 1980s, Richmond was struggling big-time, both on and off the field.  The Tigers simply didn't have the financial resources to enable them to adequately replenish their diminishing playing stocks.
In typical style, it was Neville Crowe who stepped up in the Club's hour of need.  He accepted an invitation to take over as Richmond's president in May 1987.
With his infectious enthusiasm and optimism, strong football background and deep love of the Club, Crowe was the ideal man for the monumental task of lifting Richmond out of the financial mire.
He restored confidence, pride and stability to the Club at all levels, following several turbulent years of in-fighting and unrest.
When crunch time came in 1990, and Richmond was fighting for its survival, Neville Crowe became the major architect and driving force of the successful 'Save Our Skins' campaign.
Crowe galvanised the Yellow and Black forces and played an important role in the creation of the highly-effective 'Endangered Species' TV promotion.
Images of 'Crowey' rattling tins and counting money, as it poured in to the Club, will live forever in the memories of the Tiger faithful . . .
By the time the October 31 deadline rolled around, Richmond had actually exceeded its $1 million target by more than $30,000.
The result was acclaimed as something of a minor miracle – and Neville Crowe's role in it all had been enormous.
Crowe was to continue as Richmond's president until August 1993, when he stood down from the role to concentrate on his business career.
A decade later, Crowe was back with his beloved Tigers, working as a full-time member of the Club's sales/marketing department.
He also managed Richmond's 'Captains' Club' coterie group, was MC at a host of coterie functions, a foundation member and inaugural committee member of the Tommy Hafey Club, and later developed the Tigers' bequest program.
His passion for Richmond, over such a long period of time, has been boundless.
And, as long as there is a Richmond Football Club, Neville Crowe will be fondly remembered as the man who helped keep it alive!
Neville Crowe fact file
Born:  1/6/1937 
Height:  193cm 
Playing weight:  96kg 
Recruited to Richmond from:  St Savings Bank 
Guernsey number at Richmond:  No. 5
Senior debut at Richmond:  Round 1, 1957 v North Melbourne, Punt Road Oval
Playing position:  Ruckman
Games at Richmond (1957-1967):  150
Goals at Richmond:  84
Honors at Richmond:  Triple Best and Fairest winner (1963, 1964, 1966); Club captain 1963-1966;  Tigers' Hall of Fame inductee; RFC Life Member