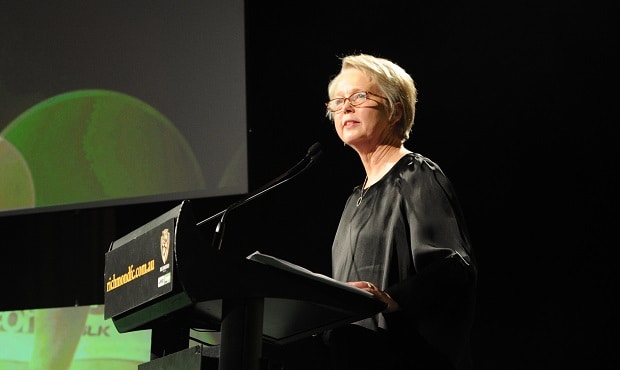 Richmond Football Club has congratulated President Peggy O'Neal on being named among Australia's Top 100 Women of Influence.
The Financial Review's 100 Women of Influence is committed to increasing the visibility of women's leadership in Australia, highlighting the important contribution women make in creating a bold and diverse future for Australia. O'Neal was recognised in the diversity category.
Entrants into the awards were assessed by a panel of esteemed judges and have been recognised based on their outstanding ability to demonstrate vision, leadership, innovation and action in and beyond their fields.
O'Neal's nomination comes on the back of being named in the inaugural The Australian Women's Weekly Power List. This list highlights 50 women who are "having an impact on the nation – whether in boardrooms, in Canberra, in workplaces or otherwise in our daily lives."
Richmond chief executive Brendon Gale said these lists not only recognise the significance of O'Neal's appointment as President of the Richmond Football Club but more importantly pay tribute to her professionalism and commitment to the diversity agenda.
"Peggy brings great skills to our boardroom, particularly around governance and risk management, which are critically important parts of any business, as has been brought into sharp focus recently," Gale said.
"Equally she understands the importance of diversity of thought when it comes to an holistic approach to decision making and she continually looks for ways to nurture and support that at Richmond Football Club, and across the industry more broadly.
"It is fantastic she has been recognised in this way. As a Club, it also reinforces the important leadership role we can play in supporting increased diversity and we remain firmly committed to that."
The story of Peggy O'Neal is a truly unique one. A highly-respected lawyer who has played an important role in changing the landscape of superannuation in this country, she has also blazed a trail in elite-level sport to become the first female Club President in the 118-year history of the AFL / VFL competition.
Born in the United States, O'Neal completed her tertiary studies in Virginia. This included a Bachelor of Arts (Virginia Polytechnic Institute and State University) and a Juris Doctor (University of Virginia). Peggy then practiced law in Richmond, Virginia with international law firm Hunton & Williams.
Twenty-five years ago, she moved to Australia and was admitted to practice law in 1991, working for 20 years at Herbert Smith Freehills. On July 1, 1995, O'Neal was made partner in the HSF Corporate Section specialising in superannuation and financial services law.
O'Neal – who is currently a consultant for Lander & Rogers – is regularly recognised by her peers for her contribution and influence having been named in an Australian Financial Review survey as one of the "Best Lawyers" in Australia in 2010, 2011, 2012, 2013 and 2014. In 2013 O'Neal was recognised as the Best Superannuation Lawyer in Melbourne.
When O'Neal arrived in Melbourne, she settled in the suburb of Richmond. After attending her first game of Australian Rules Football at the Melbourne Cricket Ground (MCG), she quickly fell in love with the Richmond Football Club.
In subsequent years, she served the club in many different voluntary capacities, including being an inaugural member of the club's first female supporter group, Hafey's Ambush.
O'Neal joined the board of the Richmond Football Club in November 2005, being the first woman who had filled that position. As a board member, she chaired the Risk & Compliance sub-committee for several years and was a member of the Finance sub-committee and other board committees. She also chaired the Tigers in the Community Foundation (2011 – 2013), having been a member of that board since 2009. The Foundation is the arm of the Club that works in the community, most notably the Indigenous community. It also works to protect children from violence through a charitable partnership established with the Alannah and Madeline Foundation.
In October 2013, O'Neal was elected President of the Richmond Football Club making her the first female in the history of the AFL / VFL competition to hold such a position. This was an enormously significant appointment for the game, the women within it and those who may choose in the future to take a lead role in elite level sport.
There are ten categories in the 100 Women of Influence: Board/Management, Public Policy, Young Leader, Social Enterprise and Not-for-profit, Philanthropy, Global Influence, Innovation, Local/Regional Community, Diversity and Business Enterprise.
On Wednesday 22 October, a gala event will be held at Sydney's Town Hall to celebrate these women and the significant impact that each has made within their chosen field. The ten category winners and overall winner for the year will also be announced on the evening.