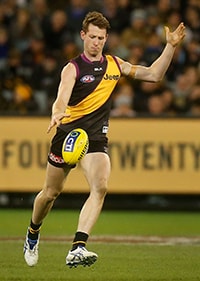 Richmond has re-signed defender Dylan Grimes for a further three seasons.
The 24-year-old, who has completed five seasons at Tigerland, will remain in the Yellow and Black until at least the end of the 2018 season.
Grimes has established himself as a key member of Richmond's defensive unit in the last two seasons, after significant injuries held him back in the early part of his career.
He played 19 games in 2014, and followed up with 18 this season as he established himself as a dependable and versatile backman.
"Dylan has become a very important member of our team, and we're excited to see him sign on for a further three years," said Richmond General Manager of Football, Dan Richardson.
"Not only has he proven himself as a player, but he is a leader on and off the field who has the utmost respect from the coaches and his team-mates.
"He has worked incredibly hard to overcome some serious injuries in his first few years, at just 24 years of age, his best footy is ahead of him."
Grimes has played 63 games so far in his career, after being selected with the second pick in the 2010 Pre-Season Draft.