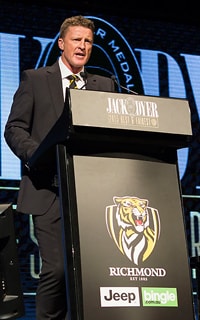 Richmond coach Damien Hardwick will embark on an education trip to the US this month as he looks for a way to deliver the Tigers' first finals win under his reign.
Hardwick will be joined on the trip by Richmond's head of coaching & football performance Tim Livingstone, assistant coach Mark 'Wilbur' Williams and football analysis manager Hayden Hill.
A group of the club's other coaches will complete the AFL's level three course.
Total Tiger focus on taking next step
After declaring at the club's best and fairest on Tuesday night that Richmond won't be driven by proving outsiders wrong, Hardwick will depart for the 10-day trip in late October.
"They're going to spend some time with Texas University and Kentucky University," football manager Dan Richardson told afl.com.au.
"They're always looking to improve and see what other people are doing at other teams and in other countries.
"The soft cap (on non-player football expenditure) has had a bit of an impact on that and stifled a little bit of what we can, but we would be no different to (rival) clubs."
Four Tigers had minor hip surgery at the end of the season – Nick Vlastuin, David Astbury, Kane Lambert and Ben Lennon – while ruckman Shaun Hampson underwent a minor ankle cleanout.
Hardwick uses Newman as a shining example
Richardson said all would be ready for day one of the pre-season.
The message to players in the end-of-season review was that the team had improved and produced a good season, but now needed to reproduce that level in a final.
"We need to get better, but there's not doubt there's plenty of improvement in us as a team and we need to keep working hard to get that," Richardson said.
Richmond's first- to fourth-year players will return to the club on November 13, with the full group back on November 27.