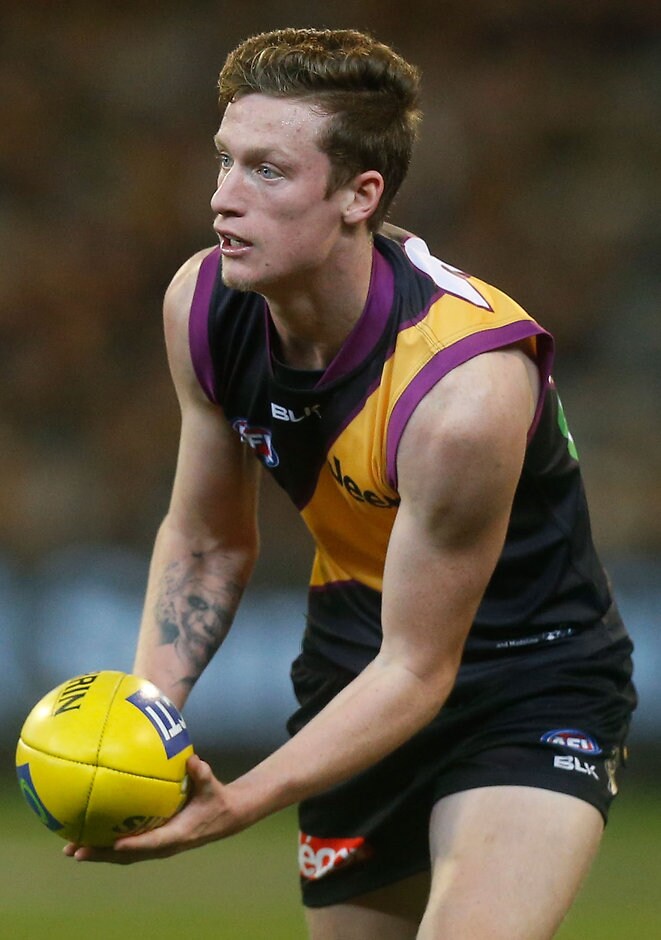 Although talented Tiger teenager Connor Menadue considers his debut AFL season in 2015 was one of mixed fortunes, he is confident it has provided him with a strong base to build on next year and beyond.
Menadue, who was Richmond's second pick (No. 33 overall) in the 2014 National Draft, managed five senior appearances, all in-a-row, from Round 7-12 and showed some promising signs of the football ability he clearly possesses, before returning to the VFL , where he played out of the second half of the season.
"I think it's been up and down. I've had some good times and bad times," was how Menadue described his first-up season at the game's highest level in an interview with 'Roar Vision'.
"It was good to get a feel of AFL level and to know what's the standard and what I need to work on . . . It's a good motivating step to playing AFL.
"I probably didn't expect to play that early, but I was definitely grateful for the opportunity and cherished it . . . I was happy to play when I was needed."
Menadue was a late call-up to the Richmond line-up to make his senior league debut in the big Round 7 clash with Collingwood at the MCG.
He received a phone call from coach Damien Hardwick on the morning of the match to tell him he would be playing against the Magpies that afternoon as the 'sub'.
Although Menadue had very little game time, being brought on during the last quarter, it was still a memorable experience for him.
"To be able to put on the Tiger uniform was very special and I'll definitely remember it for the rest of my life," Menadue said.
The following week, he again was the sub, when Richmond took on Port Adelaide at Adelaide Oval, but this time he had an impact, kicking an inspirational long, set-shot goal in the final term, which helped the Tigers pull off a meritorious win.
"I'll definitely remember that for the rest of my life . . . I always think back to it, just how good it was and how much I want to do that again," Menadue said.
"That's a good motivating step.
"I wanted to kick more goals and play more games, but I'll definitely remember it."
On-field versatility was a key factor in Menadue's development throughout his first year of league football with Richmond.
The Tigers used Menadue in a variety of roles to further his football education and become a more rounded player.
"If you can play more positions than less it's always good," he said.
"Being able to get thrown around everywhere is good, to see different ways how you have to play.
"In defence, you obviously have to beat your man . . . I think I got chucked into defence, just to help me with my defensive game, one-on-ones and contested ball, which has been a focus as well.
"It was good to work on some techniques and one-on-one, which you have to use anywhere on the ground."
Menadue has a couple of main goals for the upcoming pre-season . . .
"To put on size obviously is a focus for me. But also to keep playing to my strengths, which is my running ability," he said.
"I want to come back bigger and fitter, and then hopefully run really well . . ."