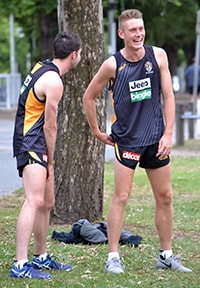 There's an enormous upside to Richmond's first pick in last week's AFL rookie draft, Callum Moore, according to those closely involved with his development at TAC Cup club the Calder Cannons.
Moore, who has a basketball and rugby league background, was a late starter to Australian Football.
Over the past couple of years, however, his game has, both figuratively and literally, come on in leaps and bounds.
He's rapidly risen from the junior ranks at Essendon District Football League club Aberfeldie, through to the Calder Cannons, and now finds himself in the AFL with Richmond as a rookie-list player.
Visit Richmond's Draft hub for all the info on the newest arrivals at Tigerland
Calder Cannons talent manager Ian Kyte outlined Moore's eye-catching football progress from the time he joined the club's development squad as a 16-year-old . . .
"He'd been playing school footy and some local football and he'd been playing extremely well," Kyte said.
"His athletic nature was something that was really attractive.
"And, his ability to jump at 193cm . . . he could jump as high as anyone else we had at the club.
"Cal oozes X-factor. He has elite agility, speed for his size and a great leap.
"He is still learning the game . . . he's going to get better over the next two years.
"He's played mostly as a key forward, but he might project best as a key defender . . . he's got the tank to run up the ground."
Richmond members – cast your vote in the 2015 Board Election
Calder Cannons coach Andrew Johnston concurred with Kyte's assessment of Moore's impressive playing potential.
"Callum has special attributes. His athletic ability is just phenomenal," Johnston said.
"He's still got a little bit to learn about the game itself, but he's come a long way . . ."
Moore was a member of the Vic Metro team in this year's under-18 National Championships.
He played nine games for Calder Cannons in the 2015 season, kicking 13 goals and averaging 13 disposals, 3.4 marks and 10.7 hit-outs per match.
In the post-season Draft Combine, Moore produced excellent performances in several key testing categories, including:
Ninth in the Absolute standing vertical jump (319cm).
Equal fifth in the Absolute running vertical jump (340cm).
Equal eighth in the Relative running vertical jump (86cm).
Equal seventh in the 20-metre sprint (2.91 seconds).