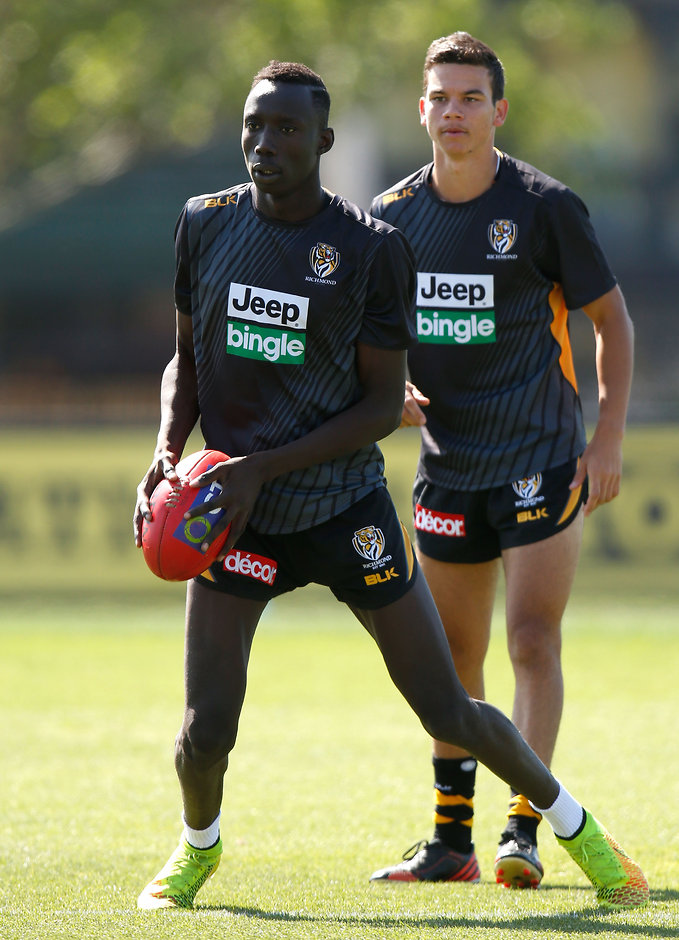 Two highly-respected Queensland football identities have spoken in glowing terms of the future prospects at the game's highest level of Richmond's recent rookie draft selection Mabior Chol.
Adrian Fletcher, currently the Queensland academy and high performance coach, following a distinguished 231-game league career at four clubs (Geelong, St Kilda, Brisbane, Fremantle), and dual Brisbane Lions premiership player, Tom Notting, believe Chol has plenty going for him in his quest to carve out a successful AFL career.
Mabior's long road to Tigerland
Fletcher was particularly impressed with the leadership qualities Chol displayed while representing Queensland in this year's under-18 national championships.
"He was actually a leader," Fletcher said.
"We'd go to Melbourne and he'd be our best player. Out of his comfort zone. So that's a very good thing to have as a player.
"I think we haven't seen the best of 'Mabs'.
"He's got it all. He can jump, he's quite aggressive when he's in the game. He's cat-like at ground level, he's a beautiful raking left-foot, and he can mark it above his head.
"And, he can play in a number of positions. He can play centre-half back, he can play in the ruck, he can play in the forward line . . ."
Notting, who was Chol's teammate at the Yeronga South Brisbane club, feels the rangy teenager could be a special talent at the AFL level.
He has likened him to star West Coast ruckman Nic Natanui in terms of his athletic prowess.
"We have seen what Natanui has been able to do in his career and Mabior's game is very similar. He can jump over two buildings and do all that athletic stuff," Notting said.
"He's an absolute talent and he's got everything physically to play the game at that level . . .
"I saw him improve out of sight when I was involved with him . . .
"He's a good kid, always has a smile on his face and is a pleasure to be around. He deserves it."