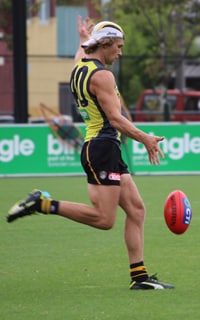 Talented Tiger cub Dan Butler had just a brief taste of the action at the game's highest level this time last year, when he lined up for Richmond against the Western Bulldogs in a NAB Challenge clash at Whitten Oval, but it whet his appetite for more in 2016.
Butler, who was the Tigers' fourth pick (No. 67 overall) in the 2014 AFL National Draft, subsequently suffered a severe knee injury, which wiped out most of his first season at the Club.
The February 2015 encounter with the Dogs, however, remains at the forefront of his mind, as he throws himself into preparations for the 2016 season.
Win the 2016 Tigers Golden Ticket by becoming a Richmond member
"That was one of my very few games for the year. I played that 'sub' role against the Bulldogs and it was an unreal experience, playing in front of a big crowd with all these new players you've never played with," Butler told 'Roar Vision'.
"I remember my first opponent was Rob Murphy (Bulldogs captain), so that was a bit of an eye-opener.
"But it was just really good to have a taste of it and see what it was like."
Butler, 19, has fully recovered from his knee problems and is looking forward to turning his solid work on the track into something substantial during the pre-season games.
"I've had a good block of training this past month after Christmas," he said.
"I've been full training, doing all the workloads, and the body's feeling really good . . .
"This is the longest block of training I've ever had without being injured, so it's given me a lot of confidence in my body, which I didn't really think I had.
"I think I'm in good stead for a good season . . .
"I'm hoping I can play a game in the NAB 1 (v Fremantle) with the younger boys, which would be good. But I'm just going to wait and see what happens."
Butler, renowned for his speed, stamina and goal sense, was used as a forward in his limited game time at Tigerland last year, but has been working with the Club's midfield group throughout this pre-season.
"I've been working on getting a bit bigger, on my bodywork in the stoppage, and also just increasing that fitness, because obviously you have to run a lot further and get to more contests," he said.
"In the midfield, I've been working a bit with 'Cotch' (Trent Cotchin), just kind of in the smaller drills we do, and also our new recruit Jacob Townsend.
"He's obviously real good inside midfield player, so I've just got in his ear and learned a fair bit off him."
Richmond is striving to create a 'Strong and Bold' future and the Fighting Tiger Fund (FTF) has established itself as a critical platform to support sustainable success.