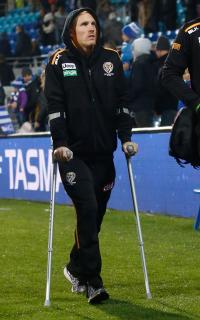 Richmond defender Steven Morris had surgery on Tuesday to repair the ruptured anterior cruciate ligament (ACL) in his right knee.
The 27-year-old sustained the season-ending injury in the first quarter of Richmond's Round 11 loss to North Melbourne in Hobart.
Morris opted for a traditional knee reconstruction, the second knee reconstruction of his career, after rupturing his ACL in 2009 playing for West Adelaide in the SANFL.
"Steve's surgery went well, he'll spend some time recovering from the operation, then begin rehabilitation in the coming weeks," Dan Richardson, Richmond's General Manager of Football said.
"Although disappointing for Steve, and for the Club given he was in terrific form, this recent injury has once again highlighted the resilience Steve has demonstrated throughout his career.
"We wish him a smooth recovery and look forward to his return to football in 2017."