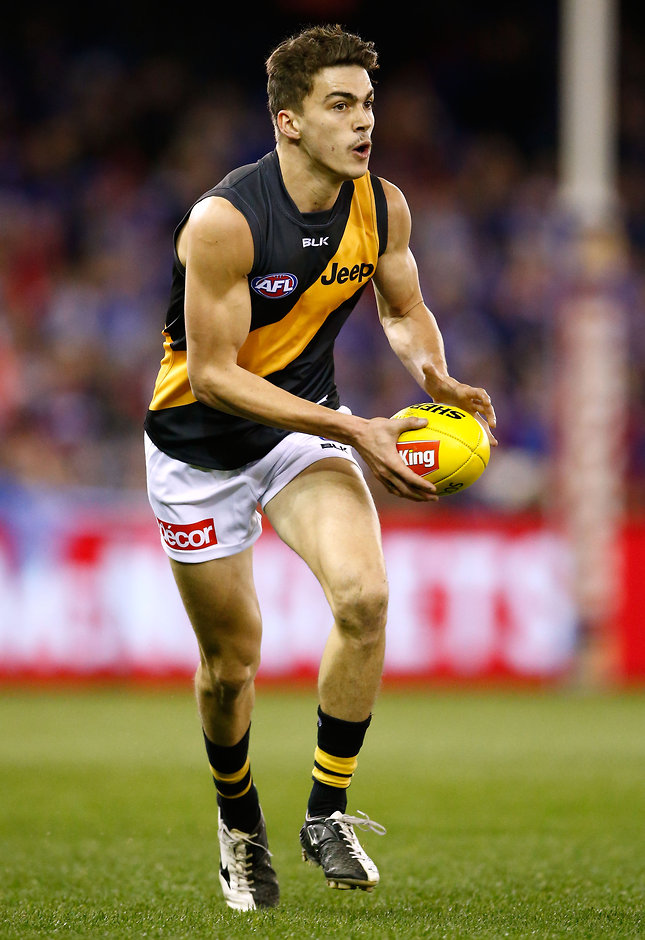 As AFL debuts go, Oleg Markov's certainly was one of the better ones . . .
Markov, Richmond's second pick (No. 50 overall) in the 2015 National Draft, had 18 disposals, four tackles, three rebound-50s and took nine marks against the highly-fancied Western Bulldogs' combination at Etihad Stadium last Saturday night.
It was an impressively smooth transition from the VFL to the game's highest level by the speedy, skilful, moustachioed 20-year-old, who has cult figure written all over him.
Post-match, Markov provided an insight into how he felt making his senior debut with the Tigers, in an exclusive interview with 'Roar Vision'.
"It was unbelievable. Words really can't describe it," Markov said.
"I tried to soak it all in during the warm-up, so I didn't get overwhelmed playing and could really focus on the game. I just stood there in the warm-up . . . had a look around and noticed all the little things – where people were sitting, the stadium and the big screens. And then, after that, it was just all go from there . . .
"It's been a big lead-up to it, when I really think about it . . . eight-plus years, from Gepp's Cross??? to North Adelaide, and now to Richmond.
"I really am honoured for everyone who has helped me on the journey . . . hopefully there's many more years to come . . .
"And I'm absolutely honoured to be a part of the Tigers."
Markov outlined the instructions he received from Richmond coach Damien Hardwick going into his first game of AFL football . . .
"He wanted a bit of run-and-carry, and just said to play to my strengths and off instincts. I feel like I've got plenty to work on," he said.
Round 16: Markov's debut