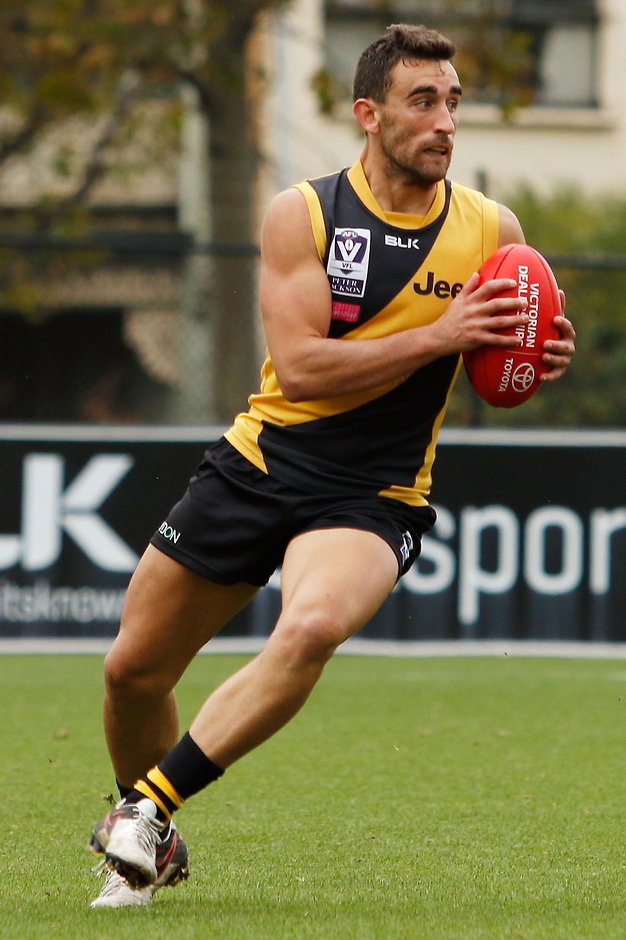 If I can inspire just one to go on and reach their dream then that'll make me very happy
Adam Marcon
MATURE-AGE recruit Adam Marcon is using his chance at the top level to inspire other players to keep dreaming after making his Richmond debut in round 19.
Marcon is the latest of the mature-age brigade in the AFL to make his debut, with his big day coming at 24 and after being overlooked for five years.
And while the game's elite can inspire young players to reach for the stars, Marcon's message is equally important for teenagers and state-league players alike who want to reach the top level.
"I went back to the Northern Knights in the TAC Cup earlier this year for their jumper presentation and spoke a little bit about my journey," Marcon told AFL.com.au.
"Realistically a lot of those guys won't get their crack through the draft and they might have to go through the VFL.
"So I just talk to them about my journey and hopefully that inspired them to keep going on to VFL if they don't get picked up.
"If I can inspire just one to go on and reach their dream then that'll make me very happy."
Marcon's dream was to run out with best mate Kane Lambert in an AFL match and that was achieved against Greater Western Sydney last Saturday.
It was a brief moment of joy before what turned into a horror day for the Tigers and ended in an 88-point thumping.
"It's probably always been a joint dream for me and him," Marcon said.
"So it was really satisfying to run out beside him and we loved the experience.
"We've done a lot of our training and been through a lot of hard roads together."
The hard roads for Marcon and Lambert – a fellow mature-age rookie recruited at the end of 2014 – included draft after draft being overlooked for younger players.
To keep fronting up in the VFL with a goal to achieve was a challenge, but he was inspired by players who had done it before him.
"I was playing with the Northern Blues in my first year and I played with (former St Kilda forward) Ahmed Saad for a year and he got picked up," Marcon said.
"That showed me it was possible. I remember when he got picked up I had a really strong pre-season and a good year in 2012.
"So that was the start of things where I thought 'the dream's not over, I've still got a chance here'.
"I was extremely thankful to have played a year with Ahmed and see what he put into his footy. That really inspired me to keep going."
Now Marcon is providing advice of his own to VFL players, and particularly Williamstown midfielder and former VFL teammate Michael Gibbons, who looks set to earn his AFL chance after a standout season.
"He is one who's standing out this year and playing some really good footy," Marcon said.
"Playing with him last year, I've kept in touch with him throughout this year to give him a little bit of advice and just talk about how he's going.
"He's playing some pretty good footy, so the advice goes both ways."