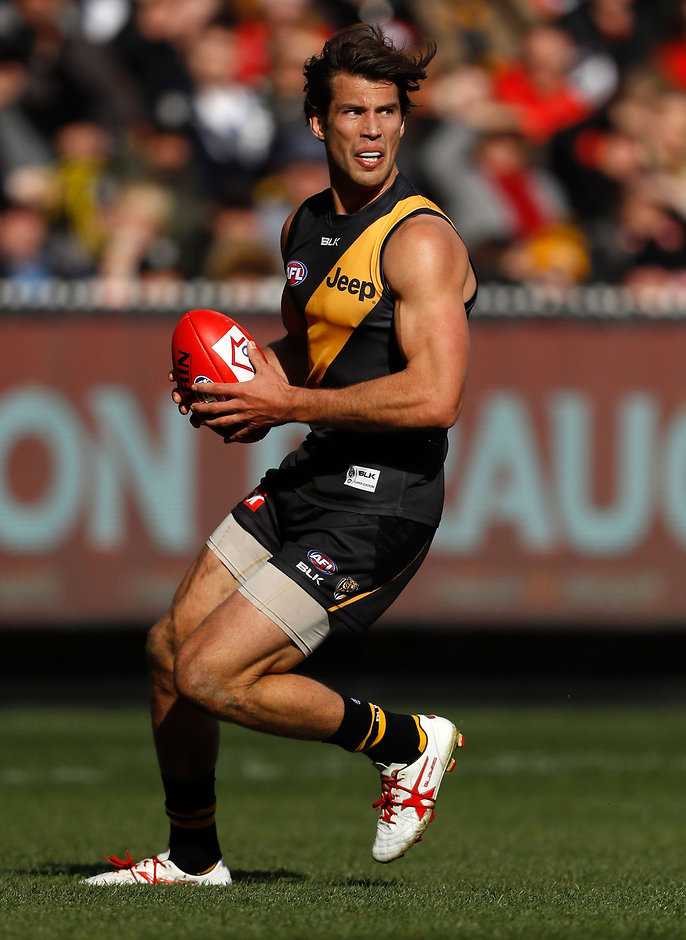 Star Richmond key defender Alex Rance will qualify for life membership of the Club, when he reaches the 150-game milestone in Saturday's clash with Sydney at the SCG.
Rance, a product of WAFL club Swan Districts, was a priority pick (No. 18 overall) for the Tigers in the 2007 AFL National Draft after they had finished with the wooden spoon that season.
This is what the WA Football Commission's High Performance Manager at the time, Jon Haines, had to say about Rance as an AFL prospect . . .
"Alex is the son of Murray who played a fair bit of footy over here in WA (with both the West Coast Eagles and Swan Districts, as well as in the VFL for Footscray). He has a mature body for his age and played a lot of footy at the (under-18) Championships as a running half-back with really strong defensive skills. He loves to run hard and aggressively from the half-back line; he showed that all year and not just at the carnival. For Swan Districts, he continually set up their play from the half-back line with his hard running, but he can certainly hold down a key position as well. He's very good overhead and very good in one-on-one situations, he holds his ground very well and rarely gets beaten in marking duels. Alex is a really committed, disciplined trainer; he soaks up the fitness and training side of things, which is another good sign from a coachability point of view."

Long-time AFL National Talent Manager Kevin Sheehan was equally complimentary in his assessment of Rance back then . . .
"He's a dasher and he's been a revelation this year; he's much improved. He's one of those defenders who is prepared to take them on and provide that dash out of defence and break the lines. He's one who really enhanced his prospects with his three performances as a tall defender at the Championships," Sheehan said.
Nine years on, Rance has earned a glowing reputation as the best key defender in the competition, and is even being favourably compared to the finest of the modern league football era (ie Stephen Silvagni and Matthew Scarlett).
He is the total package as a backman, combining stout defence with superb attacking flair.
Rance has enormous courage, a fierce desire to succeed, reads the game brilliantly, is elite with his intercept ability and, basically, is worth his weight in gold to the Richmond side.
The 26-year-old is the Tigers' reigning Jack Dyer Medallist, a big chance to make it back-to-back Best and Fairests, and appears certain to gain All-Australian selection for a third successive season.
He's averaging a career-high 18.5 disposals and 7.7 marks per game in season 2016. On seven occasions this year, he's picked up 20 disposals or more in a match, and it's something he's accomplished 40 times all-up in his league career.
What tends to be forgotten about Rance, however, is that he wasn't an instant hit at the game's highest level after crossing the Nullabor and arriving at Richmond.
Rance, in fact, served an extended apprenticeship with the Tigers. He spent his entire first season (in 2008) playing for the Club's then VFL affiliate Coburg, where he was coached by former Hawthorn Western Bulldogs and North Melbourne tall key-position player Jade Rawlings.
Each week throughout the 2008 season, Rawlings provided richmondfc.com.au with a summary of how the Richmond-listed players had performed at VFL level with Coburg.
Rawlings' comments on Rance's progress that season make for particularly interesting reading, given how the youngster from Swan Districts has blossomed into such a star at Tigerland.
Here are Rawlings' Rance reviews from season 2008 . . .
April 17
"Played his first game of senior VFL football and took until later in the game to adjust to the tempo. Certainly showed enough to suggest he will play more senior footy as the season rolls on."
May 15
"Showed significant improvement in just his second game of senior VFL football. A strong competitor, who also gave us good run off the half-back line."
May 20
"Had a slow start to the match, allowing his opponent some easy possessions. But from quarter-time onwards, he was desperate, made some great spoils, and was a key component in our defence."
May 27
"Had an ordinary first quarter, but regrouped after that, and was able to play a good part in what was a solid backline on the day. Is prone to making some major errors, but there's no doubting the improvement he's making and how bright his playing future is."
June 11
"Among the best three players on the ground. Showed he was versatile enough to play on taller and smaller opponents. Had 35 possessions and five tackles in a top-class display. His improvement over the past month has been profound."
June 18
"Started the match on fire, offering plenty of run out of the backline, while, at the same time, shutting his opponent down. Wasn't as prominent after quarter-time, but was still a reliable player for us."
July 10
"Had a nervous start, but through his competitiveness was able to work his way into the contest and be a solid performer overall on the day. Has improved enormously throughout the season, and his AFL opportunity will come."
July 17
"His attack on the ball and overall endeavour in difficult circumstances was exemplary. Needs to continue to work on his disposal, but can't question his attitude."
July 23
"Had an ordinary first half in the backline, with disposal and accountability letting him down. After half-time, however, his competitiveness shone through. Did some really important things late in the game."
August 7
"Produced his best four-quarter performance for several weeks. Was solid in the backline early on, before being swung forward, where he became a major contributor. Showing good signs of improvement."
August 13
"Was very good right throughout the match. Played on talented, young, Carlton-listed players in Adam Hartlett and Jake Edwards and accounted for them both. Attacks every contest with ferocity, but just needs to slow himself down when the ball is in his hands."
August 21
"His best four-quarter performance of the season. Was shifted on to a dangerous opponent in Ben Holland, after he got out of control, and was able to rein him in, as well as gather plenty of ball himself. His skill level also was very good on the day."
August 28
"Played on St Kilda-listed player Jarryd Allen and kept him to just two possessions in the first half, while gathering 17 himself. Was outpointed for a patch in the second half, but still offered a lot of attack from out of our back half (finished with 34 possessions)."
September 3
"Played centre half-back throughout the match and was extremely solid in all areas of his game. Will really benefit from finals experience."
September 10
"Stood up well in defence for a fair portion of the game. Committed a couple of costly skill errors, but overall it was an admirable performance from him."