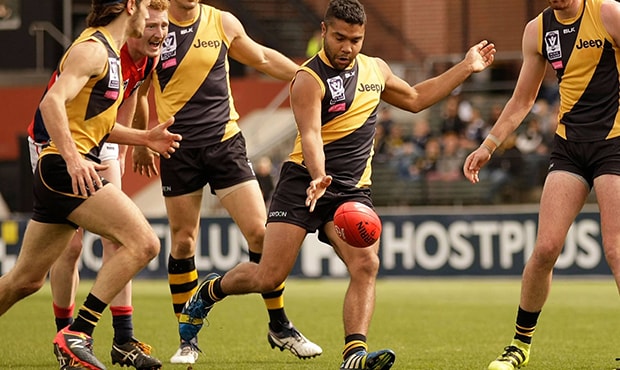 When Ivan Soldo received the ball 15 metres out from goal, blind turned himself and strolled in for Richmond's 20th major against Coburg, it marked the end of the Tigers 2016 season.

With Punt Road Oval bathed in sunshine, and its season drawing to a close, Richmond handed the Lions a 91-point loss.

After a dour first-half — which netted six goals collectively, the Tigers went on a 16-goal second-half rampage and saluted 20.15 (135) to 6.8 (44).

Richmond's credo for 2016 was to remain "Hungry to improve, connected and be hard to play against."

Against Coburg on Saturday, the Tigers embodied those vows to the enth degree.

Richmond's defining act of its connection and care for one another was when the players flocked to Soldo after his final term major.

The Tigers had been striving for Soldo to gain just rewards for his outstanding game on Saturday — and the big man came agonisingly close on a couple of occasions.

Soldo was fed the ball just metres from the goal-square and looked certain to sink his first major, only to have his attempt smothered on the goal-line.

Moments later, Soldo looked almost shocked when he found himself in a paddock of space inside-50, and took his mark unopposed.
VFL R21: Kirby kicks 4

He lined up from deep in the right-forward-pocket and the Tigers faithful groaned as his set-shot slammed into the goal post.

Resilience has been a hallmark of the Tigers in 2016, and they showcased that trait by ensuring Soldo had his moment in the sun.

Another who shone against the Lions was the Tyntynder dynamo Kayle Kirby.

The Tigers were challenged by the Lions in a scrappy first half, as both sides struggled to find a winner inside forward 50.

Luckily for Richmond, Kirby showed that he was no "flash in the pan" with his duo of first term majors delighting the Tiger faithful.

Ty Vickery joined Kirby on the scoreboard moments later, as Coburg went goalless and the Tigers took a 19-point lead into the first break.

The ball pinged from 50-to-50 in the second term, as both side's backline remained staunch.

Richmond's back-six was led by emerging youngsters Nathan Broad and Corey Ellis.

Broad's ability to nullify and repel the Lion's forays forward was a stand-out, while Ellis oozed class.

Ellis built on his final term performance against Sandringham and put in a stellar final round performance.

Ellis' ability to defend and win critical one-on-one contests was just as impressive as his scalpel of a left-boot slicing open the Lions.
VFL R21: Miles mauls the clearances

Coburg slotted its first two goals in time-on in the second term, and took a moniker of momentum into the main break.

The momentum was quashed by the Tigers' second half stampede.

Richmond's goal avalanche was kick-started by an unlikely source.

Young defender Ash Morris ventured forward of centre and guided home his sole major for the day from outside 50 — it was a procession from then on.

Vickery and Lennon then went on to kick their second majors for the day.

The Tiger big man slotted a third term double, his right-foot snap from the left-forward-pocket curled through with ease.

He stood tall moments later — went back and slotted his third goal and the players huddled around the key-tall.

Vickery's goals were dissected by Lennon, as the young-gun was set-up superbly by Kirby.

Kirby could have been forgiven for slotting his third, but the Bendigo Pioneer did the right thing and found Lennon at the top of the square.

Kirby's number was called once again moments later, and he made no mistake.

The double act of Jake Aarts and Dan Butler rounded out the quarter.

The pair snapped three majors, with the pair combining superbly for Aarts' second.

The Tigers repeated the dose in the final term, with Tom Couch, Jacob Ballard, Reece Conca, Jacob Townsend, Butler (2), Kirby and Soldo all hitting the scoreboard.

Kirby finished with a game-high four majors, taking his tally to 9.1 from the past fortnight, Vickery and Butler chimed in with three and Lennon and Aarts with two apiece.

Midfielder Anthony Miles was outstanding once again, finishing with a game-high 33 disposals, 13 clearances, including eight centre clearances.

Miles was supported handsomely by Jason Castagna (31 disposals), Reece Conca (30 disposals and a goal) and Tom Couch (29 disposals).