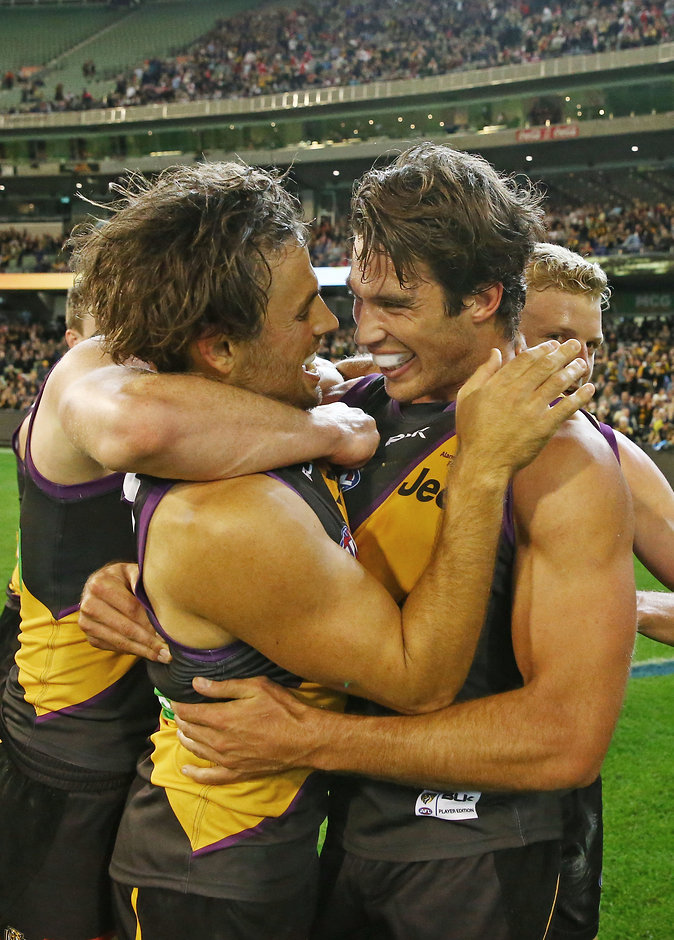 Star Richmond key defender Alex Rance has won the Club's Francis Bourke Award for the fourth year in-a-row and the fifth time overall.
Rance received his latest Francis Bourke Award at tonight's 2016 Jack Dyer Medal function.
This prestigious annual award is named in honour of Richmond's five-time premiership hero and Club 'Immortal', and is determined by the Tigers' current-day playing group.
Each week throughout the season, the playing group cast votes on a 3-2-1 basis for the players that best uphold their trademarks values of awareness, united, relentless and discipline.
Awareness is the players' ability to look outside of themselves and focus on their teammates.
Being Disciplined and United is playing your role for the benefit of the team. It also is about showing adherence to the game plan and structures the coaches have put in place.
Relentless is constantly being bold in attacking the game in offense, and as the ball carrier in defence, regardless of the score.
Rance took his game to an even higher level in 2016, averaging 18.6 disposals and 7.8 per game and being named in the All-Australian team for a third consecutive year.
Here is a summary of other 2016 Jack Dyer Medal night award winners . . .
Cosgrove-Jenkins Best First Year Player Award – Daniel Rioli
Rioli was an impressive performer throughout his debut season of league football with Richmond and thoroughly deserves being honoured with the Cosgrove-Jenkins award.
The exciting, teenage small forward, who was the Tigers' first pick (No. 15 overall) in the AFL's 2015 National Draft, kicked 13 goals in his 18 senior appearances.
He was ranked fifth for total goals at Richmond, ninth for total goals among the competition's rising stars, and ninth among the rising stars for goal assists.
Rioli received a nomination for the AFL's Rising Star award following his eye-catching display against St Kilda in Round 22, where he showcased his key attributes of skill, speed and defensive pressure up forward.
Michael Roach Medal (leading goalkicker award) – Jack Riewoldt
For the seventh straight year, Riewoldt has taken out the Michael Roach Medal, capping off another fine season by the star forward.
Riewoldt finished with 48 goals, despite spending more time further afield throughout the season, helping to generate scoring opportunities for teammates.
Guinane Medal (VFL Best and Fairest award) – Adam Marcon
Richmond-listed, 2016 mature-age recruit Adam Marcon has won the Guinane Medal, as the VFL team's Best and Fairest player for the season.
The 24-year-old midfielder polled 44 votes, to clinch victory ahead of the VFL Tigers' captain Sam Darley (38 votes), with promising Richmond youngster Jason Castagna third (36 votes). Then followed Nathan Broad (35 votes) and Ivan Maric and Jacob Townsend (both 31 votes).
David Mandie Community Award – Jack Riewoldt
As well as winning the Michael Roach Medal, Jack Riewoldt has been rewarded for the work he has conducted off the field throughout 2016, including with the Melbourne Indigenous Transition School (MITS) at Punt Road Oval, Maddie's Vision, the Club's preferred charity partner, The Alannah and Madeline Foundation, in a vital year marking 20 years since 35 lives were lost at Port Arthur.
Riewoldt was also recognised for the effort he puts in with including the club's supporters, especially the young ones, at open training sessions and official club events.