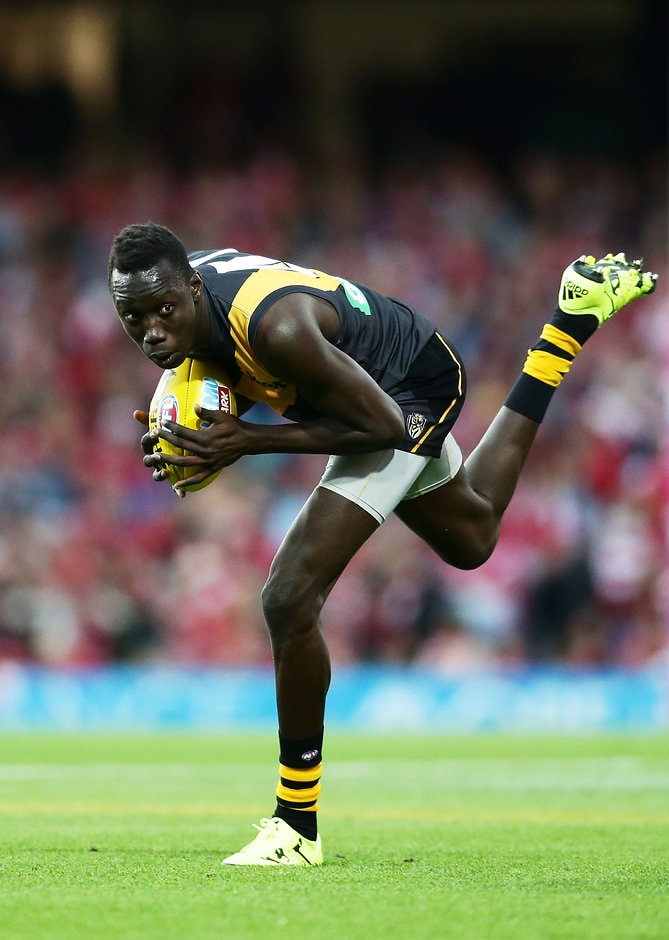 Richmond was "buoyed" by rookie Mabior Chol's development in his first season, but the youngster knows he has work to do as he eyes more senior footy in 2017.

Chol impressed in three games during the 2016 NAB Challenge series. His raw talent up forward and in the ruck provided plenty of excitement for Tigers fans in the summer.

The 19-year-old began the season up forward in the VFL but was moved to the backline later in the season to further his education and improve on his defensive positioning.

Chol, pick No.30 in last year's Rookie Draft, made his senior debut in round 23 against the Sydney Swans and is keen for more opportunities next season.

"I actually found it quite an interesting year," Chol reflected to AFL.com.au.

"I've still got a lot to learn about the game and I need to start believing that I belong out there."

Chol sought out All Australian defender Alex Rance for advice in making the transition from the forward line to the backline.

The Sudanese-born Chol could not have picked a better mentor in schooling him up on the fundamentals of being a defender.

"I learned a lot from those three NAB games where my defensive positioning wasn't as good as what it needed to be," Chol said.

"From there, I took that (learnings) through all the training sessions during the year and just tried to learn a lot from the likes of 'Rancey' and Dave Astbury because of their physicality and positioning.

"I'm very lucky to have Rancey around me a lot of the time."

Tigers football talent manager Dan Richardson said the club would continue to give Chol opportunities in different areas on the ground, and not just settle him down in one position.

"Does he go back forward and is he better for his experiences as a defender? Perhaps. Does he remain more as a defender? It remains to be seen, as it's early in his development," Richardson said.

"The bottom line is the experience in playing in different roles is important for a young player's development. We were certainly buoyed by what he did (in his first season), but he's got a long way to go in that area."

Chol feels far better prepared for his second pre-season at AFL level, namely because he knows where he is at as a player and where he needs to improve.

"My biggest focus this year is to add a few kilograms and some muscle as well, so hopefully I can get a call up in a few games this year," Chol said.

"With pre-season training, I know now what's coming my way and it what it takes so I feel like I've prepared myself well for that."