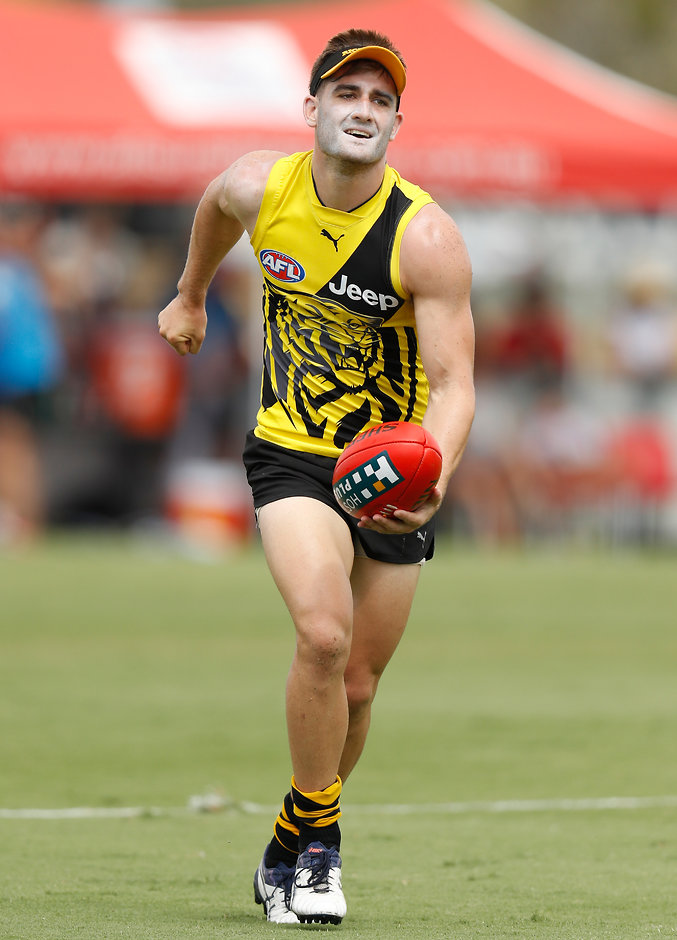 Tenacious Tiger 'ball-magnet' midfielder Anthony Miles has tackled this pre-season with a familiar personal objective . . .
"I continue to challenge myself on improving my aerobic base every pre-season," Miles told 'Roar Vision'.
"I'm not overly quick, so to improve aerobically, and be able to get around the ground, is really important for me.
"And being able to go forward a bit as well.
"So I've been working on that with the coaches and I feel like I've made some progression."
Miles, who turns 25 at the end of this month, has averaged 23.5 disposals per match in his 55-game career at Richmond over the past three seasons, since joining the Club from Greater Western Sydney, where he spent a couple of years.
He's earned an impressive reputation throughout that time with the Tigers for his inside midfield work, but wants to add some more flexibility to his game in season 2017.
"I think it's always important that you play to your strengths and, as a midfielder, I think that is my strength – being able to win the ball and get it out to teammates in a better position," he said.
"You never want to lose that, but you also want to be able to go and play in other positions . . .
"I think guys in the midfield are going to spend time forward. So, being versatile and knowing my role playing forward, is an important aspect as well."
Miles also is keen to take on some additional leadership responsibility within the Tigers' playing group this year.
"I think it's a natural progression being a bit more of a leader after you've played more senior footy," he said.
"My first couple of years, coming off the rookie list, you tend not to say too much . . . you're just rapt to get a game.
"But I'm so heavily invested in this football club now.
"I love the place and want to make others better, as well as myself.
"I'd like to think of myself as a leader to a lot of the younger guys . . .
"It's really exciting what those younger guys are bringing. This pre-season, they've really stood up.
"They came back two weeks earlier than the older guys, and they've really carried that on through the whole pre-season . . .
"It's a real positive for the Club."
Miles has a clear-cut, individual aim for the 2017 season.
"My goal is to be playing good footy to benefit the side," he said.
"Last year, it's been well publicised how disappointing we were as a group . . .
"I'd love to be a major part in getting us back to playing finals footy and playing consistently well every week."