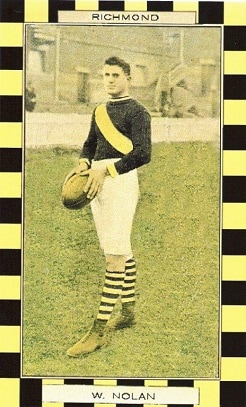 In the lead-up to Anzac Day 2017, Tony Greenberg recounts the story of Bill Nolan, brave, talented Richmond player of the early 1900s, who was killed in during World War 1.
Bill Nolan was recruited to Richmond from the Brighton Juniors Football Club, and made his senior debut with the Tigers, wearing the No. 7 guernsey, in the opening round of the 1914 season against St Kilda at the Junction Oval.
Nolan had an instant impact at VFL level, playing 17 games all-up that season, and a further 13 in 1915, before heading to Egypt and then France to serve his country in what originally was known as the "Great War".
He was a strongly-built ruckman, who knew how to apply tough (but fair) physical pressure to opponents.
'Barney', as he was affectionately known, was a great protector of his smaller teammates, who always walked taller when he was around.
A tram driver in Melbourne, he reached the rank of Sergeant in the Australian Imperial Force (as it was known back then).
But on July 23, 1916 tragedy struck, when Nolan died of wounds he received at Fleurbaix in France.
His death shocked the football world, as he was not only regarded as a top player with Richmond, but a man of wonderful character.
The 'Richmond Guardian' correspondent, H.R., subsequently paid a moving tribute to Nolan (as recorded in Jim Main and David Allen's book, "Fallen: The Ultimate Heroes: Footballers Who Never Returned From War") . . .
"Big, brave Bill Nolan is reported to have been killed in action. It does not need any superfluous words here to paint his splendid qualities. He was 25 years of age (27, actually), but as I knew him first, only a few years ago, he was just a big, shy, innocent boy. It was after his last season with a junior team, and he had signed on to play with Richmond.
"He would stand around at times and listen to the talk, but it was seldom that Bill ever put an extra word in. But he was by no means unsociable. Once launched into conversation, he could tell, in his own quiet way, some droll stories, and no man that ever had him for a friend ever wished for a better one.
"His career as a League footballer was spread over only two years, but right from the beginning, he was phenomenally successful. In his very first game he showed persistency and pluck that are essentials in a follower, and it was seen that he was going to be a tremendous help to the Richmond side.
"As the games went on he continued to demonstrate his abilities and before the season had gone very far was one of the fixtures on the Richmond board. He played in every game (sic). In the following year he was better than ever, and he was considered one of the best followers in the League.
"There is little doubt that with no war and with football going on as usual, Nolan, with the experience that he gained would have been the champion of them all this season. But when the war broke out Bill Nolan heard the call. He played in most of the football games last year, getting special leave from camp to do so towards the end, and soon after that came, he sailed for the front.
"Nolan soon won his way in the ranks and was made a sergeant. But in Egypt his abilities and popularity with the men won him further recognition, and he was in command of a section.
"Before me, as I write, are letters from Richmond boys who served with Nolan in Egypt. In them are such tributes that few men have ever had.
"Every member of the Richmond football team had a respect for Nolan. So did every supporter of the team. So did the supporters of the other side. The smaller players admired the splendid physical strength of the hefty young giant, and turned to him naturally as their protector. They knew that Bill Nolan would never see a big man bump a little man without himself giving one back.
"But he was a pre-eminently fair player. As fair a footballer as ever went on the field. He was so fair that it affected his game, and often the voice of the crowd has called, 'Too fair, Bill Nolan.' That was his characteristic.
"Those brave boys under him in the training camp on the burning desert in Egypt found out the same qualities in him -- and they loved him for them.
"Physically, Nolan was a grand specimen of the Australian. Well over six feet in his socks, built in proportion, with blue eyes laughing out from his fresh-complexioned face, he looked every inch a leader, and men turned intuitively for him to command. He has played his part and in the Heaven that is all our hopes it is such real men as he will find their best reward."
Sergeant William Nolan is buried at the Boulogne Eastern Cemetry, Pas de Calais, France.