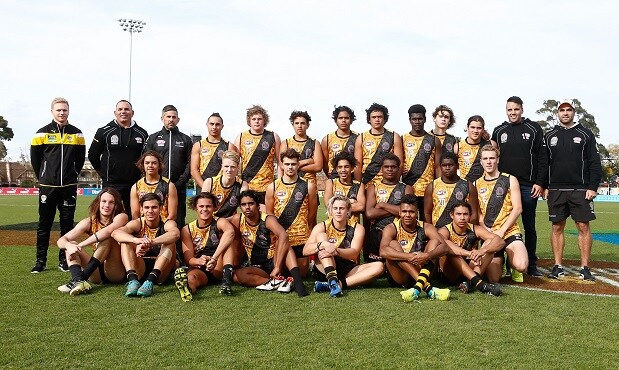 The Laguntas now turn their attention to Vic Country, after securing a strong 31-point win over Jim Stynes Squad in their first of three matches.
Led by a best on ground performance from Phillip Soloman, the Laguntas prevailed at the Swinburne Centre 16.6-102 to 10.11-71.
Raman Winmar was lively up forward and booted four goals, while Kailen Walker, David Smith and Tommy Corrigan finished the day with three to their names.
The Laguntas will host Vic Country under-16 at the Swinburne Centre at 12:30pm on Saturday, before Vic Metro under-16s goes into battle with Vic Metro under-17s.
Seven Richmond Academy participants were selected in the 25-player Laguntas squad, including Kobe Brown, Kailen Walker, Anthony Walker, Raman Winmar, Hakeem Johnson, Coen Cooper and David Smith.
In its fifth year, the Laguntas program provides an alternate talent pathway for Aboriginal and Torres Strait Islander footballers aged between 15 and 18.
The Laguntas squad will arrive at Richmond's Punt Road Oval headquarters on Friday afternoon and complete a number of cultural and football activities, as well as Saturday's match, before departing on Sunday morning.
Northern Knights is the highest represented TAC Cup club, with six participants selected in the Laguntas line-up, which is this year being coached by Dan Charles.
The program is a joint-initiative of Richmond's centre for Indigenous youth, the Korin Gamadji Institute, and AFL Victoria, with support also provided by Vic Health and Probuild.
Probuild works closely with the KGI and through its news partnership with Richmond, is a presenting partner of the highly-successful Laguntas and recently established Boorimul programs.
Modelled on the Laguntas program, the Boorimul program will identify and develop talented, yound Aboriginal and Torres Strait Islander women, to not only maximise their football potential, but develop them as culturally affirmed and resilient community members.
2017 Laguntas squad
Cori Corrigan (North Ballarat Rebels)
Kobe Brown (Bendigo Pioneers)
Coen Cooper (Bendigo Pioneers)
Kailen Walker (Bendigo Pioneers)
Phillip Soloman (Murray Bushrangers)
Anthony Walker (Murray Bushrangers)
Raman Winmar (Murray Bushrangers)
David Smith (Murray Bushrangers)
Thomas Bradshaw (Gippsland Power)
Lachlan McDonald (Gippsland Power)
Harold Hood (Gippsland Power)
Cody Harrison (Gippsland Power)
Dale Cox (Greater Western Victoria)
Reagan Nutting (Greater Western Victoria)
Dylan Starkie (Greater Western Victoria)
Terrell Wellington (Northern Knights)
Cameron Wild (Northern Knights)
Mitch Wild (Northern Knights)
Corey Potter (Northern Knights)
Jamaica Ilsley (Northern Knights)
Brock Perichon (Northern Knights)
(function(d, s, id){var js; if (d.getElementById(id)) {return;} js = d.createElement(s); js.id = id; js.src = "https://embedsocial.com/embedscript/ei.js"; d.getElementsByTagName("head")[0].appendChild(js);}(document, "script", "EmbedSocialScript"));