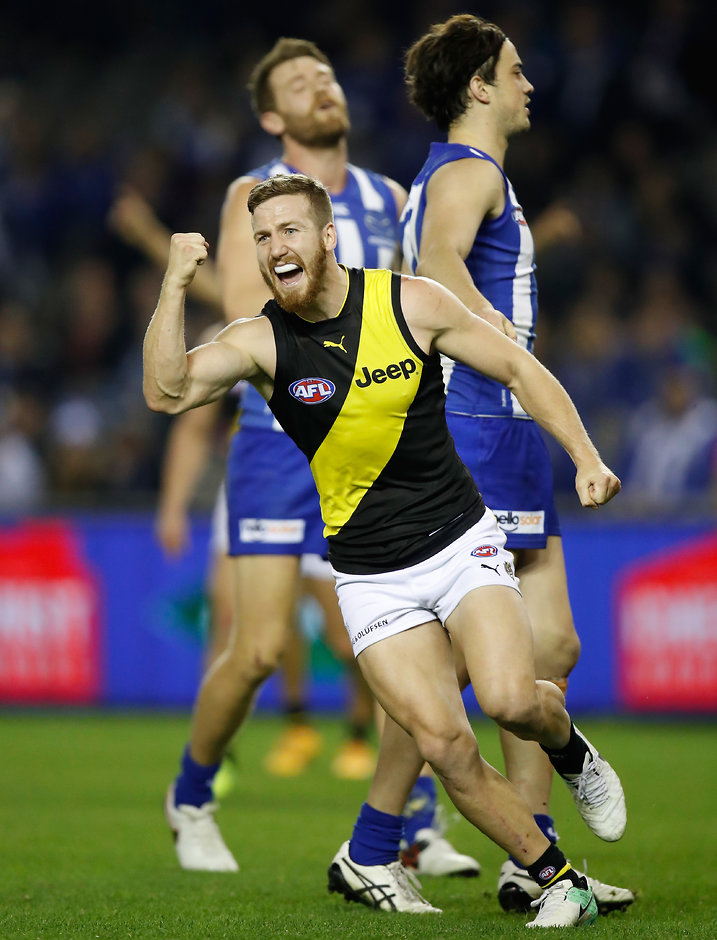 Richmond utility Kane Lambert has taken his game to another level throughout the first half of season 2017.
Lambert, a mature-age, rookie-list recruit for the Tigers at the end of 2014, is quietly, but extremely efficiently, going about business in his third season of AFL football.
After averaging 15.6 disposals per match in 13 games in his 2015 debut season, and 14.7 disposals in 15 games last year, he has an average of 18.8 disposals in 10 games so far in 2017.
He has excelled as a run-with player, using his pace, running ability, discipline and determination to nullify the effectiveness of key opponents on a consistent basis.
"What I've liked about him is his ability to be able to go on to a player, shut them down, but still be able to get the ball himself," Richmond great Matthew Richardson said on this week's edition of the Club's official podcast 'Talking Tigers'.
"It's not just a run-with role where he's not getting the footy . . . he's still getting his 18-20-odd touches a game.
"So he's very disciplined, but still has the nous to be able to read the play and get off his man.
"And his versatility is a real asset.
"I think versatility is just about the most important thing you can have as a player, and 'Dimma' (coach Damien Hardwick) can use him in a number of different roles.
"He can go into the middle to give you another midfield rotation. And, when he's playing forward half, he kicks goals."