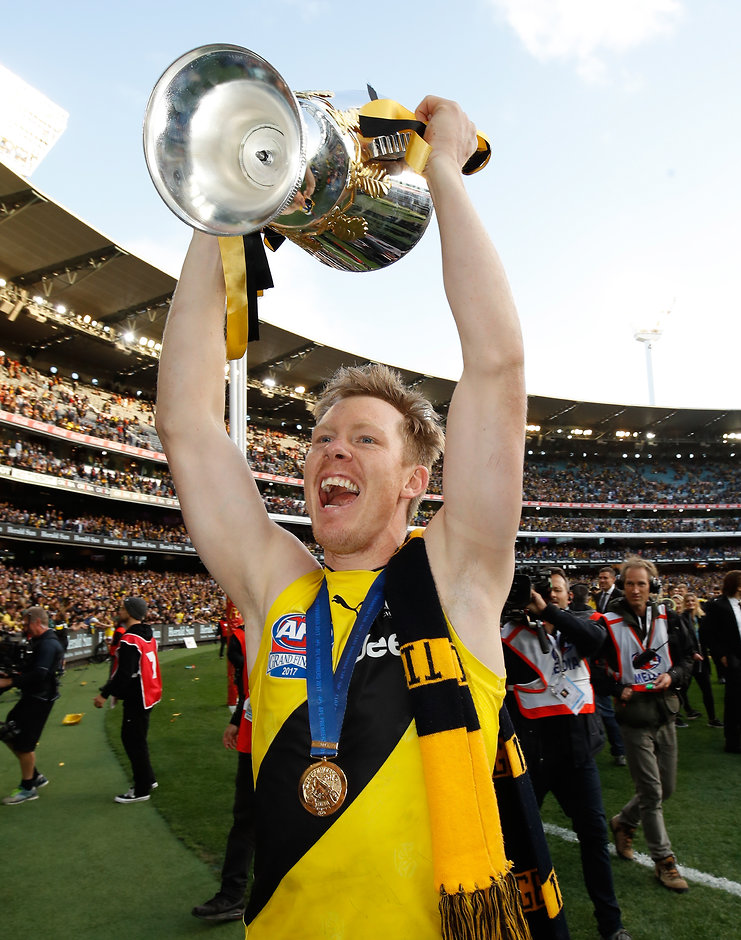 In a special series leading up to the 2017 AFL national draft, richmondfc.com.au takes a look back at the Tigers' construction of their drought-breaking premiership team this year via the competition's main talent acquisition pathway throughout the past decade. Today, we focus on Richmond's recruitment of Jack Riewoldt.
Entering the 2006 national draft, Richmond Recruiting Manager Francis Jackson was strong in his opinion of who he wanted to select with the Club's first pick (No. 13 overall).
Jackson had closely monitored talented Tasmanian teenage forward Jack Riewoldt's progress representing his state at the under-18 national championships during the '06 season, playing for the Tassie Devils in the VFL competition, as well as at senior TSL level with Clarence, and he was really impressed by the quality of football he had produced.
It was a delighted, and relieved, Jackson, who spoke about Riewoldt in the wake of his drafting by the Tigers.
"I was very keen on Jack Riewoldt after watching him play," Jackson said.
"The thing that was most impressive about him was his ability to understand footy and his football 'smarts'. He actually read the ball-flight and bounce of the ball better than anyone else . . .
"I think the defining moment for me was a VFL game down in Tasmania, where he played against Essendon. He was just a kid, but it was a great opportunity to play against men.
"He dominated that day and I was very keen . . .
"The actual final decision (to pick Riewoldt) we made after the grand final, that Jack played for Clarence against Glenorchy.
"I remember in that grand final, the opposition captain went straight to Jack.
"He was big and strong with 'tatts' all over him and tried to whack Jack. But Jack was way too smart for that and ended up kicking four (goals) for the day.
"So I had no doubts that he would succeed (in the AFL) because he'd played well against men."
Leading Tasmanian sports writer James Bresnehan also had been an interested observer of Riewoldt's football development, and he provided a good insight into his on-field capabilities . . .
"Jack's strongest asset is his marking on the lead. He leads strongly and has really sure hands," Bresnehan said.
"For a tall player, he's also very good at ground level. He easily scoops the ball off the turf, runs and carries it, and is a particularly reliable running shot at goal.
"Another stand-out facet of his game is his ability to run to the forward 50-metre line, mark on the lead, turn, steady, and pass to another forward inside the 50. This was something he was quite effective at in the VFL during last season.
"Of course, like most newcomers to AFL football, Jack needs to increase his body strength for one-on-one contests. Overall, however, I feel he has what it takes to become a very valuable player at Tigerland."
Jack Riewoldt AFL fact file
Debut: Round 9, 2007 v Essendon, MCG
Games: 225
Goals: 537
Honours: Eight-time winner of Richmond's leading goalkicker award (2010-17), dual Coleman Medallist (2010, 2012), Jack Dyer Medallist (2010), two-time All-Australian (2010, 2015), member of the Tigers' 2017 premiership team