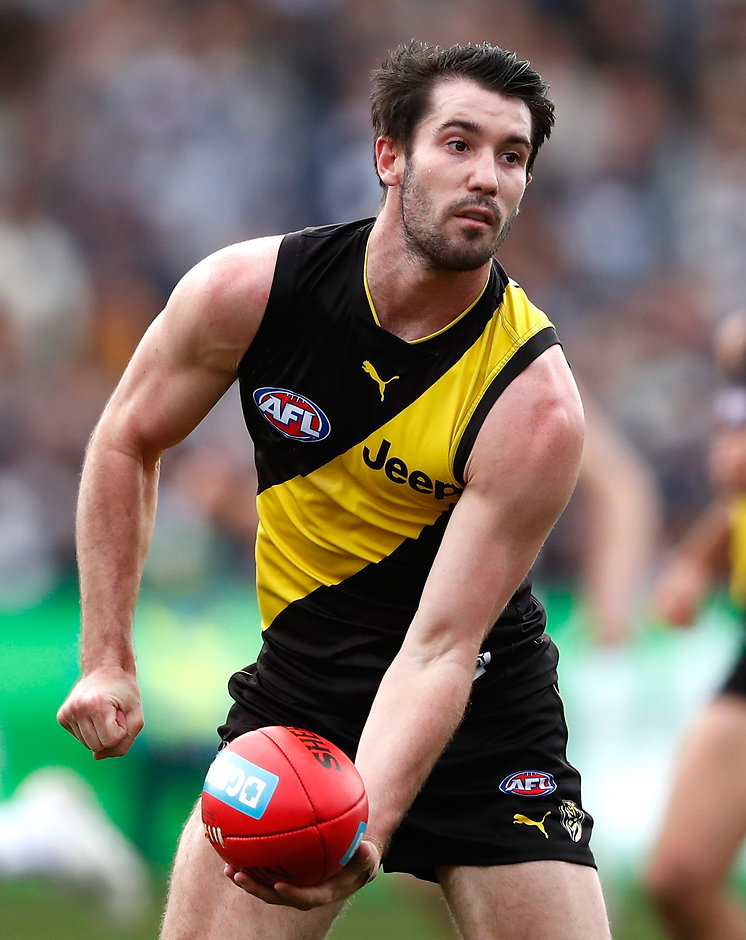 THERE'S no downplaying the challenge of breaking into a premiership-winning midfield.
But luckless Richmond young gun Corey Ellis is ready to give it his best shot in a make-or-break season, after finally putting together an entire summer of training.
"It feels amazing, because you're finally going into games thinking that you've done the work," Ellis told AFL.com.au this week.
"I've got the kilometres in my body and have done the hard work, so it's more of a relief than anything, knowing that you've had a pre-season and you're ready to go."
Ellis' story to date is eerily similar to that of fringe Collingwood midfielder James Aish, minus the club change.
Both were high draft picks – Ellis No.12 overall in 2014, Aish No.7 the previous year – and both have struggled to make an impact in their formative seasons.
Injuries have played a big part in their respective battles with consistency, and for Ellis, genetics were largely at fault for why his career stalled in his first two seasons.
Ellis was born with an extra bone fragment on the outside of each foot, which he first became aware of when the right one started to hurt in his final under-18 year playing for the Western Jets.
The actual problem went undiagnosed until he was drafted, which was when the Tigers identified the fragment - plus the fact it wasn't a matter of 'if' he'd develop the same pain in his left foot, it was 'when'.
"They said, 'We just don't know when it will get sore – it could be never, it could be next week," he said.
"I was just waiting for it to happen, and then it happened towards the end of my first year."
Going into his second season, Ellis had managed six AFL games, but endured surgeries to remove the bone fragment in both feet and missed a stack of training.
He thought his bad luck was behind him, but lightning struck again in the middle of 2016 when he came down with a groin injury that cost him six weeks, and his spot in the AFL side for that year.
It grumbled into the Tigers' premiership year pre-season, which again robbed him of the crucial level of training required to set up a year at the highest level.
A mid-season meeting with midfield coaches Blake Caracella and Andrew McQualter, after just two AFL appearances, was the catalyst for Ellis' shift in mindset.
They wanted the highly-rated junior to make the contested side of his game the priority; to get to the point where he'd automatically bring a harder edge to the way he played.
"That shift came, and I probably saw the benefits in the last six weeks of the season," Ellis said.
He was in the side between rounds 18 and 21, and put together some decent games before playing in the club's losing VFL Grand Final team.
He was named as emergency for the AFL Grand Final, which meant he got a ride in the parade and ran out for the warm up for the Tigers' decider against Adelaide.
Corey Ellis (right) at the Grand Final parade last year. Picture: AFL Photos

"It was both the best weekend of my life and one of the hardest as well," he said.
"I was in the change rooms warming up with the team and around the emotions and feelings, and then they run out and the game starts and you go inside, put your suit on and watch from the stands.
"You just think, damn, I want to be out there."
The fact he was in the selection conversation at all has given Ellis all the encouragement he needs to make 2018 – the last season on his current contract – the one where he stands out.
He's settled off the field, living happily in bayside Melbourne with Nick Vlastuin and his partner (and dog), and wants to line up some accounting work experience this year.
He's knows how hard it's going to be to displace a teammate from a midfield/wing role, although he has worked on his forward craft this summer in a bid to be more versatile.
Like Aish, Ellis knows the reality of entering a season after repeated injury-interrupted years without a contract.
He feels he's in the best place possible to make this year the one – and the first of many - that counts.
"There's guys in my draft who have played more footy, and I've played patches, but haven't strung them together," he said.
"I feel like right now I'm moving better than I have the whole four years, and I'm stronger and know the game as well as I have, so I feel like I'm set up really well for this year.
"You look back on last year and Jack Graham played five games and managed to be part of a winning midfield, so if he can do it off five games, I suppose anyone can."