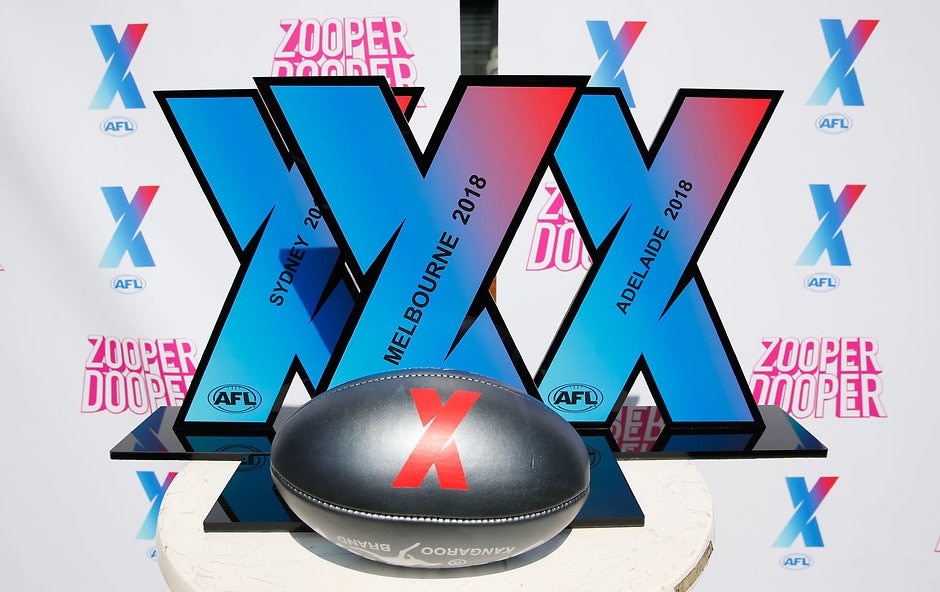 Where are the games being played?
After months of trials and plenty of hype, AFLX finally makes its debut at Hindmarsh Stadium in Adelaide on February 15, before heading to Melbourne's Etihad Stadium on February 16. Sydney will host the final round-robin tournament at Allianz Stadium on February 17.
Who plays who?
There are six clubs in each tournament with games played in a round-robin format. Teams will be divided into two pools of three, and play against each other once. The top team from each pool will play off in a Grand Final at the end of the competition.
AFLX Tournament
Saturday, February 17
Allianz Stadium, Sydney
Gates open at 3.00pm
Pool A: Richmond, GWS Giants, Brisbane Lions
Pool B: Sydney Swans, Western Bulldogs, Gold Coast SUNS
4.10pm GWS Giants v Richmond
4.38pm Sydney Swans v Western Bulldogs
5.06pm Richmond v Brisbane Lions
5.34pm Western Bulldogs v Gold Coast SUNS
6.02pm Brisbane Lions v GWS Giants
6.30pm Gold Coast SUNS v Sydney Swans
7.03pm Grand Final
When are teams announced?
The 20-man squads will be announced three days before each tournament. Clubs will then lodge their final 10-man team for the first match on the day of competition, while teams for the second and third games will be lodged just prior to each round-robin match. Coaches can change the makeup of their team between games, as long as they use the 20 players named in the squad.
How is it different to AFL?
Who makes the Grand Final if multiple teams are on the same wins?
Wins, losses and draws will be tallied up throughout the tournament, with the two pool winners on each night playing off in the Grand Final. However, if there are multiple teams on the same wins, percentage will be the deciding factor.
What happens if scores are tied at the end of the Grand Final?
While draws can happen during pool games, you won't have to worry about coming back the following week to see the Grand Final again, if scores are level at the final siren. Time on will be added with the first team to score a point or a goal the premiers.
How long do games go for?
AFLX consists of two, 10-minute halves with a two-minute break. There will be a five-minute breather in between each game, with a 15-minute break before the Grand Final takes place.
How does each game start?
Each half is started with the umpiring throwing the ball up in the center. Two nominated ruckmen will compete, however they aren't allowed to run and jump at the ball, or wrestle with each other. Basically, it's more like a basketball-style tip-off with the two competing rucks to stand toe-to-toe. Each team will also need to have three players inside their forward and defensive 40m arcs before play starts. It's also worth noting that the traditional coin toss has been given the flick. Instead teams will start kicking towards the side of the ground that their interchange bench is on, before swapping for the second half. The pre-game tradition of running through a banner before a game with the club song blaring has also been scrapped.
Where will the coaches watch?
There will be no aerial view for the coaches when it comes to AFLX. The coach's box won't be in use come match day, instead they'll bark orders directly to their players on the interchange bench. Given the smaller size of the field, there won't be any runners either, so the coaches will have to do their own dirty work and deliver their messages straight to their charges.
Can players be reported?
Yes, they can. Just like the JLT Community Series, a player can be cited by the match review officer or the officiating umpire on match day. Any suspensions handed out, will be served during the home and away season.
Do AFLX games count towards life membership?
No. Just like the JLT series, AFLX games won't count towards a player's eligibility for life membership. Only premiership season games are taken into consideration, and the old format of the pre-season competition where there was a genuine prize or winner at the end of the series.
How many umpires are there?
There will be a total of six umpires for each game. Two field umpires, two boundary umpires (who essentially act as touch judges), and two goal umpires. There won't be any flags for the goal umpires to wave, due to the fast nature of the game. Be on the lookout as well for a new motion to signal a 'Zooper' goal, with the goal umpire to cross their arms above their heads to create an 'X'. As for what colour the umpires will be wearing, well that remains a mystery. One thing is for sure though, you won't be able to miss them with the whistleblowers set to don a very loud and bright uniform.
Where can you watch it?
You've got plenty of choice when it comes to watching AFLX with both 7Two and Fox Footy providing telecasts. You can also watch on the AFL Live App in the palm of your hand. Brian Taylor is expected to add a bit of 'wowee' to the commentary which will be provided by Seven. Fox Footy will have its own hosts on the ground at all three venues for breaks between matches while simulcasting the Seven game coverage.
There will also be a radio call on SEN in Melbourne and affiliate stations.