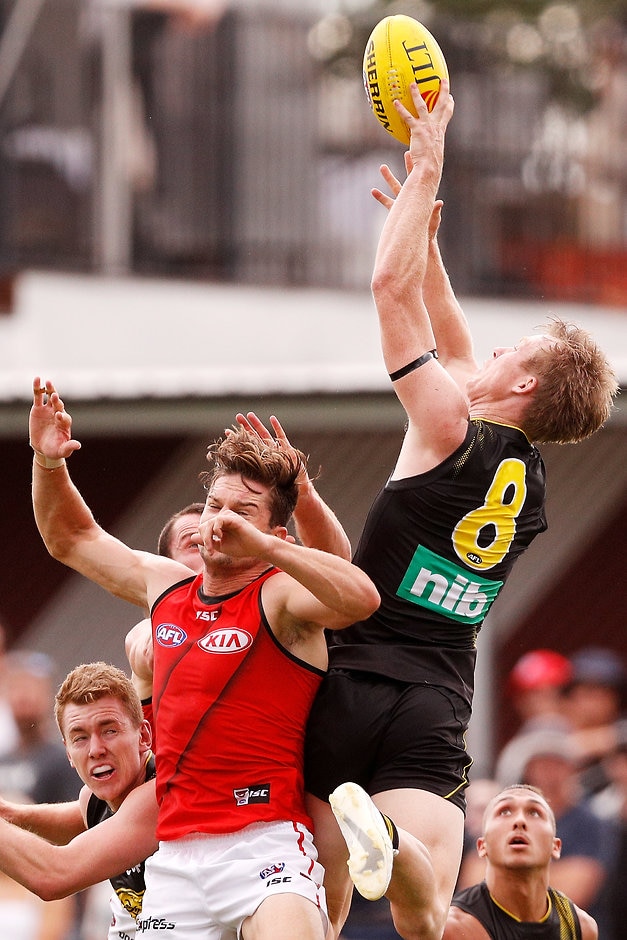 RICHMOND premiership star Jack Riewoldt believes clubs will be able to deal with restrictions on runners as the AFL considers rolling its pre-season trial into the 2018 season proper.
Under a trial for JLT Community Series matches, runners have only been allowed to enter the field after goals, and must be on their way to the bench as the ball is bounced to re-start play.
The League has been encouraged by the test, and will consult with clubs after the final round of JLT Community Series matches before deciding if the restrictions are applied for the home-and-away season.
Riewoldt believed runners were an integral arm of the coaching team, but limiting their access to the field of play would not affect teams with good on-field leadership and communication.
"For us and a lot of other teams there's a communication level that's required without the runners," Riewoldt told AFL.com.au.
"[You would] need more on-field leadership and more on-field communication, and players would have to make more decisions for themselves.
"But in terms of team structure, I don't think a lot will change. Senior players, and all players really, have to make decisions in the heat of the moment.
"I don't think it's going to affect sides too much … the runners are just going to have to run quicker."
Coaches, including St Kilda's Alan Richardson, have urged the AFL not to restrict runners because of the lack of opportunities they get during a game to communicate directly with players.
But League football boss Steve Hocking told News Corp he had been pleased to see less personnel on the field during JLT Community Series games and more on-field coaching from players.
Riewoldt said there were aspects of coaching, including match-up changes, that players would not be able to pick up if runners were restricted.
"Coaches do have a different view of how the game is going … so that might be one we can't dictate because the coach will see something they want to make a decision on," the premiership forward said.