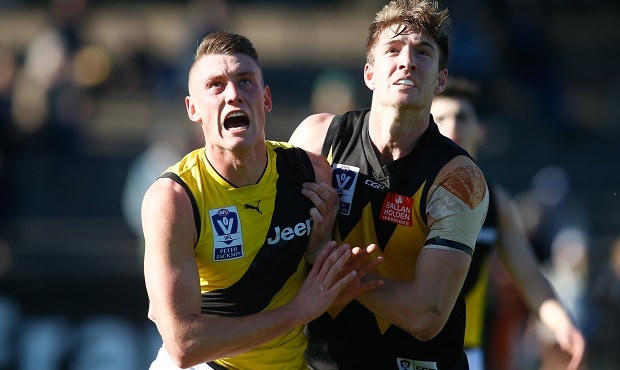 The VFL Tigers return to the Swinburne Centre this Saturday for their Round 17 clash against Werribee.
The match is a curtain-raiser to the AFL blockbuster against Collingwood at the MCG.
Richmond VFL will kick off at 10:45am, before the 1:45pm AFL hit-out begins between the traditional rivals.
Included in the VFL Tigers' squad is Callum Moore, who returns from AFL duties.
Werribee sit 12th on the ladder after 14 matches, while Richmond VFL continues to lead the competition.
Entry to the Round 17 clash is free for 2018 Richmond members.
Richmond VFL Round 17 squad
B: Morris, Garthwaite, Coffield
HB: Bolton, Miller, Ernest
C: Naish, Ballard, Lloyd
HF: Stengle, Coleman-Jones, Aarts
FF: Silvestro, Balta, Moore
R: Soldo, C. Ellis, Miles
I/C: Credlin, Wood, Grewar,Mannagh, Cusack, Bathie, Thompson, Hayward, Tanner