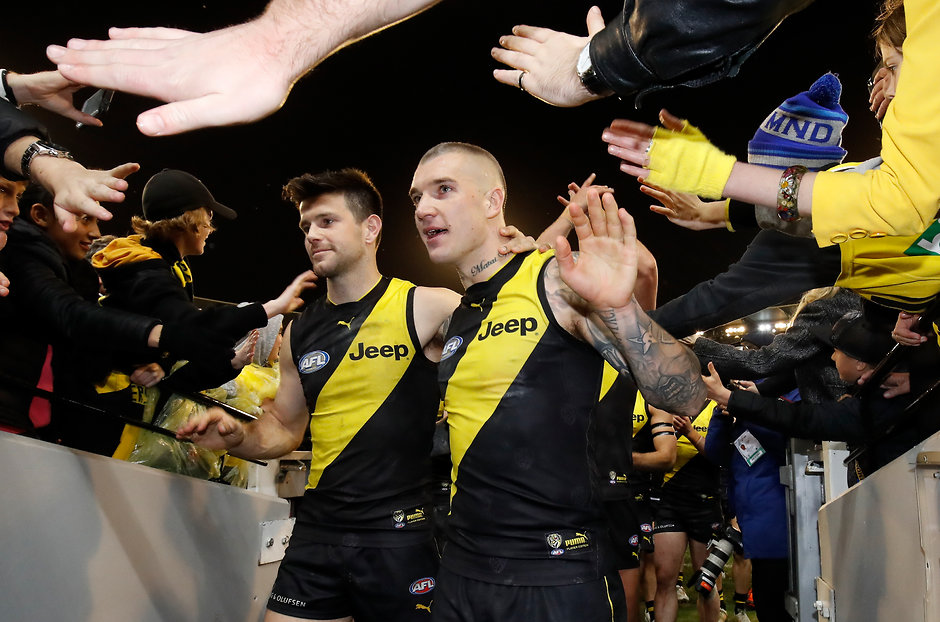 Eligible Richmond members have the opportunity to register in the Grand Final ticket ballot this Wednesday, September 12, to purchase a ticket to this year's Toyota AFL Grand Final should Richmond qualify. Please read through all available information carefully.
The only way to access a ticket via your membership is to register at your designated time. If you do not register according to the following instructions you will forfeit your entry into the Grand Final ticket ballot.
If you have a question or need to access your member barcode number or priority details, please contact the Richmond membership department on 03 9426 4900. We expect phone lines to be busy this week, so please bear with us.
To register for a Grand Final ticket you will need your membership barcode number and any barcode number of members you wish to sit with. Members who wish to sit together must register in a group providing all membership barcode numbers in one transaction, using one credit card. A limit of eight (8) barcodes per transaction applies. Each member barcode will be charged a $5.00 non-refundable fee at time of registration to cover administration costs.
Members will be required to register for Grand Final tickets via logging onto www.ticketek.com.au/rfcballot or by calling 1300 796 939.
Click here to access the Richmond Grand Final ticket ballot (link active from 8am, Wednesday)
If you choose to register via the website, please ensure you have a My Ticketek Account before registering. If you don't already have an account, we recommend logging onto ticketek.com.au and selecting 'My Ticketek' to create an account today.
It does not matter what time you register during the designated timeframe as all registrations will be randomised to determine the order in which tickets will be allocated.
At the time of registration, members can elect not to receive Standing Room ticket(s), however we strongly recommend all members select Option 1 – 'I will accept the best available ticket – including Standing Room' at the time of registering.
If you wish to register with a member from another Priority group, you waive your right to the highest Priority group and instead need to register in the timeframe of the group's lowest Priority member.
Registration times vary depending on the Priority group you are in:
Priority 1 – 8am – 11am on allocated day
• Priority 2 – 12pm – 4pm on allocated day
• Priority 3 – 5pm – 9pm on allocated day
Priority 1 (Guaranteed) – Inner Sanctum, Inner Sanctum Flexi, Inner Sanctum Plus, 3121, Premiership Circle, Maurice Rioli Club, Grand Final Guarantee Members and Yellow and Black Members
Priority 2 (Ballot) – Platinum Members (25-49 consecutive years)
Priority 3 (Ballot) – Gold Members (10-24 consecutive years)
If you do not fall into one of these priority groups, unfortunately you will not have access to purchasing a Grand Final ticket if Richmond participates.
Click here for all the vital details on how to register that has been mailed out and emailed to members eligible for the ballot.
Click here for a full list of frequently asked questions pertaining to the Grand Final ticketing ballot.
If Richmond qualifies for the Grand Final
Members who are successful in obtaining a 2018 Toyota AFL Grand Final ticket will automatically be charged for tickets once it has been confirmed that Richmond will participate in the 2018 Grand Final. Members who were successful in the ballot will have their credit card charged on either September 22 or September 23 (after winning the Preliminary Final).
Please ensure that you have enough funds for all tickets on your nominated card. There will be no follow up on any rejected credit cards once the ballot has been run. If your credit card fails to process, your tickets will be reallocated to eligible member/s. If you need to change your credit card details prior to the ballot, you can do so up until 11am, Friday September 21 by contacting Ticketek on 132 849. Note: You cannot update your credit card via your My Ticketek account online.
Members can log onto the Ticketek website or Richmond website from 9am (EST) Monday September 24 to see if they were successful or unsuccessful in the ballot by checking for their Ticketek Account Number. Email notification will also be sent to successful and unsuccessful members by the Club on Monday September 24.
Tickets for successful members will be available for collection from all Victorian and selected interstate Ticketek outlets from 9am Tuesday September 25. Alternatively, Grand Final tickets can be collected from the Ticketek box office at the MCG (Gate 3B) on Grand Final Day. Please note that only the credit card holder may collect the tickets and must present photo ID, the credit card used to purchase the tickets and the Ticketek Account Number. It is highly recommended that the credit card holder collects their tickets prior to Grand Final Day. 2018 Toyota AFL Grand Final tickets will not be posted.
If Richmond does not qualify for the Grand Final
Members will not be charged for tickets however the $5.00 registration fee (per member) will be retained to cover administration costs incurred.