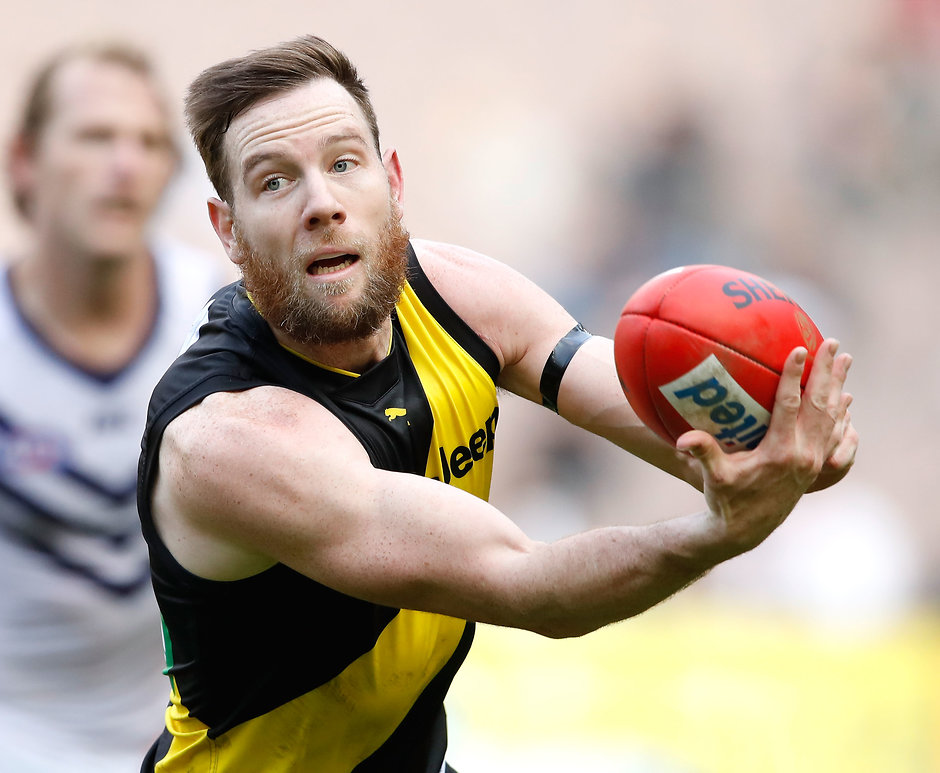 Author of Yellow and Black Konrad Marshall sat down with former Tiger Jake Batchelor last month to talk about life outside the glare of AFL football.
Jake Batchelor knew what was waiting for him. He was in the gym at Punt Road Oval, two weeks after the 2017 Premiership was won, lifting weights—rehabilitation work after a hip operation—when his phone rang. The glowing screen said 'Dimma'.
"My heart sank," says Batchelor, sitting in the change rooms of the Frankston Dolphins, where he played and coached this season in the VFL. "I knew what was happening. He wasn't calling me to say 'Hi'."
"Have you got time to come into my office?" asked the coach. "I don't want to," Batchelor answered, "but yep."
Batchelor played 84 matches in seven years at Richmond, after being drafted from Dandenong Stingrays as an 18-year-old with pick 30 in 2010. He had been a Hardwick favourite. The coach seemed to love him when praising his talents ("This bloke, Jake Batchelor, is an animal!") and also when scolding him ("What was that? The Jake Batchelor I know plays like a cannibal!").
Batchelor had a tough final season at League level. He played senior footy once in round eight, against Fremantle at the MCG, a tight and memorable loss. He didn't play badly but nor did he play well enough to hold his spot. He knew then that his exit papers were likely to be stamped. "If you're only getting one week to stay in the side, you know," he says. "But fair enough, I was in my seventh year—not first or second when you've got to give players a chance to show their stuff. I understood."
In a sense, Batchelor had prepared himself for the bad news all season long, but hearing the words tumble out of Hardwick's mouth ("We're going in a different direction" were the exact words) was tougher than he expected. "Heartbreaking. It's still heartbreaking," he says. "Your heart sinks and you start struggling to breathe a little bit, and you realise it's actually happening."
His fate sealed, Batchelor went out for lunch with close teammates Nick Vlastuin and Nathan Drummond, and within two days was on a pre-planned trip to Hawaii with his girlfriend, Alex. His management was talking to Port Adelaide about a potential move there, which never eventuated but nevertheless gave him something to cling to—a mental lifeline but, in the end, a mirage.
Quickly he was called up by the Frankston Dolphins, so debt-stricken a year earlier they'd been expelled from the VFL for the 2017 season. Under the guidance of general manager and former Hawthorn champion Gary Buckenara, the Dolphins were returning to the second-tier league with a hastily-constructed list whose accent was on raw talent from the TAC Cup and local Leagues. As second acts go, it was as far from the glamour of an AFL Premiership as Batchelor could have imagined. The club asked him to take on a role playing in its backline but also coaching the young and inexperienced defenders. And almost immediately he was there.
"It's funny. It all happened so fast. I never had to sit down and go, 'What am I going to do now?'"
He sits in the change rooms today, a bright Thursday afternoon, in a nondescript brick building close to the beach. The whole place has a retro aroma about it—Deep Heat mixed with sweat, and dirt and grass rubbed into the ripped green carpet. He grins at the smell. "You don't get that in the AFL. You miss out on those little things you grew up on in local footy."
He lives only 200 metres away from the ground, and played his under age footy at the Frankston Bombers. This season, rain or shine—in the heat of February or the cold of a wet July—he walked to and from every training session and every home game. "I made a point of it. I wanted to do it. I've been a Frankston boy my whole life."
Batchelor grew up near Jubilee Park, then Frankston South (near Mt Eliza), and has three older siblings. It felt right to play locally. The season finished three weeks ago, but the poor old (or rather, young) Dolphins won just two games. Batchelor says he compared their list to that of Port Melbourne. Port, one of the better standalone teams, had an average of 47 games of VFL experience per player, while Frankston averaged nine.
"But it was a pretty enjoyable year, believe it or not. That's what happens when you've got young boys playing footy. You feel like shit after a game, but you rock up on a Tuesday and they're good to go again."
That said, he didn't love the actual football so much as the team building. On field, Batchelor was so used to playing a certain way, and knowing how his teammates were going to react in a given situation, that it was difficult—almost impossible—to adjust to the exuberant chaos of a team full of kids.
"They get the ball and they don't know what they're going to do, more often that not. So you start going against the way you play, to compensate for that and save a goal. A backline is built on predictability, and it was hard to get used to that not being there. Predictability is everything to a defender."
As a coach, he pressed that into their collective psyche as much as possible. He worked closely with Richmond's mindfulness coach Emma Murray in 2017, credits his excellent VFL form that season to her, and tried to bring some of her techniques to the Dolphins.
"I'm no expert at it, but I think I've been able to help them keep their mind focused on where they are and what they're doing," he says. "I'll hear a comment from a player, cracking it on the bench, going off, and I make a point of getting them to understand what they're doing: 'Your current actions won't change what's happened, they won't help what's gotta happen next, so fix where you are right now'."
The VFL, he notes, is the highest level some, even most, of these Frankston players will ever reach. It can be daunting to play against bigger, faster players with greater expectations. The players need the right tools to adapt intellectually and emotionally.
"If you can get this type of thinking into young players early, it doesn't give the demons a chance to enter their head. It's training good habits into them, instead of bad habits out of them."
Watching the 2017 AFL Grand Final unfold, he says, was not the bittersweet experience people sometimes expect him to have had. He was close to all the players—and the club felt so close as a whole—that everything seemed to be as it should. "My part for in that Premiership was sitting in the stands—I just understood that," he says. "No jealousy. Yes, wishing you were a part of it, but I still felt part of the whole thing—and I genuinely believe I was."
Batchelor says he can imagine people might believe he says such things "because it's the right thing to say", but his sentiment is deeply felt, and real. You can see it on his face in the gigantic photo on the wall of the Graeme Richmond Room at the club, where the flag heroes are jubilant on the MCG, and surrounded by the VFL players. Batchelor's face is there, smiling widely, sandwiched between Shai Bolton, Oleg Markov, and Todd Elton, who was also delisted and landed at the Dolphins. "It was genuine. All that connection and love, it was just so genuine. And that was built throughout the year," he says. "The first hour or two after the siren was unbelievable."
There was one 20-minute gap at Crown Casino afterwards, he says, when the flag winners were whisked away before going on stage, and in that moment the others sat and wondered what to do. "And in that moment, it clicks that you're not a part of the winning team, but then we came back together."
It would be easy to imagine that one of the things Batchelor might miss most about playing AFL footy is the massive crowds at the MCG. But that doesn't come to his mind. He looks out at the pretty ground here—where seagulls arc on a breeze high above, and light aircraft sputter over a sparkling Port Phillip Bay, bathed in afternoon light—and says what he misses most of all is the physio room. Every morning before training, every player goes in there, and they natter away with the trainers and fitness staff and a dozen other players.
"There's no better way to start your day than getting up, doing what you've got to do, driving in to work, putting your bag down, then wandering into this room to get strapped and laugh for half an hour," he says. "I mean genuine belly laughs for half an hour. It's a pretty good lifestyle to have. I reckon I'm pretty advanced in understanding the world, but I still didn't understand how good it was."
The life of an AFL player, he says, comes with harsh physical demands, the unrelenting focus of the public eye, and ceaseless pressure to perform, but in no other job do you get the chance to hang out with 44 mates. And that's just the players. "Some of my best mates were in the admin staff. I'd go have lunch with Dom from finance or Simon from IT. You can go in any different direction in a footy club and have a good time."
Batchelor doesn't miss the glare of social media. There was a time early in his career when he went looking there, slinking around on Twitter, seeking a little validation. It was a mistake. "You look around, read the wrong thing, and then you don't think you're a good player, and then you don't think you're a good person, because your whole life is footy. It ruins a lot of people."
The former TAC Cup players that he coaches at Frankston can read so much about themselves now, given the blogs and fan sites devoted to fantasy prospects and phantom drafts. Teenagers drift into the forums, or the articles, or the ranking lists, and can't help reading opinions about their various shortcomings, whether contested marking or speed. "It can be stuff they might not know. A kid might have no idea he's thought of as slow. And now that's all he thinks about. He goes sprinting every single game now, because all he can think about is that."
Batchelor didn't struggle with his ranking in phantom drafts so much as the actual draft—many years later. He would stare at the players selected after him, like Sydney's Luke Parker (pick 40) or Melbourne's Tom McDonald (pick 53). "I was taken fairly high, second round, pick 30. Year after year though, players that were picked after me start getting a lot better than me. Then this feeling of unworthiness creeps in."
He has put that behind him now, however. He has in fact just retired from playing, at just 26. He enjoyed his role at Frankston, but is happy for it to be over, too. "This isn't AFL but you've still got time trials, you've still got skinfolds, you've still got meetings, you've still got high expectations—and that's great, they need to be there—but after seven years in the AFL, having to do it again at another level, I can't be bothered," he says, shrugging. "I'm not embarrassed by that."
It took him longer this year to warm up for training, or to cool down afterwards, and especially to recover from a game. "You're not doing the same weights. You're not doing the yoga, pilates, massage, all that stuff that makes it easier." He might sign up with a local club and play a few games out of the goal square, but he wants to give his hip, back and knees a rest.
He's just got a new job, too—a full-time role as a development coach at St Kilda. The coaching bug has bitten him, particularly doing hands-on work with players. He enjoys taking video sessions— reviews and previews. "But I love being able to show them body work and technique, spoiling and tackling," he says. "And I really enjoy them doing it back to me, for some reason. I think so I can physically feel if they know what they're doing."
He did some work recently with one young player on tackling, drilling in him the notion that he needs to get his feet as close as possible to the hips of his opponent before wrapping his arms around them. You can't tackle by reaching.
Two weeks ago, with the Dolphins season finished, Batchelor got along to a Mornington Peninsula League final where a handful of his players were running around for their local clubs. "And I saw this tackle, with a guy taking someone over the boundary line. Hard. I look up and I see it's him. I didn't speak to him for a week, but I saw him at the best and fairest later, and he said, 'You know that tackle? When I was running at him, all I was thinking about was that technique work we did at training, getting my foot in as close as possible'."
"That was … oh wow. The fact that something stuck, that it translated on the field, that it made a kid better. That's perfect."