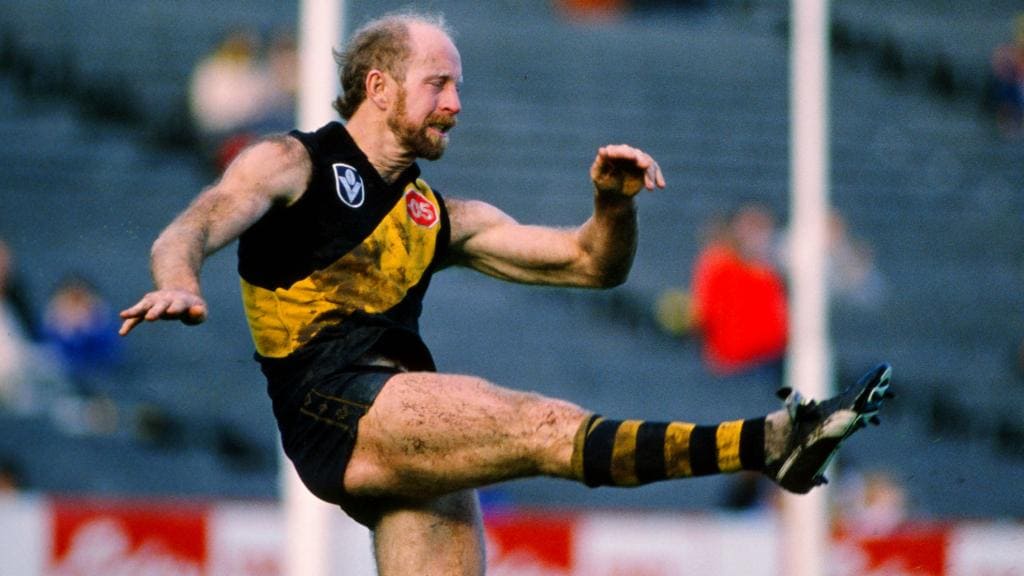 Jimmy Jess was a cult figure of the Tiger Army from the mid-1970s through until the late 80s when he hung up his boots after a stellar 223-game career. Yellow and Black barrackers loved the warrior-like on-field attitude of Jess, and his happy-go-lucky nature away from the field of battle. In this 1982 feature article, which appeared in 'Australian Football Action' magazine under the heading: "THE GHOST WHO WALKS, RUNS, MARKS, AND KICKS", Jess discusses his arrival at Richmond, his key-position versatility, and a range of other topics in typically laid-back style.
"Jim Jess is the first to admit that he didn't have a "real flash" start to his VFL career back in 1976.
Jess played his first game in the seconds, but the following week was in hospital having his appendix removed. It was enough to send the blond-haired youngster with the boyish good looks back to the bush.
But fortunately for Richmond, Jess, now 27, stayed at Tigerland and has since developed into one of their most consistent key position players.
"Yes, it wasn't a real flash start to my career, because of the appendix operation," he said.
"It just went bang on me without any warning.
"They kept me out of action for four weeks, then I came back and played another six games in the reserves before getting my first senior game, which was one of the greatest thrills of my life.
"Like every kid, I dreamed about playing League football, but never thought I would. But then bang, there you are playing in the VFL."
Jess, who was given the name of "The Ghost" by former Richmond coach Tom Hafey, was actually St Kilda's property in his early days.
But the Saints never showed any interest in him and cleared him to Richmond without much fuss. According to Jess, the Saints didn't know much about him, which was strange when you consider that he won the North Central Football League's best and fairest the season before coming to Richmond.
"In those days I followed Carlton, but once Richmond showed an interest in me, I quickly changed clubs," Jess said with a grin.
"Although I was tied to St Kilda, I wasn't playing in their zone and that is the reason why they probably didn't know much about me.
"I first started playing with Avoca, but later changed to St Arnaud, which was in Richmond's zone. St Arnaud is in a major league, while Avoca is in a minor league, so it was just a natural progression for me to change. Plus St Arnaud offered me a few bob."
Jess still misses the country life of Avoca, a small country town in central Victoria where his father, Noel, is the local postmaster. One day he'll return to the bush firstly to live and then will probably relax by coaching one of the local sides.
While he agrees the city has a lot to give, Jess believes the bush simply has a lot more to offer.
When he first arrived at the Punt Road Oval, Jess was 21 – an ideal age he said, especially if you're from the bush.
"I had a bit of trouble at first adjusting to the city life, but luckily everything worked out fine," he said.
"But I believe that some of the kids are too young when they come down and you have everything going for you if you're going to make it.
"You undergo a lot of changes, but after seven years I suppose I'm finally used to the city and VFL football."
Like most footballers, Jess finds that nearly every season there is a certain stage when he struggles for kicks. And he'd sure like to know the reason. But he says VFL seasons are long and the grind of them can often take their toll on players who find it difficult not to become stale.
Jess's build – he is 191cm and 89kg – has given him the chance of breaking the boredom of playing in one set position. He is also lucky that he can hold down a key position in either attack or defence.
In 1980, the Tigers' last premiership year, he played much of his football that season in defence, but when David Cloke wasn't fully fit because of injuries, coach Tony Jewell swung him to centre half-forward for the finals series. Cloke, now captain of the Tigers, was placed in a forward pocket.
Jess's accurate and long kicking, sure marking and disciplined play has been a big bonus for the Tigers. The former country boy, who is starting to lose some of his snow white hair, can be a dashing defender or an attacking forward.
And he more than enjoys it when he has been switched from defence to attack during the day in an attempt to win the game for the Tigers.
"Naturally your first thought is, kick a goal," he said.
"It releases the pressure on you when you're changed onto the forward line.
"You've been chasing a bloke around all day and then all of a sudden someone is chasing you around.
"But I don't really mind if I play in defence or in attack – just as long as I get a game. Barry Richardson played me at full-forward and centre half-forward a lot and Tony Jewell often changed me from the backline to the forward line.
"I think it just depends on how the side is going on the particular day.
"Our backline hasn't got much publicity because our forward line is that good and it gets all the publicity.
"A backman's job is made a lot easier if you have forwards who are prepared to do the hard work like running, chasing, smothering and tackling.
"It puts the pressure on the opposition backmen who find it hard to deliver the ball properly to their forwards if they are under pressure. The backman has to kick the ball in a hurry, and of course doesn't deliver it to his forwards as cleanly as he would like.
"If there is no pressure on down the ground it just makes the defender's job so much harder and it's hard to stop a forward who is getting the ball delivered to him properly.
"It's like Footscray's Kelvin Templeton, who I reckon is used pretty well by his teammates. He gets a lot of kicks when players pass the ball to him from only 20 metres away. When he is in front and getting passes like that, it's nearly impossible to stop him.
"But if the ball is kicked in the air at least you have a chance. And pressure from down the ground makes players kick into the air and of course they can't deliver it as they would like to."
Jess, who has played nearly 120 games, is not only a valuable member on the field, but is also a very respected Tiger off the ground. His quick wit, practical jokes, fresh looks and easy-going nature make him one of the favorites with his teammates.
While there may be many fitness fanatic types at Richmond, the Ghost doesn't fit into this category. In fact, he openly admits to being "allergic" to training. He has never been a big wrap for it and never will, but it's a completely different story come Saturday.
"I'm allergic to training, but I love playing football on Saturdays," he said.
"And I reckon I'd play for free if everyone else would too. But with training you just have to put up with it and get fit. I still don't know why some blokes like it. I don't like training, but it's a different situation to playing."
In the off-season, Jess likes to go "bush" for the occasional game of cricket or do some skin diving for crayfish. He is not too keen about sharks though.
One of his biggest fans is his father who does the round 400km trip down to Melbourne to watch young Jimmy play. Mr Jess usually meets up with Geoff Raines' father, Ian, who comes down each Saturday from Morwell to watch his son play. According to Jess, both fathers get into a bit of trouble in the outer by sticking up for their boys.
Jess said that Tom Hafey didn't really influence his football because the Magpie coach finished his coaching career with the Tigers the same year in which the Ghost joined the club. Barry Richardson, coach from 1977 to 1978, played a big part in his "league schooling". Of course, Tony Jewell also had a say in Jess' game.
After a flag in 1980 and the slide down the ladder last year and now with new coach Francis Bourke, the Tigers have a lot to aim for in September. They are on course at the moment, with Jess and some of the other brilliant Tigers at the helm.
Jess played alongside Bourke for many games and knows exactly what he wants as coach.
"Francis has a fair bit to offer me as a coach too and his ideas are just the same as the ones he had when he was playing. He coaches as he played and because of this his ideas are easy to put across. We all know what he wants," Jess said.
"It was pretty bad last year because so many of us had disappointing years personally, plus the club had a disappointing year as well. We just have to get up and prove that we are a top side."
Jess is a player who was born to fit into Richmond's old style of game – long kicks and big marks. He is one of the longest kicks in football and can thump the ball "a country mile" into the forward line where Tigers Michael Roach, David Cloke and Brian Taylor can have a birthday, courtesy of J. Jess.
The Ghost still has plenty of top football left and he'll be around for a long time to haunt opponents either in attack or in defence."