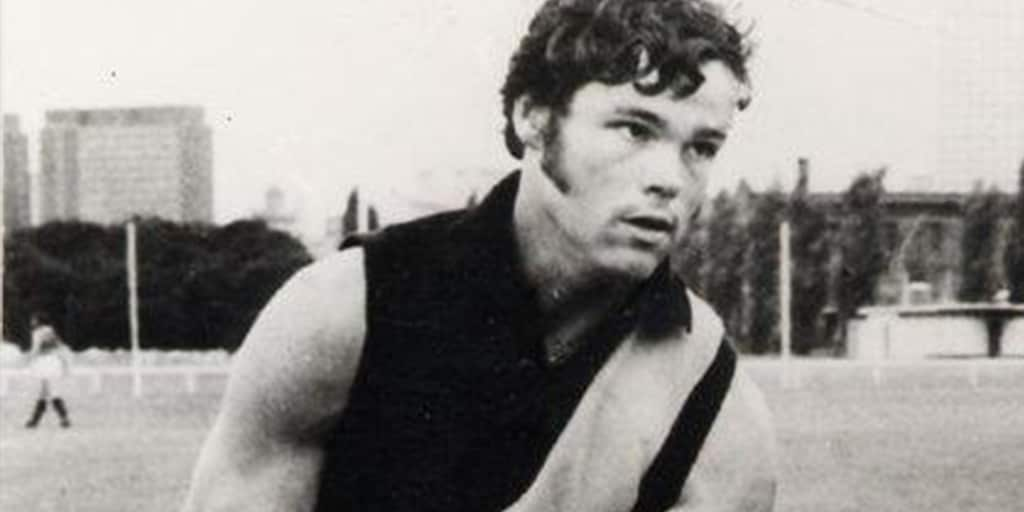 Francis Bourke is Richmond royalty. The five-time premiership hero is revered at Tigerland, his name synonymous with courage, toughness, discipline, fierce determination and winning. On the eve of his fifth Grand Final triumph in 1980, the then chief football writer of 'The Herald', Mike Sheahan, produced this fine feature article on the man affectionately known as St Francis, under the heading: "The bloke other clubs would love to have" . . .
"They reckon Frank Bourke knew that boy of his would make a player even at primary school.
The story goes that every time he drove up to collect young Francis after school, there he'd be, submerged in kids – and clutching a footy.
It didn't matter that the ball wasn't a shiny Sherrin, or that the venue was a country school yard and not the MCG, there was a ball and winning it was the struggle of life and death.
Not a great deal has changed in the 20-odd years since, although Francis doesn't get buried under as many packs these days.
Francis Bourke, the kid who slipped into the big time from Nathalia in 1967 hoping for a couple of games before going home to coach, is still here.
"In '67, I wasn't so secure, I was much less confident," he said today.
"I had visions of going back to Nathalia and to the farm and to become coach up there.
"I thought if I cracked it for a couple of games in Melbourne, the experience would help me back there.
" . . . I haven't quite made it back yet," he says, and a smile breaks on that soft yet ruggedly Irish face of his.
Bourke, 33, is in his 14th VFL season, with 293 games behind him and his sixth Grand Final only four days away.
Richmond reveres him, opposing clubs have the ultimate respect for him and the world at large admires him.
Perhaps it's that Bourke epitomises everything that is either great or admirable in football: talent, courage, tenacity, loyalty, modesty.
Yet the talent would appear to be in a measure which makes him much closer to ordinary than the people named Jesaulenko, Blight and Hudson.
Bourke sees himself in predictably modest terms.
"I think I'm basically a battler who's capitalised on a good club, a lot of good coaches and good people around him to influence him and keep him on the right track.
"I've also made use of the talent I've had," he says, and then, embarrassed that ego might run wild, adds: "It sounds like I'm pushing my own barrow.
"There are plenty of blokes at the club who can run faster, kick longer, jumper higher and are bigger and all that sort of stuff.
"But I think I'm reasonably intelligent as a footballer, I've got an ability to read the play and I understand footy and I think I play within my limitations.
"I won't be remembered for jumping on blokes' backs or sprinting down the ground and kicking the ball a hundred miles. I'll just be remembered as a bloke who's played a long time in a good club, a successful club, and who has played reasonably well."
And by opposing coaches as the bloke they . . . well, just the bloke they would love to have, even at 33.
Richmond coach, Tony Jewell, who played in the 1967 Richmond premiership team with the first-year Bourke, genuinely does love the man.
He said recently: "If someone could give you the choice of how you'd like your son (he had two) to be, it would be like 'Bourkey'.
"If you had the choice, I don't know of any man apart from 'JC' himself – and I don't know if he could play football – who you'd like your son to be," Jewell said.
Bourke said today it's the nicest thing that's ever been said about him.
Occasionally, the Bourke story has appeared to me to be too good to be true.
How can a man who has been in league football 14 years and plays with such ferocity be such a good guy?
Yet there are no apparent flaws in more than an hour of questions and answers.
Perhaps it's that philosophy of his about football.
"Footy's important to me because I know (those eyes light up and the hands add impact) that it's the only thing that I've really got going for me over and above the ordinary bloke.
"Footy is my big vehicle to make something out of my life: self-esteem, the economic side (wife, Kerry, and four children), pride and job satisfaction," Bourke said.
He loves his job, and he also loves doing it well. They reckon at Punt Road that he wanted to stay out on the ground after training practising his kicking, even when a power strike threw the place into darkness.
He replies: "Either I needed the practice, or I was doing something I like doing."
On Saturday, he hopes that "something" will be helping win premiership No. 5.
He knows it's going to be tough; it's a hell of a week, Grand Final week, but he is looking to Saturday and those cherished minutes of his after a hard-fought win, particularly in a big game.
"I don't think there's any finer moment in life than the 10 minutes you spend between the time the siren rings and you take your gear off and get in the shower after you've won."
And premierships ? "That's . . . oh, well, hell; that's just something very, very, very . . . very special."