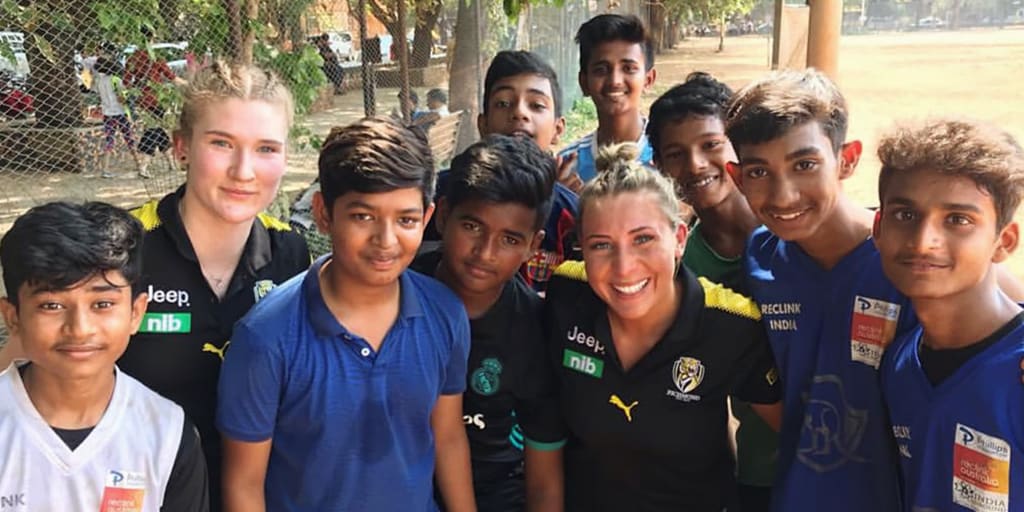 The continually growing Richmond Institute of Sport Leadership (RISL) commences its third year bigger and better than ever.
The most significant expansion in the program is the introduction of an Albury-Wodonga campus that will be home to 29 new Border students as of Monday.
MEMBERSHIP The Hunt Continues in 2019; join as a member today
The expansion takes total RISL enrolment numbers to 175, up from 130 in 2018 and 45 in 2017. Included in that figure are nine Indigenous students, extending the work of the Korin Gamadji Institute (KGI) and the work they do with Indigenous youth.
The Albury-Wodonga campus that sits within the Richmond Football Club's NGA Zone will not only offer students a Diploma of Sport Development in conjunction with Swinburne University but also countless opportunities within the Club's fully owned subsidiary business Aligned Leisure.
Aligned Leisure recently acquired four major Border complexes; Lavington Swim Centre, Albury Swim Centre, Wodonga WAVES and the Wodonga Sports and Leisure Centre.
Former international basketballer and three-time Olympic silver medalist, Lauren Jackson, will be a key part of the Border program.
Jackson is one of various special guests and ambassadors that students across the RISL program will meet throughout 2019.
Fellow Olympian Lydia Lassila (Athletic Performance), head coach of the world champion Australian Diamonds Lisa Alexander (Coaching), Richmond Football Club president Peggy O'Neal (Leadership) and former Richmond Football Club player and current CEO Brendon Gale (Management) will each deliver keynote presentations for course modules.
Richmond Institute of Sports Leadership (RISL) students have travelled to India to introduce AFL to over 600 students in Mumbai with thanks to @ReclinkMumbai. https://t.co/8C2gw2othl

— Richmond FC 🐯 (@Richmond_FC) October 11, 2018
RISL Graduate Jamie Wills, who is now working for the Richmond Institute three days a week as a student experience mentor, as well as at Aligned Leisure in Cardinia as a customer experience officer, said the exposure to experts that had been a part of an elite sporting environment was an invaluable part of the program.
"I was able to work in so many aspects of the sporting community and that allowed me to meet many amazing people in the RISL program whom I created great friendships with," she said.
"I am so grateful for both opportunities that were created for me through RISL and am so stoked to be a part of both teams (RISL and Aligned Leisure).
In future, Wills hopes to grow further into the elite sporting industry.
"My main goal is to take on as many opportunities as I can, to gain experience and to keep growing my profile. From there, I will see where it takes me," she said.
Another strong part of the program set to continue is the special leadership opportunity for students to travel to India and China.
In the 2018 instalment of the trip, students were able to put to work the skills learnt throughout the course with a range of activities such as clinics, testing and screenings.
Over 2,000 kids were introduced to the game of AFL by RISL students in Mumbai and Ooty as part of the program.
Head of Education and Training at the Richmond Football Club, Damien Villarosa, said RISL provided an unmatched student experience.
"We have substantially increased our staff numbers to continue providing them with support to thrive in our program and beyond," he said.
BROWSE Find a 2019 membership package suited to you
"We take great pride in being given the opportunity for students to learn in such a great environment at the club and to also play a vital role in each students' individual development.
"There has been a huge number of success stories from our two previous intakes and we have no doubt that there will be many more successes within this year's group."