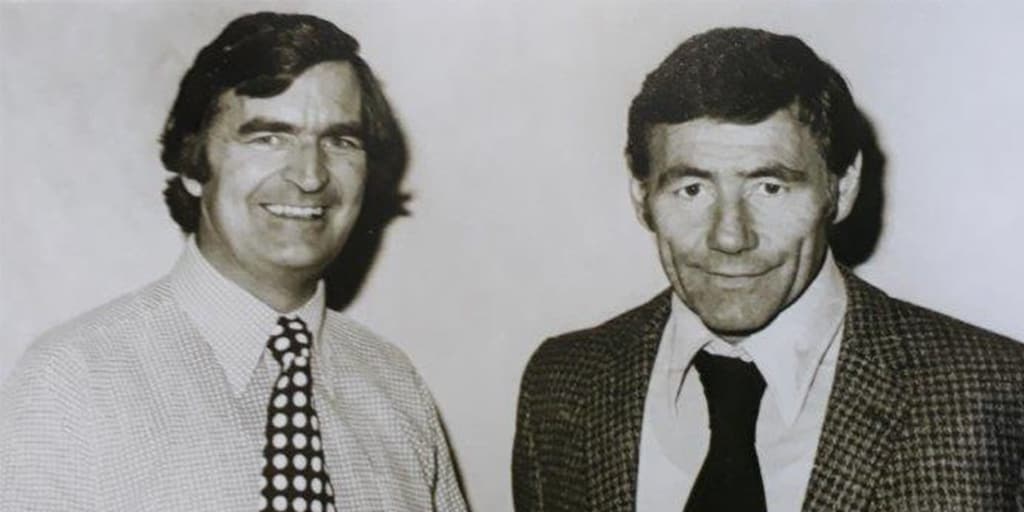 It's time we officially place it on the record . . . Richmond's golden years of the 1960s and 1970s would not have been possible without the sheer drive, cunningness and determination of Les Flintoff, who died last Thursday (February 7), aged 88.
Flintoff, the father of Australian Olympic Gold Medallist hurdler Debbie Flintoff-King, had a modest 17-game playing career at Tigerland from 1950-52.
Just over a decade later, in 1964, he was handpicked by Richmond's then secretary Graeme Richmond ('GR') and president Ray Dunn to head up the Tigers' recruiting, as the Club looked to break its prolonged premiership drought.
"We've got a big job for you to do," GR said to him. "We haven't won a premiership since 1943 and we've got a big job to do in recruitment, development and promotion ahead of us, and that's what I want you to head up."
Flintoff succeeded big time.
"We managed to recruit the most powerful and feared football side in the VFL in that era," he told me when I interviewed him for a chapter in the book 'Richmond FC: A Century of League Football'.
With the backing of talent scouts and former Richmond players on watch throughout Australia, Les Flintoff travelled around Victoria, South Australia, Tasmania and Western Australia, to quickly and stealthily secure the signature of footballers from the grasp of opposition recruiters.
For a large part of each season, he couldn't watch the Tigers play in person because he was in some far-away country town, knocking on old, wooden doors.
His spiel was simple, but effective: "We'd like you very much to come join us at Tigerland," he would say, as he'd nudge a Form Four document, which would tie the player exclusively to Richmond for two years, across the kitchen table.
And then he'd follow up with a sentence no youngster or proud parent could decline: "If you come on the ground in the last five minutes as a 19th man, you would have cemented your name in Tigerland history, because you were then a Tiger."
When I interviewed him back in 2002, he came armed with a handwritten list of those Richmond players he had helped recruit – Barry Richardson, Francis Bourke, John Northey, Royce Hart, Mike Hammond, Mike Perry, Geoff Strang, Dick Clay, Kevin Sheedy, Neil Busse, Rex Hunt, Craig McKellar, Brian "Whale" Roberts, Eric Moore, Graeme Bond, Michael Green, Colin Beard, Noel Carter, Keith Smythe, Eric Leech, Kevin Shinners.
To give you some perspective of the time, the Club's total recruitment expense in 1967 was $3,892. For the 1969 premiership season it almost doubled – to $6,800.
"The best part of 65% -70% of the sides that won the 1967, 1969, 1973, and 1974 premierships were recruited by us," he told me.
And each came with a fascinating story . . .
When he saw Francis Bourke for the first time on a rainy day on his family's Nathalia farm, the future Richmond 'Immortal' was dressed in a big, black raincoat, hat and big gumboots. Flintoff was underwhelmed.
Craig McKellar's parents were so elated when Flintoff signed him that they opened a bottle of Johnny Walker Black Label Whiskey, much to the awkwardness of the teetotaller recruiter.
When he arrived in Maryborough to sign Mike Hammond, three other league clubs' cars were already parked out front. Somehow, he beat them all to Hammond's signature.
After signing John Northey from Mortlake, Graeme Richmond took great delight in ordering Flintoff to phone the Geelong Football Club to tell them there's no need to visit 'Swooper' (Northey's nickname). The Tigers had once again got their man.
While signing John Perry and Geoff Strang, Flintoff spotted teenager Kevin Smith roosting the ball a country mile. So he signed him up, too.
Graham Burgin's parents said he was going to go train with Hawthorn instead, so Flintoff nonchalantly suggested he sign Richmond's Form Four agreement first before he left the house.
Eric Moore and Daryl Beale were pinched from the under the noses of Essendon. Flintoff didn't know what they looked like, so he asked the Bombers' chairman of selectors who they were in the practice match he was watching.
Even more brazenly, he joined the three-quarter time huddle during another Essendon practice match to try and sign Keith Smythe. Bombers coach John Coleman spotted him and shooed him off the ground, but not before Flintoff had organised a later rendezvous with the rover.
Wearing his promotional hat, Flintoff was charged with gaining as much publicity for the Club as possible. Cycling star Gordon Johnson, international cricketers, CEOs, singer Billy Daniels and pianist Benny Payne all fell under his spell. At times, he'd simply grab Neville Crowe and Paddy Guinane and head out to supermarkets to sell Richmond membership tickets.
For his wonderful service as a player, recruiter and promoter, Flintoff was made a Richmond Life Member in 1972.
During my interview with him, he told me of Richmond's 10-year-plan (1965-1975) that he, Graeme Richmond and Ray Dunn devised in the Club's boardroom one afternoon.
"We forecasted and budgeted to win 5 VFL premierships. We failed. We won 4."
Following his successful, lengthy tenure at Tigerland, Flintoff focused on his daughter Debbie's athletics career. She would train at Olympic Park, where Les was often distracted by the roar of the Tiger Army from across the road at the MCG.
Debbie Flintoff-King represented Australia at the 1988 Seoul Olympics and won the Gold Medal in the 400-metre hurdles. It's still regarded as one of the most inspiring Olympic victories of all time. Two weeks earlier, the family suffered a tragedy with the sudden death of Debbie's youngest sister Noeline.
In the final, Debbie was back in fourth place as she turned into the home straight, and Les can be heard through the broadcast effects mic yelling "Go! Go! Go!" over the last 100 metres. Debbie's stride then lengthens, she finds a burst of speed over the next hurdles and with Belarusian Tatyana Ledovskaya fading, Flintoff-King lunges at the line to win by 0.1 of a second.
"She has a heart as big as Phar Lap," Les Flintoff would later say of his daughter.
And the same can most certainly be said of him.