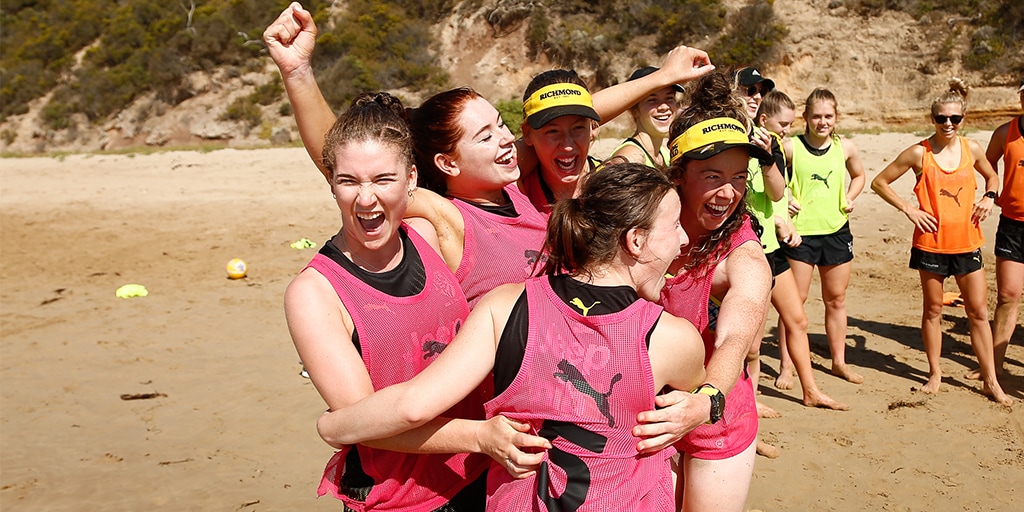 Richmond's 2019 VFLW squad came together in Anglesea last weekend for a pre-season camp that left Women's Football Operations Manager Kate Sheahan "overwhelmed with positivity".
The camp had no 'Remember the Titans' style 3am wake ups, or grueling 'Tough Mudder' like conditions, but instead an aim on coming together as a group with a clear focus towards the standards of the Richmond Football Club.
MEMBERSHIP The Hunt Continues in 2019; join as a member today
"It's much easier to support your teammates and to have each other's backs when you know where one another have come from," Sheahan said.
"We wanted to find a way to combine footy and our fitness requirements with the skill of being able to get along and work as a group; the three elements that matter most out on the field."
Apparent on the camp was the outstanding professionalism the girls have developed as part of the Club's football program.
"What we are building and what we have built from the start is that our VFLW team is no different to how we would operate an AFLW team, from standards to staff, to the support network," Sheahan said.
"We don't want the girls feeling a massive jump up (to AFLW) because we know some of these girls from our VFLW squad we need to develop into our AFLW squad."
View this post on Instagram
After two days of activities that ranged from beach challenges, team meetings, fitness work and meals, the squad congregated together to watch Saturday night's AFLW season opener between Collingwood and Geelong, played in front of over 18,429 people at GMHBA Stadium.
"There was definitely a sense of 'this could be us' for the girls watching," Sheahan said.
"It was a chance for them to think as a group 'if we trust the process, believe in what we are being asked to do and execute that, we can do this ourselves'.
"In 12 months, it could be them playing for the Richmond Football Club in their opening AFLW game in front of the Yellow and Black Army."
BROWSE Find a 2019 membership package suited to you
The VFLW Tigers' season does not kick off until May 11, but the group will play a full-fledged practice match against Collingwood on February 23.
"The girls cannot wait to get into it and to test themselves against some AFLW players with Collingwood," Sheahan said.
"Starting pre-season as early as November was actually very much player driven, they are so eager and want to be out there. We had to ban them from coming to the club in September, just to make sure they had the right break.
"We haven't just said 'you're a good footballer come in and play for us', we have made sure they meet the moulds and standards required to be a Richmond footballer.
"We have always said that the examples should be sent from the top and it's coming from the coach Tom Hunter, the high-performance manager Matt Parker and from myself.
"If we don't set the agenda and the tone, or if we do and it's in the wrong one, that flows through the playing group."