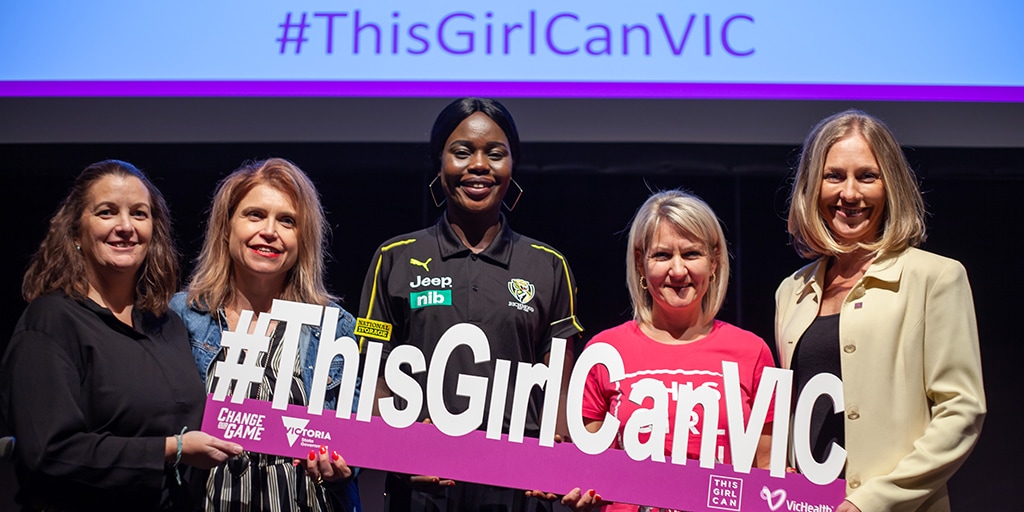 Richmond is a proud partner of VicHealth's This Girl Can Victoria program and on Thursday, June 30, hosted an industry event for women across the Border at The Cube, Wodonga, to discuss the barriers women face trying to get active and ways to overcome these.
Here's what some of the attendees had to say...
AUNTY PATRICIA CERMMINARA - LOCAL ELDER
"Today, what an awesome place to be. The power of women. I'm one of them and I can say that hope today you share collaborative stories, that you're not excluding anybody and that you open doors. And as we all know as women, we can do whatever we strive to do."
MELANIE FINEBERG - VicHealth SOCIAL MARKETING MANAGER
"Our research shows that any of the women in the room today will have experienced that feeling of being too intimidated, too embarrassed to go out and get active, particularly in a public space. And that is what This Girl Can Victoria is all about. It's about challenging those gender stereotypes, breaking down these barriers and norms and empowering women to feel comfortable in their bodies and in public spaces to get active however, whenever and wherever they want."
KATE PARREMORE - THIS GIRL CAN VICTORIA PARTICIPANT
"I think it's really great that this campaign has embraced women of all sorts and empowering them to be active. And when I first met Tiffany, you were telling me about this campaign and when I got home, I did a lot of research and I thought, 'this is something I could really be a part of - to empower me and many other women to get active'."
ANGELA DELA ROSA - THIS GIRL CAN VICTORIA AMBASSADOR
"When you're a real woman watching other real women on television, it kind of makes you think, 'well, they can do it, I can do it!' And that's one think I've really lived about the campaign is that it makes you feel empowered as a woman to actually get out there and try something you may not have tried before."
CANDICE MARZANO - BORDER LOCAL
"Your best is enough. It doesn't matter how fast you go or what you chose to do, it's what you like and what resonates with you. That's what I feel is the truth."
AKEC MAKUR CHUOT - RICHMOND FOOTBALL CLUB VFLW PLAYER
"Any advice I would give to anyone that is aspiring to, you know, just go out and do something different, is just give it a go. You've got nothing to lose. I think that the generation that we live in, we put too much pressure on ourselves."
EMMETT DUNNE - RICHMOND FOOTBALL CLUB VICE PRESIDENT
"We understand that, along with this great position we're in, we have an obligation. An obligation to do something, and we can change. And equality and opportunity is one of those areas where we're really focused on."
LAUREN JACKSON - AUSTRALIAN SPORTING LEGEND & BORDER LOCAL
"Equity in sport for women. The pathways are starting to open up. There's now more opportunity for girls to participate in all sports, and on the same platform as men! It's going to take some time for true gender equality in sport to happen, but I think, you know, finally we're starting to see movement, we're starting to see these opportunities and we're starting to see girls grow up knowing, or thinking they can be a top level athlete in any sport they want to be, which is really incredible. And I'm just proud that I got to be a part of that pathway; one of those people who paved the way.
This Girl Can do absolutely anything she wants to do!"