As the first round of this year's 2019 NAB AFL Draft took place at Marvel Stadium on Wednesday night, Thomson Dow was watching the action with his family over 300 kilometres away at their Swan Hill home.
Anticipating he would be chosen in a later round, Dow said he "wasn't really expecting much".
But when Richmond had its turn at pick 21, the final selection of the night, it was his name that was called out.
"I was at home with mum, dad, two of my brothers and my grandad," he said.
"When Richmond picked me up, it was very exciting. I'm over the moon and still can't believe it's happened.
"I'm pumped. Based off the success (Richmond has) had in the past few years, it's the place to be, so I couldn't be happier to be at Tigerland."
View this post on Instagram
At 182cm and 72kg, the explosive midfielder has impressed with his clean, creative hands and excellent decision-making.
He represented Vic Country in every game at the National Championships this year, averaging 18 disposals per game.
His trademark agility saw him finish third in the agility test at the AFL Draft Combine, and that, paired with his pace, has quickly become the cornerstone of his game.
"I like to use my agility and pace where I can and use that to burst away from stoppages and from my opponent and get inside-50s and be as damaging as I can," he said.
It's been a whirlwind 24 hours for the new Tiger, who travelled with his family to Melbourne on Thursday morning to begin his new chapter.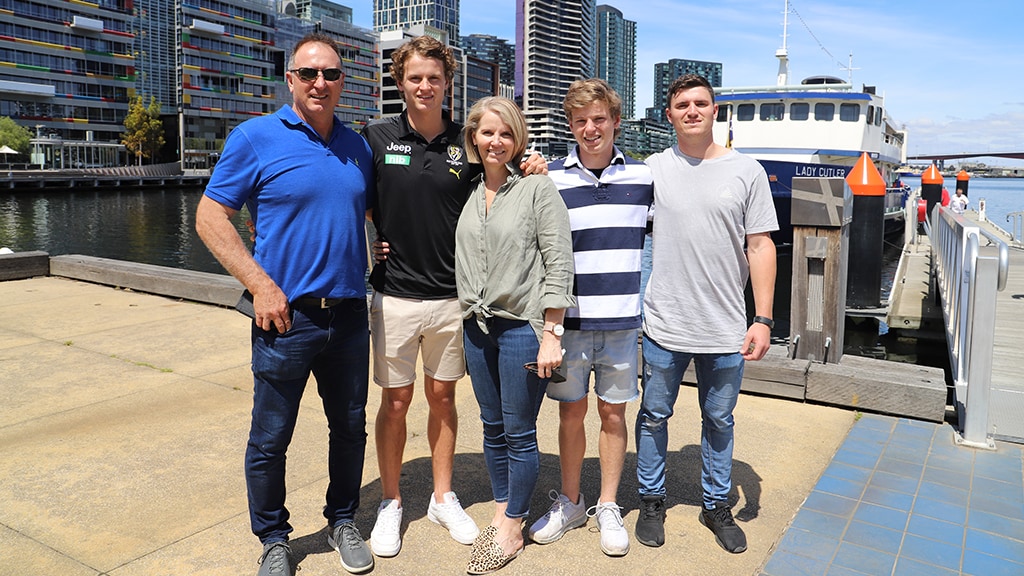 It wasn't the first time the Dow family have experienced an AFL draft first-hand.
Dow's older brother Paddy was drafted by Carlton at pick three in the 2018 draft. Paddy, now 20, has proven a constant pillar of support for Dow throughout his football journey.
"He's been pretty good with me in terms of just advice and communication things and if I ever have any questions," Dow said.
"He's always there to speak to because he's already done it all in the past two years."
Dow, who turned 18 in October, packed up his life two years ago to attend boarding school at Geelong Grammar and pursue football opportunities.
The resulting maturity he developed over those years is set to hold him in good stead as he prepares for his next big move.
"It makes the move easier because I've already done it before," he said.
"Being in Melbourne and closer to my mates and brothers is awesome and I'm stoked."
Dow said he was thrilled to be following in the footsteps of fellow Bendigo Pioneers product and Richmond superstar Dustin Martin.
"He's one of the best in the league so to be playing alongside him is an absolute honour," Dow said.