Oh we're from Tigerland
Voices in the crowd: stories of being Richmond


JOHN PRATT, 57, HERNE HILL (GEELONG)



Favourite all-time player:
Royce Hart – "He was a ball player, he was never dirty. He took beautiful marks and was a beautiful kick. His career was cut short by knee injuries, which was such a shame."

Favourite current player:
Trent Cotchin – "He burrows in and gets the ball. He has a go. Like Royce, he plays the game fairly, doesn't worry about anything off-the-ball. He sets an example for the other players."



"It's a one-horse town, all right," says John Pratt, of the peculiar experience of growing up in Geelong and barracking for another team. "When Geelong lose nobody wants to talk footy, and they've been losing a bit recently," he says. "It's been a sombre mood in town these past few Monday mornings."
Tiger fans, let us hope, maybe even pray, that this Monday morning down on Moorabool Street something happens that hasn't happened for the longest time after Geelong play Richmond. We turn it into a ghost town. All stay indoors. If there is to be talk, let it be only about their holiday options for September.
"I think we've got a good chance of knocking them off this time if we can just put it all together," says John, who for the past 14 years has been designated driver for the Geelong Tigers Supporter Group. In that time, he's seen a lot of the Geelong Road. And in that time he's also seen the Tigers beat the Cats only once – a 20-point win at Skilled Stadium in Round 9, 2006 – in the most lopsided rivalry Richmond has with any club.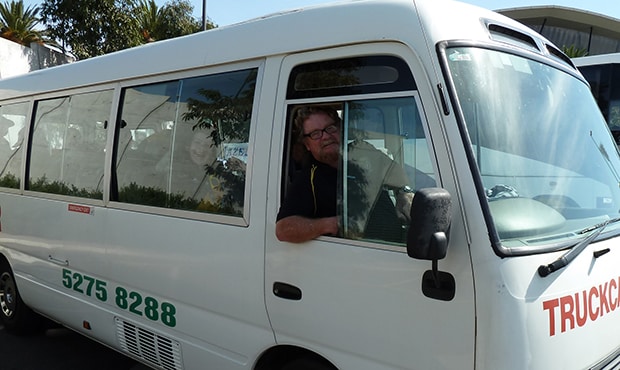 John Pratt: designated driver, behind the wheel, steering the bus.


"I remember that win well," says John, the youngest in a family of five sisters and two brothers, all of whom barrack for Geelong (except one who switched to Sydney when Tommy Hafey got the sack, but now goes for Hawthorn). "I staggered home singing the song."
"On the Monday morning I went into town wearing my Richmond jumper and my sister went crook at me, said I was trying to cause trouble. Yes, I was stirring, but I was also proud of my team winning."
This is the sort of Tiger John Pratt is: pragmatic in his support, good-natured, and eternally loyal to his football team and the spirit of the game.
I meet up with him at the MCG bus parking bay, where he pulled-up in a 20-seater rental mini-bus, smiling behind the wheel, with his usual one-hour run from Corio delayed by traffic. The Geelong Tigers, one of several Richmond supporter groups that help create circles of football friendship and belonging in regional Victoria and elsewhere, were the third bus to arrive. He parked alongside coaches run by the Gippsland Tigers, and the Ballarat and District Tigers.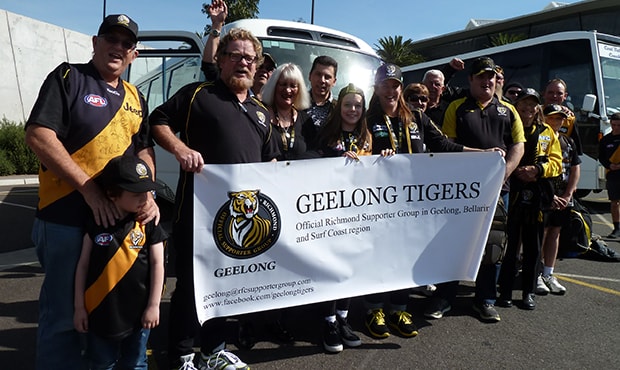 A Tiger team: The Geelong Tigers, a team who spend much time together on the road (see their banner for contact details!) hopefully singing the song on the way home.


"We've got about 90 members this year, although we've had up to about 200 some years," says John, who's on the group's committee. "It brings people together. We run winery tours, a family day, shopping trips, a trivia night. All money we raise goes back to the footy club."
It's a fair voluntary effort, especially for a bloke who hasn't always been Richmond. "When I grew up I was dragged along to Geelong games, wearing a Geelong jumper," he says. "But I always liked the Tigers and as soon as I was old enough, I changed."
For a native of Victoria's second city, it hasn't always been easy being a Tiger. "They feel sorry for me because we haven't won a premiership since 1980," he says. "But I tell them we've won ten and I've seen four of them, and what if you're a Bulldogs or St Kilda supporter. I've seen premierships. It'd be nice to have another one, hopefully in the near future."
But this Saturday, for two clubs, it's more about turning a more immediate corner. Geelong this year have been flat, with only a scratchy win over Gold Coast to show for their efforts. "The locals are not happy at the moment, they realise the era is over," says John.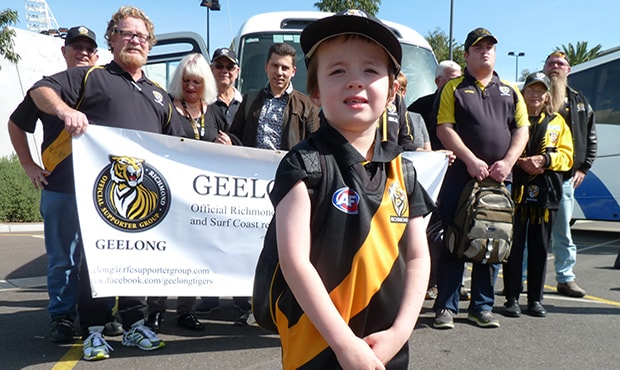 Off to the footy with his granddad: the Geelong Tigers' travelling mascot for the day.


After last Friday night, most Richmond fans are unsure what Saturday afternoon may bring. John is proud to own his colours, and stake his claim in the glass-half-full camp. "We should win because we're winning one and losing one," he says. "You've got to keep going, keep supporting them, keep hoping they can click together and play as a team."
So again, on Saturday, he'll be in the driver's seat of the bus, coming from Geelong to watch his home town's team play against his chosen team. His afternoon – our afternoon – could go either way. "If we lose, yeah, we're downhearted, but everyone is still pretty good," he says.
But the preferred option is something the boys from old Struggletown have done only once against those aristocratic old Pivotonians in the last 18 seasons: WIN!
And if they do, then for John Pratt, the driver of the Geelong Tigers mini-bus, the road back to Geelong isn't hardly long enough. "The bus will be buzzing if we get up," he says. "When we have the big wins we sing the club theme song all the way home."
Go Tiges!



If you would like to nominate a Richmond fan who has a story to tell about their barracking please email Dugald Jellie with details: dugaldjellie@gmail.com

www.tigertigerburningbright.com.au