Richmond VFL coach, Craig McRae provides an exclusive summary of the AFL-listed players from Sunday's Round 5 VFL match against Box Hill.


AFL LISTED PLAYERS

Anthony Miles
26 disposals, seven clearances, five tackles, one goal.
Returned to VFL footy after playing AFL last week. Continued his good form at this level, finished with good disposal and tackle numbers, and his clearance work stood out as always. Kicked a nice goal for us as well.
Taylor Hunt
27 disposals, seven marks, three tackles, two clearances.
Played his best game for a number of weeks, particularly offensively. He was really important in the second quarter in setting us up, and got a number of rebound fifties.
Jacob Townsend
25 disposals, six marks, four clearances, one tackle.
Returned from injury, after missing one game with an eye injury. He had a nine disposals in the final quarter when the game was there to be won, and was pleasing to see him doing all the things we know he is capable of with his hard, contested football.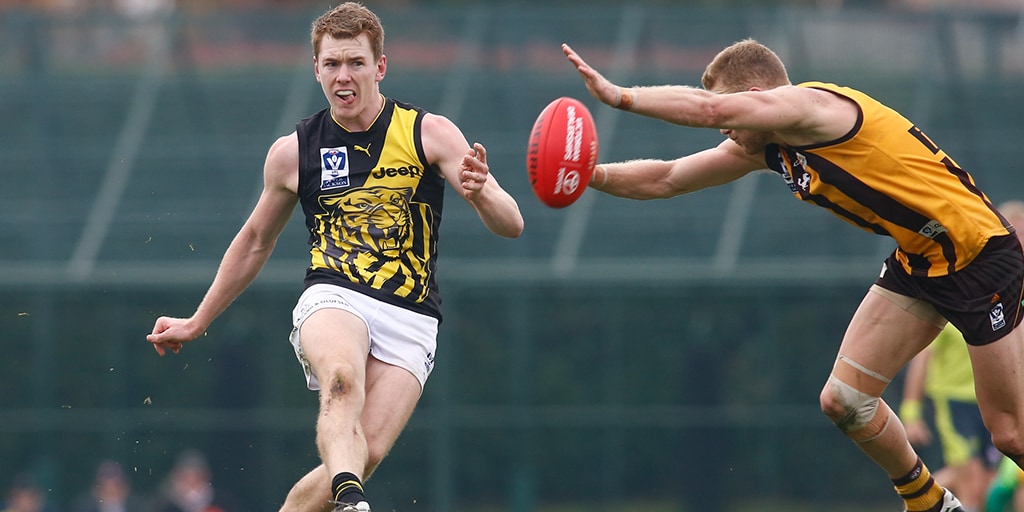 Connor Menadue
21 disposals, three marks, two clearances, one goal.
Continues to play to his strengths at VFL level. Took a quality contested mark and also had a nice finish with a snap goal in the first quarter. Clearly playing above the level at the moment.
Shai Bolton
19 disposals, two marks, two tackles, one goal.
Backed up his good form from last week. His disposal numbers are good for a small forward and his pressure is there for everyone to see. Had opportunities to add to his one goal with a few shots he would normally kick.
Sam Lloyd
16 disposals, six marks, two tackles, three goals.
Played as a forward. Kicked three goals and three behinds in the end, and looked like he could have had a big impact in the game. Continues to look above VFL level.
Ivan Soldo
14 disposals, 24 hitouts, three marks, one clearance.
Returned after making his AFL debut last week. Came in to the side as our primary ruckman, and while he had plenty of hit-outs, we didn't win the clearances. Didn't have much impact around the ground, which is something we'll continue to work on with him.
Ryan Garthwaite
13 disposals, four marks, two tackles, two tackles.
It's the second week in a row he's been beaten in a few aerial contests. It's a focus for him as a young defender, getting his body position right and neutralising those contests. He's a work in progress, but we're really comfortable with his development.
Steven Morris
13 disposals, five tackles, two marks.
Played hard and tough, and showed all the things you like to see in his game. He came forward to defend, showed some strong tackling efforts, and really kept the ball in our forward half.
Callum Moore
12 disposals, four marks, one tackle, one goal.
Played mainly in the back line, we're looking for him to really work hard in that role, and present hard off half-forward. He's another key position player that's a work in progress, but is progressing well.
Tyson Stengle
11 disposals, three clearances, one tackle, one goal.
Finished the game with two behinds - two shots that he would have normally kicked. Started the game well and competed hard, his aerial contest is something that really stood out for a small forward.
Ivan Maric
Seven disposals, 17 hitouts, two clearances, one mark.
Returned from injury, and played second ruck to Ivan Soldo. He provided great support, and again proved to be a great leader at this level. Didn't have a huge impact numbers-wise, but his experience really shone through in critical moments.
Mabior Chol
Five disposals, three marks, two tackles, one goal.
Had a game where he didn't show as many strengths as we would have liked. We're aiming to get more from him, and he's working towards getting the best out of himself.