Key Richmond midfielder Shaun Grigg provides a great insight into last Friday night's stirring qualifying final victory over Geelong on this week's episode of the Club's podcast juggernaut 'Talking Tigers', presented by Audio-Visual partner, Bang & Olufsen.
Grigg details Dusty's dynamic display, talks tellingly about the tremendous Tiger Army, and presents the captivating latest instalment of 'The Chronicles of Kamdyn', among a host of topics he covers off in trademark informative, entertaining style.
Meanwhile, the TT team dissect Richmond's drought-breaking finals success and 'Richo' reveals how 'The Chief' milked multi media coverage over the weekend in his own inimitable way.
Remember, if the Tigers turn you on make sure you turn on to Talking Tigers.
If, however, for some extremely good reason you couldn't listen live to TT this week, click on the video player above to hear the show.
Want to get in touch with the TT team? Email talkingtigers@richmondfc.com.au or use #TalkingTigers on Twitter.
Having trouble accessing the latest Talking Tigers episodes on iTunes? Please follow these instructions to re-subscribe to our feed.
1. On your mobile device, access our AudioBoom channel by clicking here.
2. Click on the 'iTunes' option under 'Subscribe', as per the below.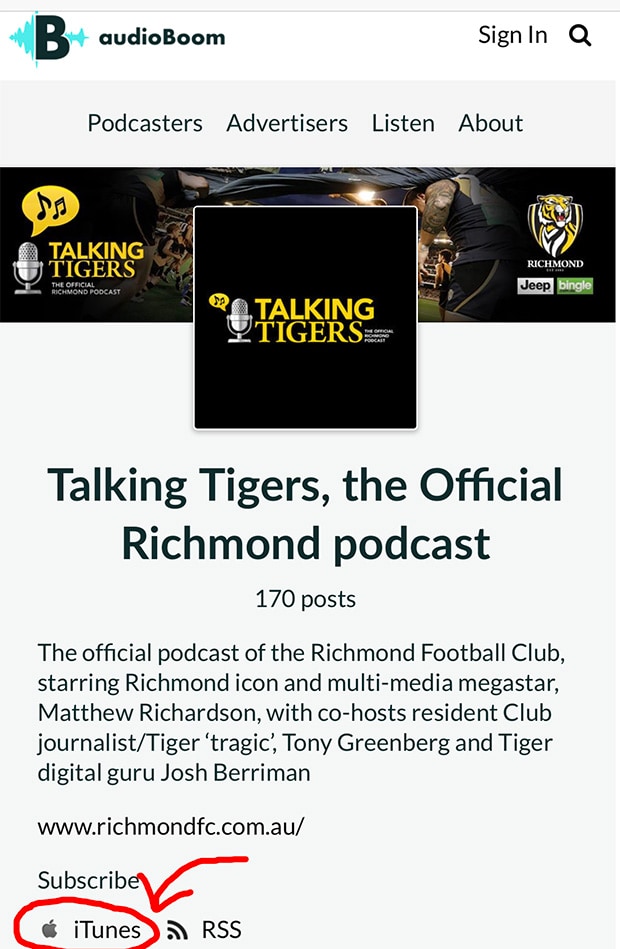 3. Then press 'Subscribe' as per the below and you will be taken across to our feed.