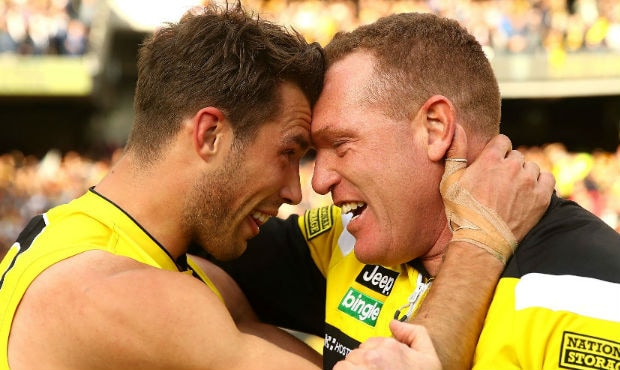 It's definitely the most enjoyable year I've had as a player or coach...
Justin Leppitsch
Richmond assistant coach Justin Leppitsch has revealed how much the Club's 2017 premiership meant to him.
Although Leppitsch in his illustrious playing career was a key member of Brisbane's three consecutive premiership sides during the early 2000s, he took more pleasure out of the Tigers' triumph this year.
"It's definitely the most enjoyable year I've had as a player or coach . . . I mean, I never watched any of the Grand Finals I played in, but I ended up watching this one about four or five times," Leppitsch said on 'SEN'.
"I think you have a bit more pride. It's probably more like watching your kids play in a grand final . . .
"You just have much more pride when you've been able to bring a group together and help them succeed . . .
"I think winning also makes happiness and the rooms a bit easier as well. And that tends to happen when everyone's doing their job, they know what their job is and they've got clarity.
"There are lots of little things combined that create the happiness in a year, but, ultimately, the winning obviously creates that.
"It's hard because we could have lost the last game of the year, and would that have been a successful year, or would it not?
"We tend to only reward the premiers in our game. In a lot of other sports, if you have a winning season, where your wins are more than your losses, you have actually had a successful year. But we don't tend to look at it that way in our game.
"So it's pretty cut-throat, it's pretty hard.
"Sometimes it's hard to enjoy it, but this year we'll take it, that's for sure."