The bitter disappointment surrounding the circumstances of Richmond's narrow loss to Fremantle at the MCG last Sunday has been blown away through a typically upbeat, entertaining, enlightening and epic episode of 'Talking Tigers' this week, presented by Audio-Visual partner, Bang & Olufsen.
As gut-wrenching as that defeat was, the TT team members have risen above the gloom to bring brightness into the lives of their legion of loyal listeners.
It's a top tonic for members of the Yellow and Black faith.
Remember, if the Tigers turn you on make sure you turn on to Talking Tigers.
If, however, for some extremely good reason you couldn't listen live to TT today, click on the video player above to hear the show.
Want to get in touch with the TT team? Email talkingtigers@richmondfc.com.au or use #TalkingTigers on Twitter.
Timings:
Emails and tweets 10:40
Chief Watch 16:20
Richo's Rant 18:20
Club news 20:20
Tone's Tiger Top 10 23:00
VFL report 26:15
Round 8 review 33:15
Yellow and Black Book specials 36:00
Spirit of '67 flashback 41:45
Greeners' gags 45:20

Listen to find out why the TT team said the following:

Richo: "I got a text message after last week's Talking Tigers and it was from our mate Brett Deledio…"
Greeners: "One of the funniest things I have seen in a long time occurred post game on Saturday night."
JB: "Patrick Naish kicking seven goals for Ivanhoe is one for the recruiters to watch."
Having trouble accessing the latest Talking Tigers episodes on iTunes? Please follow these instructions to re-subscribe to our feed.
1. On your mobile device, access our AudioBoom channel by clicking here.
2. Click on the 'iTunes' option under 'Subscribe', as per the below.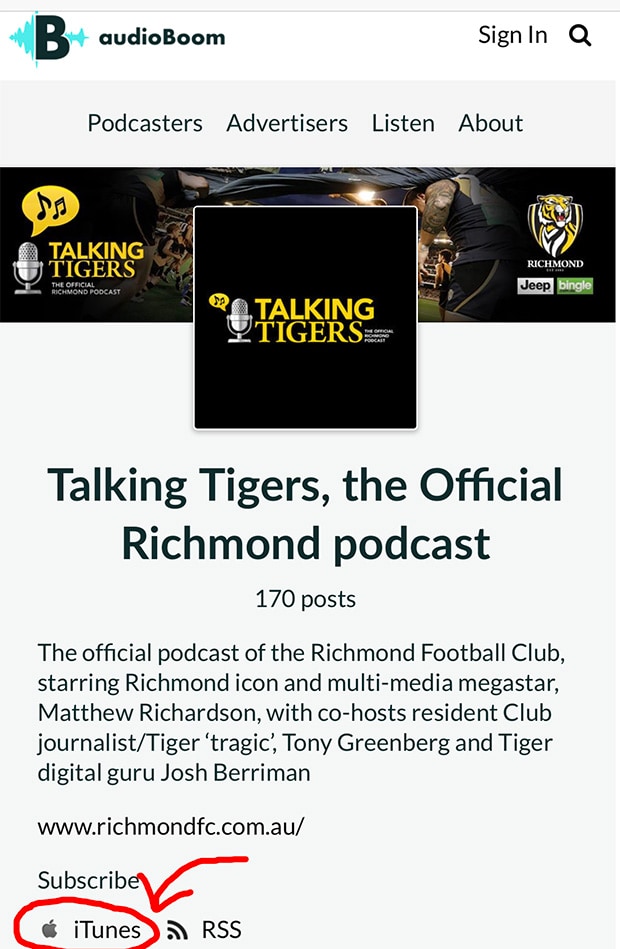 3. Then press 'Subscribe' as per the below and you will be taken across to our feed.