The fight for the first groundball on game day starts early at Richmond as defender Brandon Ellis pushes off teammates and forces himself to the front of the queue to get the warm-up drill started.
Winning that first ball was a habit that started out of necessity to improve the contested aspect of his game and it has become a superstition for the defender, who has just re-signed for a further two seasons.
Coach Damien Hardwick is on side and won't start the drill until Ellis is ready to go – both on game day and during training – and his support has paid off.
Ellis has re-emerged as a key Tiger after two "average" seasons on the wing, moving to half-back where his harder edge in the contest has been one of the celebrated stories inside Punt Road Oval.
"That's obviously been one of my weaknesses through my career in the AFL and it's something I've worked really hard on," Ellis told AFL.com.au this week.
"So every groundball drill we get to do I like to go first to get it out of the way and start on a good note and put myself out there and under pressure situations.
"That's something I've started that I am superstitious about, so if we have a groundball drill I'll make sure I'm first in line.
"The boys try to push in front of me or force me to the back of the line, but 'Dimma' doesn't start now unless I'm at the front of the line so he's in for it as well."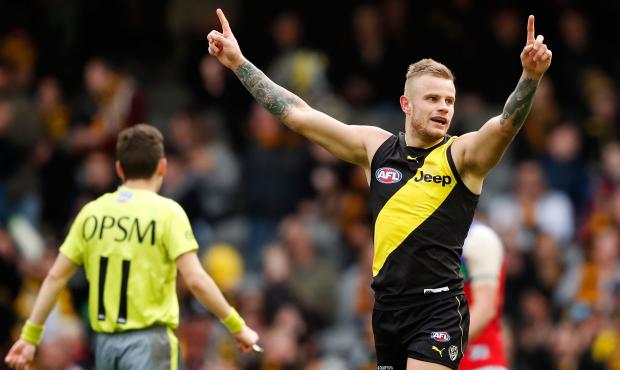 Ellis recognised the need to improve his contested work when opposition midfielders started sitting on him after a breakout 2014 season and his impact as an outside runner plummeted across 2015-16.
When the plan was hatched with Hardwick last November to redeploy him to the "life and death" environment of the backline, he got to work in the gym and ramped up his groundball work after training.
"I'll never get off the track on a Tuesday or Thursday unless I've done five to 10 groundballs with the machine or the boxing bag where you have to turn your body and get the right technique," he said.
"I never miss one and that's helped me a lot this year with my groundballs.
"It's a bit like life and death down there in the backline, so if you don't go hard at the ball you know they're going to get over the top and get a goal.
"I worked really hard in the gym over the summer to get a bit stronger and put on a couple of kilos and I'm definitely more confident now going into a contest, both on the ground and in the air."
The proof of Ellis's improvement can be seen in the numbers, with his average groundball wins moving from 4.8 a game in 2016 to 5.9 in 2017. The percentage of his possessions won in the contest has lifted from 27.1 per cent last year to 32.1 per cent.
As well as the work on the track, a new mindset has been needed for Ellis to excel as a player whose commitment to the contest is evident now in every game he plays. Belief has been the key.
"If you go in with confidence and free mind and free spirit, it's a big weight off your shoulders," he says.
"Don't go in to the contest half-hearted or telling yourself 'if I stuff this up what's everyone going to think?' Just go in there and know that you've done all the work."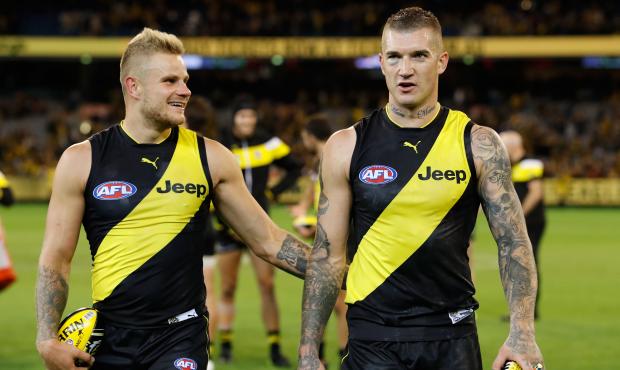 Ellis last extended his contract with the Tigers at the end of a breakout 2014 season, which saw him finish second in the club's best and fairest as a 21-year-old.
He played all 23 games that season, ranking No. 1 at the club for disposals (26.1 a game), No.1 for uncontested possessions (18.3, No.4 in the AFL),and No.1 for rebound 50s (4.0). The only way was up, it seemed.
"That year was awesome to have, but being my third year people expected me to just keep rising and taking it to a new level," Ellis said.
"But I probably stagnated. People expected big things and I didn't deliver and it was a bit of a downwards spiral.
"I don't think I had bad years but they were average years compared to 2014.
"This year with a shift to defence has rejuvenated my career and I'm loving playing down there."
Ellis says 2017 has been his most enjoyable season and it is a popular sentiment among Tigers players as they challenge for a top-two finish and a return to finals.
Winning is an obvious reason for the lifted spirits at Tigerland, but the licence to "just play footy and have fun" has been crucial.
Ellis says the players are as close as they've been in his six seasons at the club and the culture has changed for the better.
Standing in front of the group pre-season and sharing something the rest of the players would not have known about you was a turning point.
Ellis shared the story of his childhood and adolescence, sharing a bedroom with his brother from age seven to 18. He moved in with a host family after being drafted because he needed his own bedroom.
"That's something they didn't know about me and with lot of boys I'd been playing with for six years, there were things I didn't know about them," Ellis said.
"You open up to each other and it automatically brings you closer and the love you get for one another grows. It's been a massive step for us this year.
"That off-field stuff really shows on-field and it shows in your performances."