Oh we're from Tigerland
Stories of being Richmond


DARREN CRICK, 45, GOWRIE, CANBERRA



All-time favourite player:
Matthew Richardson: "He always gave it a red hot go. It was more than just his skills. He was also able to have a bit of fun when he played."

Current favourite player:
Alex Rance: "His endeavour in defence is amazing. He just seems to hold us steady in the last line. He reads the play so well."




Consider this: in the 130-year history of the Richmond Football Club, in all those games at home and away, the Tigers have played regular season matches in every Australian capital city bar one. Hobart was on the list until this year, but is now ticked off (and we never play well at Bellerive!).
Four years ago we played a 'home' game against Port Adelaide in Darwin, at Marrara Oval, and the lights were on the blink before and during the game, and conditions were greasy, and, well, the night didn't end well.
Since the Brisbane Bears moved to the Gabba in 1991 we've played 18 games in Brisbane; from the advent of the Adelaide Crows 25 years ago we've played 33 matches in the City of Churches (30 at Football Park, three at Adelaide Oval); and since the West Coast Eagles entered the fray we've travelled and played in Perth 34 times (Subiaco 32, and at the W.A.C.A twice).
This Friday night's game against the Swans will be our 36th appearance in Sydney (SCG 30, Sydney Showgrounds 3, Stadium Australia 2), north of the so-called Barassi Line.
The odd city out? Canberra. Along with Hawthorn, Essendon, the Brisbane Lions and Carlton, Richmond is one of only five clubs yet to play at Manuka Oval, in the heart of the nation's capital.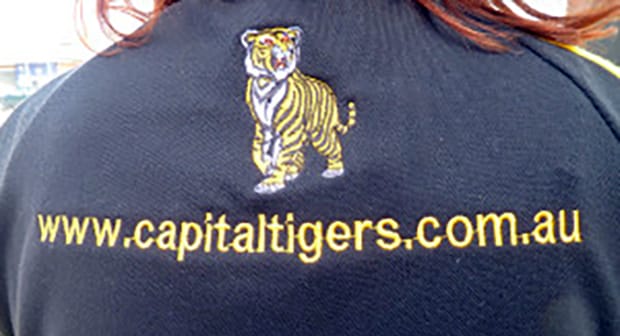 Contact details: they're embroidered on the shirt.


"We can only hope," says Darren Crick, a Tiger in the ACT, when asked if he thought the AFL might ever fixture a Richmond game in his adopted hometown. "We are looking forward to the day that happens."
So as Richmond flies north to challenge one of the premiership fancies, spare a thought for a band of fans who reside under the flight path, in a symbolic half-way point between the MCG and the SCG – and a nowhere land for Richmond games.
"Being a Richmond supporter for the past 30-odd years has been frustrating, but being a Richmond supporter in Canberra is harder still because we're so far away," says Darren. "We either have to travel to be part of the action or watch it on TV, and it's just not the same on television."
To overcome the tyranny of distance, and to engender a sense of belonging, two seasons ago Darren approached the club with the idea of creating a local supporter's group. If Richmond where never to come to them, he thought local fans should get together and in some way it might help them at least feel closer to Richmond.
And so the Capital Tigers Supporter Group was formed, a band of displaced barrackers in a city with no team, fostering grassroots Richmond togetherness in the country's political heart.
"We've given Richmond people in the region a reason to gather," says Darren, in his third season as the group's president. "We're a relatively new supporter group, so we're still finding our way and creating a link to the club. We've established a small community of supporters that we hope will grow as word spreads."
The eldest son of a boiler inspector who grew up watching his dad play on Saturday afternoons for the Gormandale Tigers in the North Gippsland Football League, Darren knows of the role football plays in regional communities. "We'd often travel for the day to watch dad," he says. "We visited Cowwarr, Heyfield and Rosedale, and the RAAF Base at East Sale had a team, and the Traralgon Tigers United was in the league for a while."
"Dad was a Footscray supporter and he lived near the Western Oval and I was born in Footscray," says Darren. "But through my childhood I wore the Richmond jumper because it was the jumper he played in."
Family heritage is one thing, but the heady desire of a black wool knit footy jumper with a golden yellow sash is something entirely else.
For the last two seasons the Capital Tigers have charted a bus for the road trip up the Federal Highway to see Richmond's games in Sydney. Last year I joined them on their annual pilgrimage, and never have I met such a disparate group of supporters made as one by the game and our club.
On the bus, for example, was a Department of Finance policy analyst who grew up in South Gippsland; Cassandra from Narrabundah (via Heyfield) whose father kicked 26 goals for the Richmond reserves in 1959; a school teacher and stay-at-home dad (whose youngest – Vivienne – turns two tomorrow!); a woman recently retired from working in Indigenous Affairs; a philosophy graduate who once lived in a share house on Richmond Hill; a retired librarian; a man born in Yass who started following Richmond in 1969 ("my favourite all-time player is Royce Hart"); and a generous-hearted 'sparkie', Greg Watt, born in Brisbane to Melbourne parents ("mum lived up the road from Geoff Strang").
But of all Richmond stories that day, the most remarkable came from Justin Heycox, 42. Born in Forster, on the New South Wales central-north coast – rugby league heartland – he learned of Richmond through one of his mother's friends, who she played squash with. They were transplanted Melbournians, Richmond people, and as a boy Justin found himself at their house watching the broadcast of a single VFL game on a Saturday afternoon on the ABC's New England channel. It was 1982. He was seven years old.
At school in Taree, he played soccer and like his classmates had a league team. "But I also used to enjoy watching this black and gold team."
Fast-forward to 1995 and he joined the Navy, and for four months in training was posted to HMAS Cerberus in Crib Point, and was associating with trainees from the southern states who spoke only one sporting language. Soon after, his rugby league team, the North Sydney Bears, were subsumed by Manly in a lop-sided merger, and the die was cast.
He became a convert, a Richmond fan, and his wife and three daughters know when his team is playing he is hardly worth talking to. "It was the passion of supporters and the size of the crowds that really opened my eyes to what sport is all about."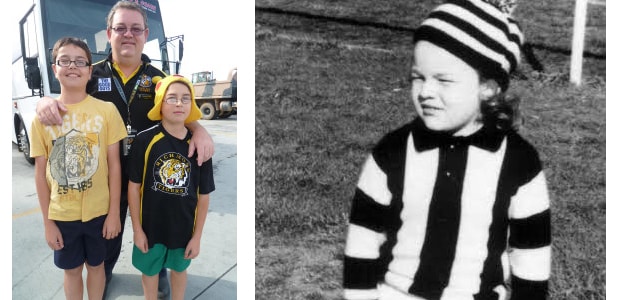 Left to right: The Crick boys: Capital Tigers president Darren, with sons Cameron (L) and Nathan (R) en route to Sydney to see the Tigers play last year (their younger sister and mum stayed home for the day); Darren's earliest footy photo: wearing the colours of the Parkside FC ("no, it's not Collingwood") where his father played before moving to Traralgon and playing for the nearby Gormandale Tigers.


It's a passion that Darren Crick and others at the Capital Tigers have tapped into and are trying to foster, creating their own Richmond community far from Punt Road. Theirs is a long distance love. This Friday night is the first time they won't be running a bus up to Sydney – because of the logistics of a night game, and Sydney traffic – but when the ball is bounced, like so many others around the country and abroad, their hearts and thoughts will all be on an oval and with a team playing in another away city.
The dream for Darren, as with so many others, is for another Tiger win, for a statement, to show all in our football world, under Friday night lights, that our football team could be king-makers.
The dream also for Darren is that one day, just one day, Richmond may travel to the country's political heart and tick off another box. "They did play an NAB Cup game here in 2012," he says. "We're hoping it's not too far away we get to see them again, even if it's for a pre-season game. It'd be such a privilege to get to see the players up close."
Go Tiges! Go the Capital Tigers!
If you would like to nominate a Richmond fan who has a story to tell about their barracking please email Dugald Jellie with details: dugaldjellie@gmail.com
www.tigertigerburningbright.com.au